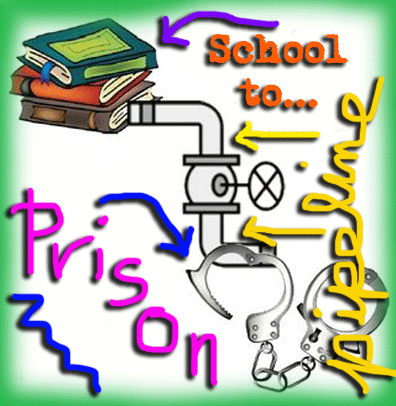 As the discussion continues about how best to prevent other tragedies like the terrible shooting in Newtown, CT, experts in youth issues are concerned that, in the desire to DO SOMETHING we are in danger of imposing new policies without adequately examining possible collateral effects that those policies could produce.
Youth advocates have reason to be wary. After the school shooting at Columbine High School, a flood of zero tolerance polices were adopted by school districts all across the country, with the unintended result that thousands of students were unnecessarily "pushed out" of school with suspensions or referrals to law enforcement for minor infractions.
With these worries in mind, a new report sponsored by Advancement Project, the Alliance for Educational Justice, the NAACP Legal Defense and Educational Fund, and more, argues that more police in schools are not the answer.
Whether you agree or not with the report's conclusions about police in schools, it is important to recognize that the report raises questions that must be part of the discussion.
Here's a clip from the report's introduction:
The Newtown shooting also evokes a rational focus on school safety. Ultimately, keeping our children safe is the highest priority. And, in fact, all data show that our schools remain the safest place for children. Unfortunately, some of the early reactions, rooted in the well-intentioned desire to do something swiftly to protect young people, revolved around placing more security and more guns in schools. The first of these calls came from the National Rifle Association which believes the answer is an armed officer at every school. Other proposals include increasing law enforcement in schools
deploying the National Guard,3 and arming every teacher.4 These proposals satisfy our desire to appear secure. They are based on the theory that the only way to keep us safe from guns is to have more guns.

[SNIP]

These proposals satisfy our desire to appear secure. They are based on the theory that the only way to keep us safe from guns is to have more guns. The Newtown tragedy was a shooting at a school by an outsider, making it more akin to the incidents in Aurora and Tucson than past shootings at schools by students; but still, the responses to Newtown are aimed at doing more to "police" our schools. However, when we take a step back and review what we know about safe schools, we realize that these proposals go more towards creating the appearance of safety rather than towards actually creating truly safe schools.

[SNIP]

Based on a significant body of research and decades of lived experience, we know that these strategies will fail. They will do nothing to create school environments that reduce violence in our communities, catch early indicators of mental health needs, identify root causes underlying violence, or utilize the skills and resources of law enforcement in an effective way. They also fail to consider the host of unintended consequences – measured in educational, emotional, and economic costs – of placing more police in schools.

Our organizations have worked together to raise awareness about the devastating trend known as the School-To-Prison Pipeline. Specifically, too many schools are employing policies and practices of extreme discipline that push young people out of school and into the juvenile and criminal justice system. The influx of police in schools has been one of the main contributors to the growing number of children funneled into this pipeline…
---
AND WHILE WE'RE ON THE SUBJECT,,,,,EDUCATORS ARGUE OVER WHETHER TO LOCK CLASSROOM DOORS, OR NOT, POST NEWTOWN
The LA Times Stephen Ceasar and Howard Blume have the story:
Here's a clip:
Behind a locked classroom door, a Los Angeles third-grade teacher purportedly committed lewd acts against students. The charges spurred demands for classrooms to remain open during the school day.

But after the shooting deaths of 20 first-graders in Connecticut last month, calls were made to keep classrooms locked.

The intent of both efforts is to keep students safe. But as school districts nationwide examine their security measures following the Newtown, Conn., massacre, the question of locked versus unlocked classroom doors is in debate. Should teachers and administrators use their secured doors as a shield from an outside danger? Or does a locked door conceal a potential danger inside?

The answers differ. Some schools, such as the 14 operated by local charter group PUC Schools, are required to keep doors open. Others, including the campuses in the Martinez Unified School District in Contra Costa County, require classrooms to be secured at all times. The Los Angeles Unified School District, like many others, leaves it up to administrators and instructors to decide, and the decision can vary from teacher to teacher….
---
THREE SUSPECTS FROM NORDSTROM RACK HOSTAGE STANDOFF CRISIS CAPTURED IN AZ MOTEL

We don't usually report on straight up crime stories but, as one of those who was following the standoff via phone and twitter until the wee hours, I'm glad to see the situation appears to be moving toward resolution.
Andrew Blankstein of the LA times has the story.
Here's a clip:
The incident began around 11 p.m. Thursday at the Promenade at Howard Hughes Center, near the 405 Freeway. The LAPD called a tactical alert and closed off the area around the shopping center.

When the Police Department's SWAT officers arrived, they surrounded the store. At one point, one suspect exited, saw the police and ran back inside.

A second suspect walked out with an unidentified woman, saw police and also headed back inside. The suspects apparently fled in a while SUV, which police said they lost sight of. The officers entered the store at 3:30 a.m. and freed the captives.

At least three of the employees were wounded, including one woman who was sexually assaulted. Another woman was stabbed in the neck and sustained non-life-threatening wounds, and a third employee was pistol-whipped, police said.

It was unclear whether the robbers hid in the store or gained entrance after it closed. It was also not clear precisely how long they remained in the store before fleeing, and police would not say how much cash was stolen.
---