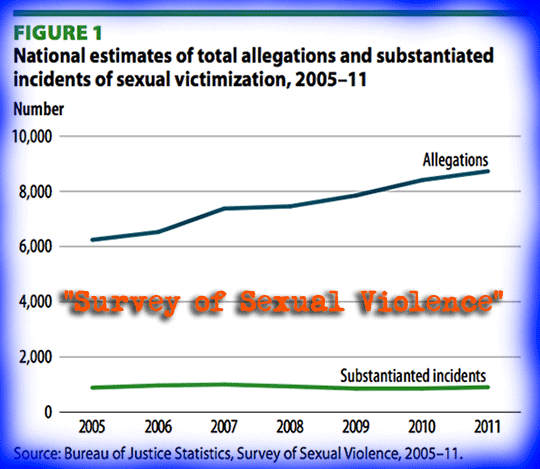 US JUSTICE DEPARTMENT REPORT SHOWS INCREASE IN ALLEGED SEXUAL ABUSE IN CORRECTIONAL FACILITIES
A new Department of Justice report says that correctional officers may have been responsible for half of alleged sexual abuse cases in prisons and jails in 2011. A total of 8,763 allegations were reported in 2011, (about 2,500 more than were documented in 2005) and only 10% of the allegations were substantiated upon investigation. More than half of those substantiated instances of sexual abuse were committed by female officers.
ProPublica's Joaquin Sapien has more on the report. Here's a clip:
The report, released today by the Bureau of Justice Statistics, takes data collected by correctional administrators representing all of the nation's federal and state prisons as well as many county jails. It shows that administrators logged more than 8,000 reports of abuse to their overseers each year between 2009 and 2011, up 11 percent from the department's previous report, which covered 2007 and 2008.

It's not clear whether the increase is the result of better reporting or represents an actual rise in the number of incidents.

Allen Beck, the Justice Department statistician who authored the reports, told ProPublica that abuse allegations might be increasing because of growing awareness of the 2003 Prison Rape Elimination Act.

"It's a matter of speculation, but certainly there's been a considerable effort to inform staff about the dangers of sexual misconduct, so we could be seeing the impact of that," said Beck.

The survey also shows a growing proportion of the allegations have been dismissed by prison officials as "unfounded" or "unsubstantiated." Only about 10 percent are substantiated by an investigation.

But even in the rare cases where there is enough evidence to prove that sexual abuse occurred, and that a correctional officer is responsible for it, the perpetrator rarely faces prosecution. While most prison staff shown to be involved in sexual misconduct lost their jobs, fewer than half were referred for prosecution, and only 1 percent ultimately got convicted.
About a third of staff involved in alleged abuse were permitted to resign before an investigation was completed, allowing them to keep a clean record, and potentially find similar work elsewhere.
---
CALIFORNIA ASKS FOR TWO MORE YEARS TO REDUCE PRISON POPULATION…JUDGES TO MAKE FINAL DECISION SOON
On Thursday, Governor Jerry Brown and prisoners' lawyers filed their separate proposals for getting the California prison population down to the federal-judge ordered 137% capacity. (Read the backstory here.) Gov. Brown requested a deadline extension of nearly two years—from the current and already-extended April 2014 deadline to a new February 2016 deadline. Brown detailed how the state planned to reduce the prison population via parole for the elderly and ill, increased good-time credits, and an alternative custody program for female inmates, among other efforts.
The Associated Press' Don Thompson has the story. Here's a clip:
Brown wants the deadline extended to Feb. 28, 2016. He proposed that the state meet interim population reduction deadlines in June 2014 and February 2015.

Two years is "the minimum length of time needed to allow new reform measures to responsibly draw down the prison population while avoiding the early release of inmates," the administration said in its seven-page court filing.

The judges had ordered the administration and attorneys representing inmates to propose separate plans by Thursday after they failed to reach agreement on how best to reduce crowding.

Inmates' attorneys said in their four-page filing that the state should be ordered to meet the population cap by May of this year. The filing recommended that the state comply by sending more inmates to private prisons in other states, something the state said would not be necessary under its proposal. The state currently houses about 8,900 inmates housed in out-of-state facilities.

The inmates' lawyers also asked the court to appoint a compliance officer to order inmates released, if necessary.

Rebekah Evenson, an attorney with the Berkeley-based nonprofit Prison Law Office that is suing the state, said another two years is too long to wait when the state already has had four years to comply with previous court orders.

"People are hurt and people are dying because of the inadequate heath care. We just can't wait another two years to get that resolved," she said.
The state and the prisoner's lawyers have until next week to give feedback on the others' proposals, after which, the judges will review and make their final decision in February.
---
AND IN GOVERNOR BROWN NON-PRISON-RELATED NEWS
For those of you who watched the State of the State address and wanted a closeup of the Sutter Brown playing cards that the governor held up to the crowd as an unusual show-and-tell during the speech, the LA Times has helpfully published a photo and the story behind the cards. (Sadly, procuring a full First Dog deck is not possible.)
---
MORE SHERIFF CANDIDATE UPDATES
KPPC's Frank Stoltze has a new profile of LA County Sheriff hopeful (and current Long Beach Police Chief) Jim McDonnell that's worth reading. Here are some clips:
McDonnell, 54, has established himself as a well-known leader in the Southern California policing community. He spent 30 years at the LAPD, rising to assistant chief, before taking the top job in Long Beach four years ago. He has served as president of the L.A. County Police Chiefs Association.

Now, he wants to succeed L.A. County Sheriff Lee Baca. McDonnell says he would bring a fresh perspective to a Sheriff's Department with problems ranging from a federal investigation into excessive use of force at the jails to hiring unqualified deputies.

"I bring the outside set of eyes coming into an organization without predispositions," McDonnell says. "Without alliances within the organization."

All of the other candidates seeking to become the county's top cop are either current or former sheriff's officials, except for an LAPD sergeant. If elected, McDonnell would be the first sheriff to come from outside the department in at least 100 years.

Key law enforcement leaders back him for just that reason.

"Sometimes, as was the case with the LAPD, it's necessary to look outside an organization for leadership," says former federal judge Robert Bonner, who once led the U.S. Drug Enforcement Administration.

L.A. County District Attorney Jackie Lacey, L.A. City Attorney Mike Feuer, and LAPD Chief Charlie Beck also have endorsed McDonnell. He's also won the unanimous support of his former colleagues on the blue-ribbon Jail Violence Commission.

[SNIP]

LAPD Chief Beck spent decades working with McDonnell at the department. Asked about McDonnell's management style, Beck says don't expect a tough guy who'll force changes at a broken Sheriff's Department. Instead, he says McDonnell would "charm the troops."

"Of all the people that I know that can come in from the outside, he is one that can get the willing cooperation of the deputies," Beck says.

That's no easy task. Just figuring out the politics of the sprawling and often byzantine Sheriff's Department, with its rival internal factions, could be daunting.
And former Undersheriff Paul Tanaka's KFI John and Ken Show interview we linked to on Tuesday is getting the attention of other media, as well. LA Weekly's Gene Maddaus has a recap of the radio show.