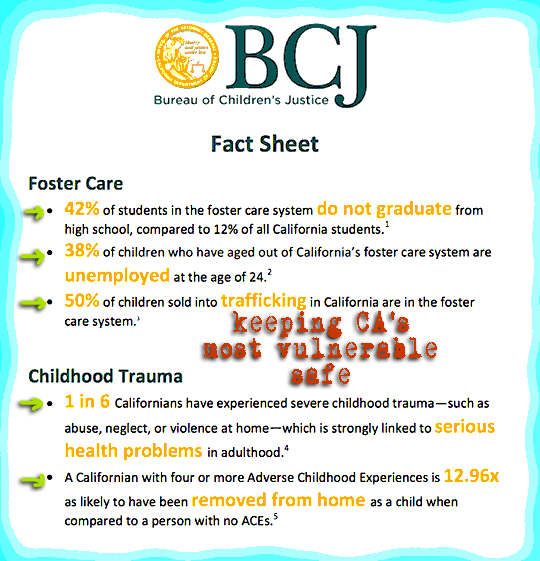 NEW CALIFORNIA DOJ BUREAU TO TACKLE CHILDHOOD TRAUMA, SEX TRAFFICKING, AND OTHER ISSUES FOSTER KIDS FACE
On Thursday, California Attorney General Kamala Harris announced the launch of the Bureau of Children's Justice.
The bureau will target childhood trauma, juvenile justice, sex trafficking, truancy (and other education issues), with a particular emphasis on kids in foster care.
In a letter sent to officials in each California county, the attorney general announced the new bureau and passed along a list of the rights of foster kids, and a reminder of their duty to protect those rights.
The CA Department of Justice was also selected (one of only three state departments) to participate in the Defending Childhood initiative, a federal effort targeting childhood trauma from exposure to violence.
Here's a clip from AG Harris' announcement:
The Bureau will enforce criminal and civil laws to hold those who prey on children accountable; work with a range of local, state, and national stakeholders to increase support for vulnerable children to prevent bad outcomes; and identify and pursue improvements to policies impacting children.

"We simply cannot let down our most vulnerable children today, then lock them up tomorrow and act surprised," said Attorney General Harris. "The Bureau of Children's Justice will continue our smart on crime approach by addressing the root causes of crime, including our broken foster care system, and making certain that California's children receive full protection under the law and equal opportunities to succeed. One of the Bureau's first orders of business will be to look at enforcement gaps in the foster care system and ensure that government agencies are held accountable to those entrusted in their care."

[SNIP]

Attorney General Harris also announced that the California Department of Justice was one of just three state agencies accepted by the U.S. Department of Justice to be part of its national Defending Childhood Initiative. Through this initiative, California will work to improve outcomes for children exposed to trauma by ensuring that at-risk children are screened for exposure to violence at school, when they visit a pediatrician, or when they become involved with child welfare and juvenile justice systems.

"I commend Attorney General Harris for taking this important step to protect the youngest and most vulnerable Californians," said Dr. Robert K. Ross, President and CEO, The California Endowment. "The Bureau of Children's Justice will watch over our state's legal system and guarantee greater protection for our children, safeguarding their physical, social and emotional health and helping to ensure that everyone has the opportunity to grow up healthy and safe."
And here's who will run the bureau:
The Bureau will be staffed by attorneys and experts on legal issues impacting children, including civil rights, education, consumer protection, nonprofit charities, child welfare, privacy and identity theft, fraud, and human trafficking.
---
FED. CRIMINAL JUSTICE REFORM BILL WITH BEST CHANCE OF PASSING IS UNFAIR TO MINORITIES, BUT BETTER THAN NOTHING
The CORRECTIONS Act, introduced Tuesday by Senators John Cornyn (R-TX) and Sheldon Whitehouse (D-RI), would allow federal inmates viewed as low-risk to take part in education programs and prison jobs that would take time off their sentences. The problem is that, because of who the bill excludes and how risk-assessment tools decide how much time to shave off, it will likely mostly help white people and people doing time for white-collar crimes.
While it seemed that the bipartisan criminal justice reform would have big potential during the 114th Congress, CORRECTIONS may be the only criminal justice reform bill that has a chance of making it through Congress and past the Senate Judiciary Committee and it's non-prison-reform-minded chairman Sen. Chuck Grassley (R-IA).
Vox's Dara Lind explains the bill's exclusions and risk assessment, and why the CORRECTIONS Act will disproportionately serve white people. Here are some clips:
The bill excludes any inmate with a "criminal history" that places them in the highest category under the federal sentencing guidelines. The problem is that someone gets placed in that category automatically if they're labeled a "career offender," which just means three convictions at either the state or federal level for drug or violent crimes. Most "career offenders," according to the US Sentencing Commission, are African Americans — simply because it's easier to arrest and prosecute them for "offenses that take place in open-air drug markets, which are most often found in impoverished minority neighborhoods… [This] suggests that African-Americans have a higher risk of conviction for a drug trafficking crime than do similar White drug traffickers." In 2000, 69 percent of newly-sentenced "career offenders" were black. (Interestingly, only 17 percent were Hispanic.)

[SNIP]

Anyone convicted of participating in a "continuing criminal enterprise." This is another label that's typically applied to drug offenders — anyone who's an "organizer, supervisor or manager" of a group of five or more people dealing drugs can be hit with a conviction for a "career criminal enterprise." The statute isn't used that often — only 239 people were convicted under it from 2006 to 2013, according to data from the US Sentencing Commission. But 77 percent of the time, it was used against black or Hispanic defendants.

[SNIP]

…how does the government determine how likely someone is to recidivate? The bill tells the federal government to come up with a risk assessment tool. These tests are used in several states and in federal court to figure out how best to manage an inmate's case — or to determine whether someone should be put on probation instead of prison to begin with. But most states shy away from using them to determine the length of an inmate's sentence.

And there's a reason for that. Some of the factors used to determine recidivism risk are "dynamic" — they're factors that an individual can change over time. But others are "static" factors: they say more about the environment where an inmate lives, or where he grew up, than about his own behavior.

One of the major risk-assessment tools treats drug use, low education level, and frequent changes in residence as factors that put someone at higher risk to recidivate. Even factors that look fair on the face of it, like the age an inmate was when he was arrested for the first time, can just mean that the inmate lived in a neighborhood where teenagers (or younger) were under police suspicion.
---
RECORD-BREAKING WRONGFUL DEATH SETTLEMENT FOR INMATE WHO DIED AFTER BEING TASERED DURING ALCOHOL WITHDRAWALS
The Alameda County Board of Supervisors and a jail health care company will pay $8.3 million to the children of Martin Harrison, an Alameda County inmate who died after being tasered by ten deputies. The sum sets the record for the largest wrongful death settlement in a civil rights case in state history, according to the Harrison family's attorneys. A separate $1 million was awarded to one of Harrison's kids who was still a minor.
The family's attorneys said that although Harrison informed the LVN that he had a history of alcohol withdrawal, he died during the violent encounter with deputies while suffering from severe alcohol withdrawal.
Harrison was stopped for jaywalking and arrested for failing to appear for his DUI court date.
As part of the settlement, the for-profit Corazon Health, Inc. will change the practice of hiring Licensed Vocational Nurses instead of Registered Nurses (as state law requires) to perform inmate medical intakes.
Contra Costa Times' Malaika Fraley has the story. Here's a clip:
Harrison, 50, died in August 2010 two days after be was beaten and Tased by 10 deputies at the Santa Rita Jail. His children's attorneys say Harrison was hallucinating from a severe form of alcohol withdrawal known as delirium tremens for which he should have been hospitalized, and he never fought back. He was in jail on a warrant for failing to appear in court in a DUI case after being arrested for jaywalking.

Corizon is one of the largest for-profit correctional health care providers in the country and holds a $210 million contract to provide health care services in Alameda County's Santa Rita and Glenn Dyer jails. Under state law, the company is required to have registered nurses (RNs) assess inmates upon intake, but Harrison's medical screening was done by an unsupervised licensed vocational nurse (LVN), Sherwin said.

"If the deputies had been trained, and if Corizon had had an RN instead of an LVN do the intake medical assessment then we all would not be here today," Sherwin said at a news conference attended by Harrison's family.

Corizon Health said that Harrison did not alert the LVN that he had a history of alcohol withdrawal, while the plaintiff's attorneys said that he did.
(Alameda is another municipality that might want to enter the MacArthur Safety and Justice Challenge.)
---
PROGRESS MADE TOWARD FIXING JEFFERSON HIGH'S SCHEDULING CRISIS
Last October, an Alameda County Superior Court judge issued a Temporary Restraining Order demanding the California Department of Education help the LAUSD fix scheduling issues at LA's Thomas Jefferson High School that gave kids filler classes and sent them home early, throwing many off the track to graduation.
Four months later, repairs have been made to the data system, more teachers have been hired, classes have been added, and the number of students in the inaccurate or non-instructive classes has dropped. But there is still much to be done.
Adolpho Guzman-Lopez has a welcome update on the Jefferson scheduling debacle. Here's a clip:
Castillo was one of 150 students who were enrolled at the start of the school year in "home" periods, meaning they were sent home early. Others were assigned "service" periods where students helped as aides in offices and classrooms, but received no academic instruction. Students were enrolled in non-academic classes because the school didn't have courses that they hadn't already taken.

Other students spent weeks in the school's auditorium, cafeteria and library waiting for their schedules to be fixed. Advanced Placement classes were all scheduled at the same time, limiting students' ability to take higher level courses. Teachers began taking attendance by hand.

The litany of MiSiS-related problems went on for weeks.

At one point Jefferson students, fed up with the situation, staged a peaceful on-campus protest.

[SNIP]

David Sapp, a lawyer for the students who sued to fix the problems, is happy with the improvements at Jefferson, but not with the way the school was forced to make changes.

"We shouldn't put the burden on students to go out and find lawyers to have to go and get a court order to fix this," he said.

Not all of the school's problems are solved. Foote says 90 students are still sent home early because of scheduling problems. As of last month L.A. Unified reported that MiSiS continued to have problems accurately counting English learner students and giving parents access to their child's data and not other students.