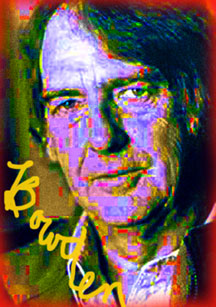 The murder rate in Cuidad Juarez exceeds that of Baghdad.
And there is no one better equipped to take you to the heart of the disintegration of this once lively, now deadly city than Tuscon-based journalist/writer Charles Bowden who has been immersing himself in Cuidad Juarez off and on for 20 years.
The result is his newest book, Murder City: Ciudad Juarez and the Global Economy's New Killing Fields
Bowden is a dream of a prose stylist, a deep and fine cultural analyst, as well as terrifyingly gutsy as a reporter (read the chapter about his meeting with the sicario, the Mexican assassin, and you'll understand what I mean).
For those of you interested in such matters, you have two opportunities this week to see and hear Bowden on the subject of Cuidad Juarez and his attempts to make sense of the ghastly violence running rife through this wounded and wounding city.
On Wednesday, 4/21, Bowden will be in conversation with my pal, KPCC's Aldofo Guzman Lopez at the Los Angeles Central Library, 630 W. 5th Street, LA, 90071, at 7 p.m. (There's no charge but reservations strongly recommended.)
AND, because this weekend is LA Times Festival of Books weekend (more on that as the week wears on, and yes you should come to the LATFOB, or you're totally missing out and I'm really, really sad for you) Bowden is, of course, on a panel—being interviewed by none other than very good pal, Marc Cooper. The panel is on Sunday at 3 p.m. at UCLA's Rolfe Hall. (Also free, and reservations also recommended.)
The panel, titled, Life on the Edge: Violence and the West, also features the marvelous Deanne Stillman.
---
PS: I will be moderating a panel of fantastically cool writers on Saturday, at 12:30 in Haines hall. So mark your calendars immediately. More about this later.
Also, my pal Tod Goldberg will be on a panel at 2 pm on Saturday at Young Hall and, since he's much funnier than pretty much anyone I know (or anyone you know), and he's also a wonderful fiction writer, you should go to that too, right after. (More on this later too.)