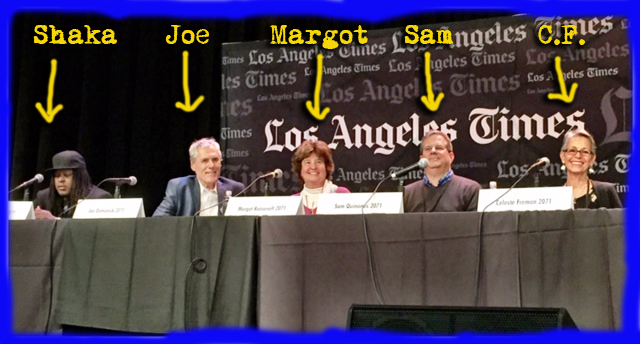 CRIME, JUSTICE, REDEMPTION AND THE POWER OF BOOKS
This past weekend, the University of Southern California hosted the annual LA Times Festival of Books and, amazingly, the weekend rain didn't discourage the crowds that showed up by the thousands on the USC Campus, drawn by this stupendous yearly event that celebrates books.
I was on a Sunday morning panel called Crime, Justice & Redemption, with authors Joe Domanick, Shaka Senghor, & Sam Quinones (plus O.C Registor reporter, Margot Roosevelt, as the excellent moderator).
LAist kindly named our event as one of the weekend's twelve "Can't Miss" panels.
And, indeed, the combination of personalities and the enthusiastically interactive crowd produced a very dynamic, informative, and occasionally creatively quarrelsome conversation.
Among other topics, the panel discussed a personal experience of solitary confinement, the relationship between childhood trauma and crime, an unusual form of marketing heroin in the heartland, the challenge of post-incarceration reentry, the art of reforming the Los Angeles Police Department—and more.
Since I can't magically transport you to the audience of Sunday's event, I can at least strongly recommend the very good books of my fellow panelists, all of which will likely be of interest to those who care about, or work in and around, crime and justice-related issues.
---
LIFE AFTER MURDER
Solitary confinement and post prison reentry are both matters with which author Shaka Senghor has had personal experience.
Senghor is a very warm, very intelligent man whom the audience liked right away. He also is a man with a complicated history. Seignior is a former prison inmate who shot killed a man when he was an angry and frightened 19-year-old, after he'd been shot four times himself a few months before.
Senghor spent 19 years in prison, four-and-a-half of those years in solitary confinement, where he was on lockdown in his cell for 22 or 23 hours a day, he said. During his time behind bars, he educated himself by reading voraciously. He also struggled to come to terms with the terrible fact that he'd taken someone else's life.
Now Senghor has become a leader in the world of justice reform, and the author of an unforgettable book that inspires as it educates.
On the panel, Senghor spoke about the real life effects—and related subjects— with emotional precision and authority.
His book, Writing My Wrong, Life, Death and Redemption in an American Prison, is very much worth your time.
His TED talk, which you can find here, is wildly popular for good reason.
---
HEROIN HITS THE HEARTLAND & THE LIES TOLD BY DRUG COMPANIES
On Sunday, Sam Quinones talked about, among other things, how in certain areas of the country, the magnitude of the heroin problem was initially masked because of the way white parents managed to keep their kids' heroin deaths from becoming public.
Quinones' intensely researched Dreamland: The True Tale of America's Opium Epidemic, was on a bunch of 10 Best lists from last year, and was a finalist for the LA Times Book Awards—all for good reason. It paints very personal pictures of drug traffickers who pioneered a new business model for dealing heroin to America's heartland, of law enforcement officers trying to deal with the fast-spreading epidemic, and of families devastated by addictions that, in many cases began with prescription opiates that were overprescribed by doctors who believed the preposterous lies of profit-driven pharmaceutical companies who claimed medical that such drugs were non-addictive and safe.
Dreamland is a page-turner that makes for very engaging reading, whether you think this topic is for you or not. Here's an" frameborder="0" allowfullscreen> interview with Quinones by the PBS Newshour that will give you an idea of what you missed on Sunday.
---
REFORMING LAPD BLUE
We've already written here about Joe Domanick's highly-praised and wonderful book about the Los Angeles Police Department, Blue: the LAPD and the Battle to Redeem American Policing. Blue was also, very deservedly, a finalist for this years LA Times Book Awards.
Last year we pointed to BLUE's "page-turning narrative borne aloft by a string of vivid nonfiction characters," including, of course, the agency's most recent chiefs, Bill Bratton and Charlie Beck.
But, while the heart of the book is a grand tale of the multi-layered struggle to reform the LAPD, Domanick also uses LA's police department as a lens through which to examine the state of U.S. policing in general, and the crossroads at which it has presently arrived.
So, for LA residents interested in policing and criminal justice, this is an obvious must read.
On the panel, Domanick talked about the value and challenges of community policing, new ways of approaching use of force by officers and more.
And here's an interview with Domanick from December 2015, in which he explains what has so fascinated him about the LAPD and its recent history. (Joe's interview starts at about the 32 minute mark.)
---
PRIZE-WINNING STORIES OF MURDER & MAYHEM!
One last thing: While we're on the subject of the LA Times Festival of Books, on Saturday night, the winners of the LA Times Book were announced.
(You can find the winners here.) I have often been privileged to be a judge for the awards, and this year I judged in the Mystery/Thriller category.
You can find our four fabulous finalists below, and they are all books I can recommend without hesitation to those of you who, like me, sometimes choose to relax by reading about fictional murder and mayhem.
In no particular order, they are:
The Sympathizer by Viet Thanh Nguyen
The Whites by Richard Price
The Long and Faraway Gone by Lou Berney
Bull Mountain by Brian Panowich
Our winner, however, was a book that my fellow-judges and I chose with almost instant unanimity.
It is The Cartel by Don Winslow, a novelistic depiction of the blood-soaked and hallucinatory disaster that is the war on drugs and, although Winslow's tale, that is Tolstoy-esque in scope, is present as a mystery thriller it has the informative urgency of the best narrative nonfiction.
(Back in July of last year we wrote about The Whites and its importance here.)
So there you have it. Go, books and book lovers!
Now back to our regularly scheduled programming.