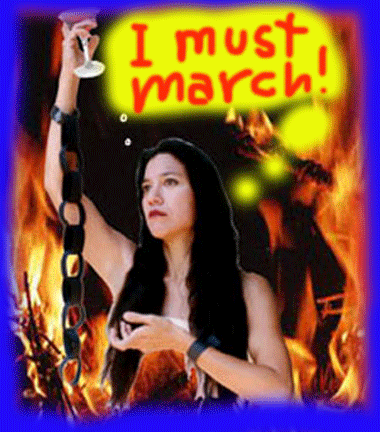 Okay, so about a month ago my brilliant, talented and extremely ferocious friend Sandra Tsing Loh sent me an email.

In it she explained that she and some other mothers had decided it was absolutely essential to stage a grassroots rally (and parade and art-happening and possibly a teach-in) in Sacramento to protest the latest draconian round of public education budget cuts. The idea was to get a bunch of press attention and, in so doing, hopefully goad/threaten/persuade/emotionally blackmail lawmakers into budget cutting somewhere other than education.

(The early release of those 22,000 low-level, short-timer prisoners—a move on which Arnold back-pedaled—might be a good place to start.)
The rally, she said, is scheduled for June 17, the date chosen because the stretch of time between June 15 and July 3 is the approximate window during which the state legislature is expected to vote on California's proposed budget.
Would I be willing to come? Sandra wanted to know.

She said the rally would celebrate children "the people California forgot," on the steps of the Capitol.
Hard to argue with that. (And I wouldn't dream of arguing with Sandra anyway, as she's usually right—especially on education issues.)

She further lured me with the promise that I could get from LA to Sac'to by riding with her in a "luxury RV"—one of four that she was renting for the occasion from CruiseAmerica.

"I'll be taking a lesson from CruiseAmerica in RV driving," she assured me, adding, "On board is a masseuse, tai chi master, chocolate. Think: On the Road, Fear and Loathing, Moby Dick, The Odyssey. . . but with mothers. And chocolate."

Tai Chi, chocolate, and the chance to rouse some rabble in the name of educational justice?—or to at least chronicle said rabble rousing? Cool!

Unfortunately, when I checked my trusty Blackberry datebook, I noted I would be in Bennington College in Vermont, on June 17, the day of the rally.
Rats.
(As I may have mentioned, a year ago I decided to get a master's degree in creative writing from Bennington. This requires, among other things, a twice-yearly ten-day writers "residency" at the place. I graduate in June '09. You're all invited.)
I would have to settle for reporting on her extremely worthy grassroots civic adventure from afar, I told her. (Consider this the first installment.)
In the meantime, Sandra has been broadcasting her own radio journal about the political/emotional/spiritual highs and lows of rally organizing on KPCC in her weekly segments called The Loh Life. You can listen to the segments in order here and here and here and here and here.
AND if you want to join the rally adventure (or know somebody else who does), there's a website that has all the information.

Green Dot Charter guru Steve Barr says he's coming, and bringing his new baby in a Baby Bjorn tummy pack.

(The soon to be rallying new baby Barr, whose name is Jack, is pictured below.)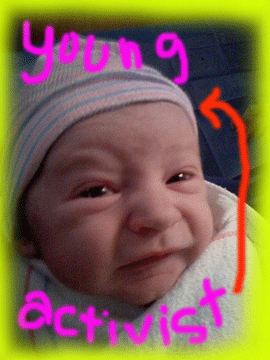 PS: LA Teachers are also planning a demonstration against the cuts. Theirs is scheduled for June 6 and is to consist of a three hour walk out. LAUSD officials are hoping to block the walkout, citing student safety.

PPS: Hey, for starters maybe interested parties would agree to donate to the schools the $30 million (!!!) that is expected to be spent on battling over an anti-gay marriage amendment to the California constitution.