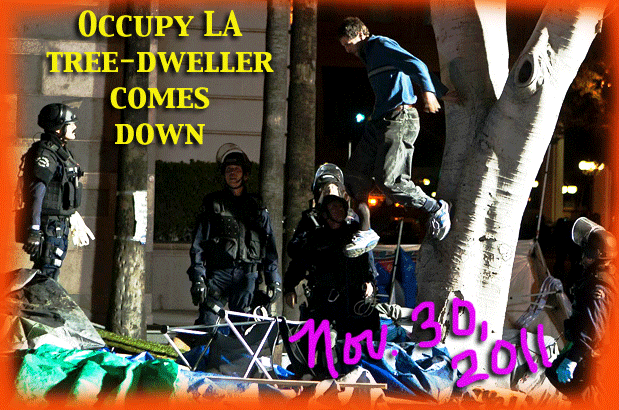 Although most of the police handled themselves well on Occupy LA Eviction Night, more stories continue to trickle out about less than sterling moments on the part of the Los Angeles Police Department when it came to those who were arrested—and the behavior of Sheriff's deputies when the "Arrestables" were put on LASD buses for transport to jail.
On buses, people were reportedly kept handcuffed for hours without being allowed a bathroom breaks and other rights and courtesies that are basic to an arrestee.
Then, there is the matter of the $5000 – $10,000 bails set by the City Attorney's office, which could and should have been a simple release on one's own recognizance.
Two stories in the LA Weekly have a lot of the bus details-—one by Dennis Romero, a second by Occupy arrestee, Matt Kresling.
Also, a story by attorney Ernest A. Canning on the Brad Blog has additional details.
Plus, ExiledOnLine's founder Yasha Levine was one of those arrested and has his own tale worth reading.
Here are some clips:
From Romero's LA Weekly story:
Allegations that Occupy L.A. detainees were not allowed to use the restroom for hours as they waited on buses headed to jails are being checked out this week by the L.A. County Sheriff's Department, says spokesman Steve Whitmore. Accusations of rough and inhumane treatment of Occupy L.A. arrestees funneled into LA Weekly over the weekend.

A few said that police did not let suspects detained on buses last Wednesday to use the bathroom for up to 7 hours as they awaited processing, causing some to wet themselves and worse. Whitmore said the department, which handled transportation for 276 inmates, was aware of the complaints.

Journalist Yasha Levine, arrested as part of the protest, told the Weekly …

… that at least one busload of protesters endured this treatment (he also reports it here). A female acquaintance, he told us, "wasn't allowed to to the bathroom."

Sheriff's spokesman Whitmore told the Weekly:

Our people are saying they were on the buses for four hours and there was some confusion about whether they were going to [the LAPD's] Van Nuys [jail] or Parker Center [jail].

He says buses were turned away from Parker Center and then again from Van Nuys, forcing deputies to return the detainees to downtown facilities. That's about an hour ride counting road time alone.

Whitmore called the department's response "a human-level inquiry" and said:

We're going to see what happened to see if we can do it better next time.

However he indicated some of the responsibility here was the LAPD's, and that the deputies were only providing transportation at that department's direction.
From Matt Kresling's story:
Around this time, the occupants of the largest tree fort on the plaza arrived to much cheering. They'd held out the longest, but arrived with various bloody welts on their arms to show for it. The police had approached atop the cherry-picker and ordered them to raise their hands. They complied, and only then were shot with beanbag rounds, they told us, which were obviously not the harmless things their names implied. To the LAPD's credit, everyone with injuries was taken for interviews with Internal Affairs and photographed.
From the Brad blog:
Much of the good will and plaudits earned by Los Angeles Mayor Antonio Villaraigosa and LAPD Chief Charlie Beck for their "minimal use of force" tactics employed to clear OccupyLA demonstrators from City Hall Park earlier this week has been quickly squandered in the hours and days since. The BRAD BLOG has learned that hundreds of peaceful arrestees were kept in often deplorable conditions in the hours following their apprehension.

According to new interviews with some of the arrestees following their release, men and women alike were held without charges for hours on end, forced to urinate in their seats on a holding bus while handcuffed, cut off from attorneys, medical supplies, and drinking water, and locked away with punitively high bails while being deprived of both humane and Constitutional rights.

At this hour, almost three full days after their arrest at the OccupyLA encampment in front of Los Angeles City Hall, more than 200 of the peaceful demonstrators detained by LAPD in the evening on Tuesday and early morning hours on Wednesday — many of them who were not even participating in the Occupation — are still being held in jail pending $5,000 bail for their misdemeanor detentions, as detailed by radio station KPCC. Approximately fifty people have been released, some after posting bail, others for medical reasons.

KPCC went on to report that on Thursday, only 19 of those people had yet to be charged. The City Attorney's office said that, depending on the charge, some would face bail as high as $20,000.
On Friday, the Sheriff's department announced that they were investigating the bus-related accusations.
---
MEANWHILE, POLICE AND OCCUPY D.C. CLASHED ON SUNDAY
Here's the Wa Po report.
---
NOTE: Lighter than usual blogging today because of other pressing projects— including the next Dangerous Jails story.
---
Photo by Bret Hartman