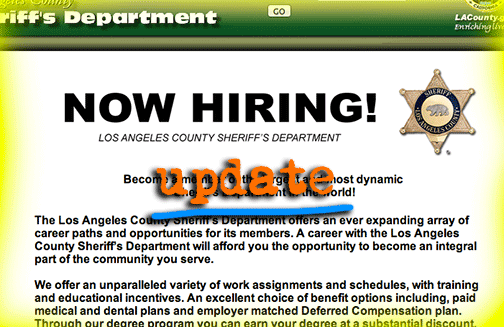 LA SUPERVISOR YAROSLAVSKY SAYS NEW INSPECTOR GENERAL SHOULD EXAMINE LASD HIRING
On Monday, we shared the LA Times story about disturbing LASD hiring practices in 2010.
On Tuesday, LA County Supervisor Zev Yaroslavsky said that Max Huntsman, the incoming inspector general for the sheriff's dept., should make taking a deeper look at this hiring issue one of his first priorities.
The LA Times' Robert Faturechi and Ben Poston have the update on the controversial story. Here's a clip:
"I think the Sheriff's Department needs to take a look at each and every one of these hires to see what remedies they have," Yaroslavsky said, "and they need to do it immediately."…

He said he would meet with Max Huntsman, who is expected to start soon as the Sheriff Department's new inspector general, and ask him to look at the 2010 mass hire and the sheriff's hiring in general.

"This should be one of the first things he looks at," Yaroslavsky said. "This is a very frustrating situation. There's a rigorous vetting process that goes with hiring any law enforcement employees, and corners should not be cut.… The sheriff needs to be sure this kind of situation does not reoccur."

In an interview earlier Monday, Huntsman said he was particularly troubled by the finding that dozens of officers who had showed evidence of dishonesty were hired. Investigators noted that some of the new hires had made untrue statements or falsified police records.

"The hiring of people who have not been honest is a dangerous thing to do," said Huntsman, who is expected to start work as the agency's inspector general early next year. "Dishonesty is a particularly dangerous area. A use of force can be placed in context … it may or may not reoccur. But dishonesty, that's always going to be a problem."

[SNIP]

"At a minimum we would ask questions, gather information and hopefully make suggestions on how to avoid this in the future. Even though I think some of those suggestions are pretty obvious: Don't do this," he said. "Hopefully, if we would have existed at the time, this wouldn't have happened."

Another county supervisor, Michael D. Antonovich, said in a statement that the Board of Supervisors "was assured that full background investigations would be conducted and only those qualified would be hired by the Sheriff's Department."
"Those who breached that process should be held accountable," he said.
---
MISCARRIAGE OF JUSTICE: COMMON INVESTIGATION METHOD INDUCES FALSE CONFESSIONS
The New Yorker has an fascinating story about how an oft-used law enforcement interrogation tactic called the "Reid Technique" can (and does) elicit false confessions. The technique involves a series of steps on the part of investigators, including assessing whether the suspect is lying, to pretending to have evidence and minimizing the consequences of the alleged crime.
Unfortunately, the article is hidden behind the New Yorker's usual paywall. Here's a small clip from the beginning of the piece (do go read the rest if you have a subscription):
On December 14, 1955, Darrel Parker came home for lunch from his job as a forester in Lincoln, Nebraska. A recent graduate of Iowa State, he had moved to Lincoln with his wife, Nancy, who worked as a dietician for a flour-and-noodle company and had a cooking show on the local television station. He found her dead in their bedroom. Her face was battered, her hands and feet were bound, and a cord had been knotted around her neck. The medical examiner later determined that she had been raped before the murder.

Parker called the police and spent the next several days in a fog of grief and sedation. After the officers questioned him, he took his wife's body home to Iowa for burial. Several days later, while mourning with her family, he got a call from the attorney for Lancaster County, Nebraska. There was some new information, the attorney said, and he asked if Parker could come in and help with the investigation. When Parker arrived, he was led into a windowless room and introduced to a large, well-dressed man named John Reid.

Reid was a former Chicago street cop who had become a consultant and polygraph expert. He had developed a reputation as someone who could get criminals to confess. Rather than brutalize suspects, as police often did in those days, he used modern science, combining his polygraphic skills with an understanding of human psychology…
The author, Douglas Starr, is co-director of the graduate Program in Science and Medical Journalism at Boston University. (Business Insider's Erin Fuchs also wrote about the New Yorker piece—you can read it here.)
---
MANY LAUSD SCHOOL LIBRARIES HAVE GONE DARK WITHOUT $$$
Approximately 145 LAUSD schools may have been forced to shut down their libraries due to lack of funding, according to staffing information obtained by KPCC this week. Because the district no longer pays for school library workers, and state law says that the libraries cannot be run by volunteers, many LAUSD schools (especially middle schools) have lost a crucial tool to help shrink the learning gap between students from lower and higher income families.
KPCC's Annie Gilbertson has the story. Here's a clip:
The district has 457 elementary schools, but only 380 schools have at least a part time library aide, according to statistics provided by L.A. Unified. That translates into about one in five schools that can't open their libraries.

Shortages have hit middle schools the hardest — 83 percent of them are without a librarian, according to district staffing numbers.

Some schools are working around the district the same way they've gotten around insufficient arts instruction — with parents chipping in to pay for it.

That's what parents at Wonderland Avenue Elementary, in Canyon Hills, did.

"We can allocate $40,000 to have our library opened," said parent Stacey Gonsalves. "I don't know how many schools in LAUSD are sitting with their doors locked and the lights turned out" because they can't.

The shuttered libraries are a legacy of years of budget constraints. The district used to pay for library workers directly, but cut them from the budget in 2011. Schools that wanted them had to find room in their discretionary funds, which can create difficult choices.

"You have to make the choice between a school nurse, an office tech, the library aide, counselors, everything – because you can only afford one," said Franny Perish, a library aide at Dixie Canyon Community Charter School and a member of the The California School Employees Association.