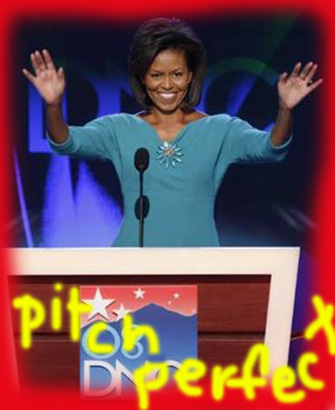 Ted Kennedy's appearance and video was an inspirational tear jerker designed to draw the Democratic clan together.
Michelle Obama's speech was something else. It was an introductory message to the whole country.
….He's the same man who drove me and our new baby daughter home from the hospital ten years ago this summer, inching along at a snail's pace, peering anxiously at us in the rearview mirror, feeling the whole weight of her future in his hands, determined to give her everything he'd struggled so hard for himself, determined to give her what he never had: the affirming embrace of a father's love.

And as I tuck that little girl and her little sister into bed at night, I think about how one day, they'll have families of their own. And one day, they – and your sons and daughters – will tell their own children about what we did together in this election. They'll tell them how this time, we listened to our hopes, instead of our fears. How this time, we decided to stop doubting and to start dreaming. How this time, in this great country – where a girl from the South Side of Chicago can go to college and law school, and the son of a single mother from Hawaii can go all the way to the White House – we committed ourselves to building the world as it should be.
No matter what negative drivel James Carville was spewing on Monday night, Michelle's here-we-are-get-to-know-us speech hit every note with graceful accuracy and inarguable authenticity—and did exactly what needed to be done.
Even her dress was good. No cliche red blazer. (Yeah, yeah, it's a trivial point. But you know she had to think a lot about it.)
Her talk about her dad, his struggle with his canes and his courage….it was all very effective.
And it didn't hurt for us to see all over again that Barack is genuinely hot for his wife.
Yes, and the kids were impossibly winning and obviously (and unfake-ably) well-loved by their daddy.
"I hope everybody has an open heart and an open mind in this campaign," blurted the often very irritating Chris Matthews in a moment of genuine emotional overwhelm, before he went back to being his usual hyperactively-defended pundit self.
Me too.
Michelle Obama was always an impressive woman.. But she's grown stronger and more politically sure-footed in the course of the campaign.
Yet, what she had to show us on Monday night, was that she was someone the country could take to its heart—and be proud of. She did exactly that: She showed us she'd make one hell of a first lady.
Carville, you sour-grapes-spitting moron,, this is not like every other election. This time the first night had to be personal.
The platform and the talking points can—and will—come later.