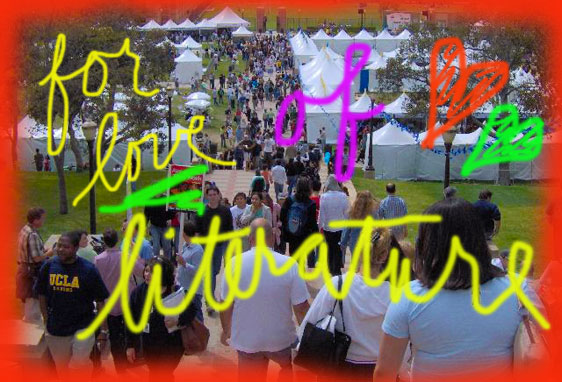 Every year on the last weekend in April, the Los Angeles Times gives a stupendous gift to the city.
The LA Times Festival of Books, is held on the UCLA campus where around 450 authors will read, discuss, recite, answer questions, spin stories, tell tales.
And its all free.
Whatever your literary pleasure, there's an event for you. You'll find:
….noirish and proceduralist mystery writers (Michael Connelly, Robert Crais, T. Jefferson Parker, Elizabeth George)

…..wise journalistic scribes (Marc Cooper, Dave Cullen, Barry Siegel, John Buntin)

….historians and cultural commentators (Reza Aslan, Richard Reeves, David Shields)

….nonfiction adventurers (Sebastian Junger, Chuck Bowden, Deanne Stillman, Amy Wilentz)

…..erudite & humorful fiction whizzes (Tod Goldberg, Seth Greenland)

…..marvelous memoirists (Samantha Dunn, Tim Page, Dinah Lenney, Rachel Resnick, Hope Edelman, Jesse Katz)

…..witty and wonderful poets (Amy Gerstler, Mark Doty, Wanda Coleman)

……a pile of famous novelists—fiction and non (T.C. Boyle, Dave Eggars, Yann Martel, Terry McMillan, Paul Harding, Bret Easton Ellis)

…..plus stellar children's authors, cooking stars, and the amazing and never-to-be-missed-if-you-can-help it, Father Greg Boyle in conversation with Warren Olney…..and a zillion other cool people and activities.
For instance at 12:30 PM on Saturday, I'm running a panel with:
Peter Schrag, whose wonderful Not Fit for Our Society sheds light on our hot-button immigration debates by looking at the nativist movements and immigration politics of the past.
Miriam Pawel, who has written, The Union of Their Dreams, an insightful and controversial book on Cesar Chavez's farm worker movement, showing it from angles not seen before, which some which had not been brought to light.
Richard Rayner whose A Bright and Guilty Place explores the dark and light that has always entwined through the history of Los Angeles through a high profile, nearly mythic scandal of the 1920s.
We're going to chat about what these explorations of the past can teach us about the problems of the present and the possibilities for the future (or something of that nature).
So y'all com'on down.