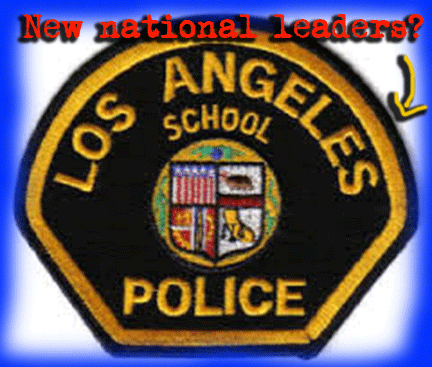 TELLING THE DIFFERENCE BETWEEN STUDENT MISBEHAVIOR AND CRIMINAL BEHAVIOR
In a drastic change in approach when compared to the policies and protocols that ruled the day in the Los Angeles Unified School District as recently as three years ago, the head of the district's school police, Chief Steven Zipperman, announced on Tuesday that his force will no longer criminalize the less serious forms of school rule breaking—a move that is expected to significantly reduce student contact with the criminal justice system.
Instead, multiple categories of student actions that previously would have led to citations or arrests, will be now be handled by referring the student to rehabilitative forms of intervention by school officials.
These newly re-classified behaviors include such infractions as tobacco possession, alcohol possession, possession of small amounts of marijuana, minor damage to school property (under $400), trespassing on school property, and most fights between students, which usually account for 20 percent of school arrests.
The policy of treating non-serious student misbehavior as criminal behavior was part of the zero-tolerance mania that came into fashion 25 years ago when fear about youth gang violence was hitting its apex, then continued to ramp up further in the panic after school shootings like Columbine in 1999.
The new policy, said Zipperman, "contains clear guidelines" that will help LASP officers "in distinguishing school discipline responses to student conduct from criminal responses."
---
HARD WON CHANGES
Tuesday's reforms are the latest in a series of hard-won changes that began to gain traction after national reports showed that the broad-brush of zero-tolerance did not, in fact, make schools safer, and that contact with police was a strong predictor of school performance and whether a kid would graduate from high school or drop out. (A single arrest doubles a student's chances of dropping out of school.)
Significant progress was made in Los Angeles in 2012, when police agreed to dial back much of the disastrously punitive policy of truancy ticketing, in which thousands of students per year were issued $250 tickets, often resulting court fees on top of them, for being late or absent from school. Instead, students with chronic absences began being referred to school counselors, rather than courts.
---
CONCERN OVER RACIAL INEQUITIES
The urgency for reform was further recognized after data surfaced showing that school arrests and school suspensions in California consistently cut disproportionately against students of color and those with disabilities. In 2013, in Los Angeles, for example, LA School Police made nearly 1,100 arrests, 94.5 percent of those arrests involved students of color.
That same year, black students represented just 10 percent of the student population, but accounted for 31 percent of the LASP arrests.
Manuel Criollo, Director of Organizing for the Strategy Center's Community Rights Campaign, called Tuesday's announcement a "civil rights breakthrough" that would help "curb the school to prison pipeline in Los Angeles."
Supervising Juvenile Court Judge Donna Groman put it another way.. "Juvenile court should be the last resort for youth who commit minor school-based offenses," she said in a statement. "The education system is better equipped to address behaviors displayed at the school level through restorative justice and other alternative means."
Groman, along with presiding judge of the LA Juvenile Courts Michael Nash, was among the prominent players who actively supported California-based pro-bono law firm, Public Counsel, and the Community Rights Campaign, in their two years of negotiation for Tuesday's changes.
"There are enough studies that show bringing them into the justice system is really more of a slippery slope that leads to negative outcomes and poor futures," Judge Nash told the New York Times this week. "The people who are in these schools need to deal with these issues, not use the courts as an outlet. We have to change our attitude and realize that the punitive approach clearly hasn't worked."
---
A NATIONAL MODEL?
The LA School Police joined Oakland, San Francisco and Pasadena in enacting these much-needed reforms.
However, with more than 640,000 students and nearly 1,100 schools, the LAUSD is the second largest school district in the nation. (New York's system is the largest.) And its school police force is America's largest, As a consequence advocates hope that Tuesday's reforms will lead the way for similar reforms statewide and elsewhere in the U.S.
"If fully implemented,"said Laura Faer, Statewide Education Rights Director for Public Counsel, "this policy will move Los Angeles in the right direction to becoming a nationwide leader in putting intervention and support for struggling students before arrests and juvenile court time."
May it be so.
---
---
AND IN OTHER NEWS:
NEW U.C. IRVINE STUDY SAYS HAVING A FATHER OR MOTHER LOCKED UP CAN BE MORE DETRIMENTAL TO A CHILD'S HEALTH THAN DIVORCE OR THE DEATH OF A PARENT
In a startling new study just released by UC Irvine, Assistant Professor of Sociology Kristin Turney finds that children's emotional and health disadvantages are an overlooked and unintended consequence of mass incarceration. "In addition," says Turney, "given its unequal distribution across the population, incarceration may have implications for racial and social class inequalities in children's health."
The study will appear in the September edition of the Journal of Health & Social Behavior, a publication of the American Sociological Association.
Here's a clip from the ASA's pre-publication write-up:
With more than 2 million people behind bars, the U.S. has the highest incarceration rate in the world. This mass incarceration has serious implications for not only the inmates, but their children, finds a new University of California-Irvine study. The study found significant health problems, including behavioral issues, in children of incarcerated parents and also that, for some types of health outcomes, parental incarceration can be more detrimental to a child's well-being than divorce or the death of a parent.

"We know that poor people and racial minorities are incarcerated at higher rates than the rest of the population, and incarceration adversely affects the health and development of children who are already experiencing significant challenges," said study author Kristin Turney…

[SNIP]

The likelihood of having an incarcerated parent is especially high in certain groups. "Among black children with fathers without a high school diploma, about 50 percent will experience parental incarceration by age 14, compared with 7 percent of white children with similarly educated fathers," Turney said.

Compared to divorce, parental incarceration is more strongly associated with both ADD/ADHD and behavioral problems in children; compared to the death of a parent, parental incarceration is more strongly associated with ADD/ADHD….
---
IN THE JOURNALISTIC COMMUNITY WE ARE REELING FROM THE MURDER OF JAMES FOLEY
A veteran war reporter, American freelance journalist, James Foley repeatedly went deep into conflict zones to bring back stories of the suffering and hardship of people most affected by the conflicts. He went to bear witness. Then he disappeared into Syria nearly two years ago on Thanksgiving Day 2012.
On Tuesday, the Islamic extremist group ISIS released a video appearing to show Foley's execution.
According to the Committee to Protect Journalists (CPJ) at least 69 other journalists have been killed in Syria since the fighting there began.