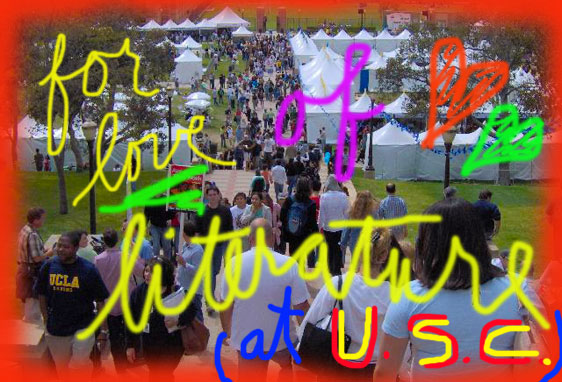 The LA Times Festival of Books is moving to the USC campus this coming spring, after spending all of its previous years at UCLA.
While I love the UCLA campus (and loathe the UCLA parking structures), USC has an equally beautiful campus (and one to which I feel a strong…ahem….personal attachment).
Mostly importantly, is a terrific move from a symbolic perspective. It's nice to have the FOB on the Westside and all, but after 15 years in Westwood, it's a great idea to move it to place that, by its more central location, reaches out psychologically-speaking to the whole of the city.
You go, LAT FOB!
Here's a link to the actual LA Times story on the LA Times FOB story.
Kevin Roderick at LA Observed posted the memos sent out by the LAT and USC. (In fact, I got the news from the memo sent out by USC President Max Nickias.)
PS: Franklin Avenue points out that the Times is saying that USC is closer to public transportation —which happens to be true. (Not everybody who loves books drives and parks, y'all.)
---
PS: I've seen a bunch of tweets on the issue that suggest "Westsiders aren't going to be at all happy about this!"
Well, I am a Westsider (a Topanga Canyoner, to be exact), and I would like to respectfully suggest that we can all…get a freaking grip!