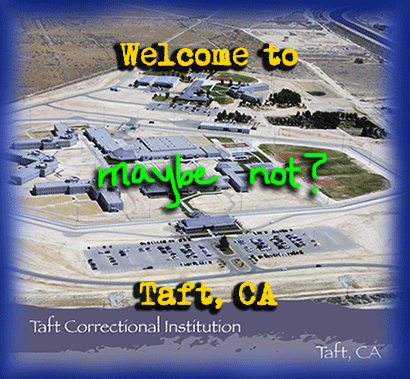 CONTRACT TO MOVE LA COUNTY JAIL INMATES TO KERN COUNTY MAY BE VOIDED NEXT WEEK, AND A NEW WOMEN'S JAIL IS IN THE WORKS
A controversial $75M contract to move 500 LA county jail inmates to Taft Correctional Institution in Kern County that the Board of Supervisors approved last month will likely be canceled at next Tuesday's board meeting. Supe Gloria Molina has introduced a motion to void the deal after learning of an ongoing legal dispute between the state and Kern County over leased beds. (Find the backstory here.)
KPCC's Rina Palta has the story. Here's a clip:
The Los Angeles County Board of Supervisors approved the contract in late September as a means of alleviating crowding in the jails. Two supervisors, Zev Yaroslavsky and Mark Riddley-Thomas abstained from the vote, citing questions about funding the contract and where the move fit into the county's long-term jail plans. Supervisors Gloria Molina, Mike Antonovich, and Don Knabe supported the contract as a way of adding jail space and potentially reducing the practice of releasing inmates early because of a lack of beds.

Now, Supervisor Gloria Molina has indicated she's withdrawing her support for the contract and introduced a motion to void it. That item will likely be on the board of supervisors' agenda on October 29. The motion will need three votes to pass.

Roxane Márquez, a spokeswoman for Molina, said the supervisor changed her mind after the county uncovered legal hurdles to quickly sending inmates to the Community Correctional Facility. It is run by the City of Taft, which is near Bakersfield.

"We did not know that the State of California and the City of Taft were involved in litigation about the use of those beds," Márquez said. "We're not interested in getting involved in the lawsuit."
The Supes also moved forward with a plan to fund a new women's jail facility in Lancaster at the Mira Loma Detention Center. (EDITOR'S NOTE: Is it just us, or does it feel like the board approves a gigantic new jail expenditure nearly every week without ever having approved any kind of overall plan or strategy? Seriously, people!)
The LA Daily News has the story. Here's how it opens:
The Board of Supervisors Tuesday voted to shift $100 million in state funding for a women's jail facility near Castaic to a new project site — the Mira Loma Detention Center in Lancaster.

The county was in danger of losing that grant money, which had been allocated for a "women's village" at Pitchess Detention Center, but easements owned by oil and utility companies have stalled the planning process.

Chief Executive Officer William Fujioka recommended moving the project to Mira Loma, previously used as a federal detention site for undocumented immigrants but now closed. "If we don't take today's action … we will lose that $100 million," he said, warning the deadline is the end of this month.

Assistant Sheriff Terri McDonald supported the change, saying a Mira Loma Women's Village would offer more capacity for innovative programs and the possibility of a re-entry facility to help ease the transition back to society.

The village would operate under "indirect supervision," with guards moving freely among inmates rather than being stationed in a central control room, and housing in the proposed re-entry facility would be outside the confines of the jail, so women would have some freedom to come and go.

"The county has an opportunity with this facility to design a national model for the treatment of female offenders," McDonald said, though she added that the site was "not without its challenges."

One obstacle is the traveling distance for inmates' families as compared with the Century Regional Detention Center in Lynwood, currently the county's all-female jail.
---
CDCR SAYS PEPPER SPRAY POLICY CHANGES ARE ON THE WAY
The California Department of Corrections and Rehabilitation announced Wednesday that it will be changing protocol on when and how much pepper spray can be used on mentally ill inmates. The policy shift comes amid federal hearings on alleged abuse of California's mentally ill prisoners. (You can catch up on that story here, if you missed it.)
The LA Times' Paige St. John has the story. Here's a clip:
In testimony Wednesday before a federal judge, the state official in charge of adult prisons said he sought the changes in part because of videotapes, introduced as evidence in the case, showing half a dozen inmates who were repeatedly sprayed with large amounts of pepper spray — even while naked and screaming for help.

Those tapes, he said, "are honestly one of the reasons we will be revising our policy to provide additional guidelines," said Michael Stainer, deputy director of the California Department of Corrections and Rehabilitation.

Stainer said the new rules would limit the amount of pepper spray guards may use on a prisoner, including banning the use of pepper spray canisters — designed for crowd control — on prisoners in small cells.

"I would love to have this policy in practice by the end of the year," Stainer told the Los Angeles Times.
The Associated Press also reported on the CDCR's policy changes. Here are some small clips:
The corrections department will limit how much pepper spray can be used and how quickly, said spokeswoman Deborah Hoffman. The rules are still being written and would not apply to emergency situations.

[SNIP]

"Obviously, it's our goal to use a minimal amount of force. Having it spelled out may help these situations stay more in control," Hoffman said.
---
LA TIMES GETS IPAD NUMBERS WRONG, OTHER PUBLICATIONS FOLLOW SUIT
The LA Times falsely reported yesterday that the LAUSD's deal with Apple to buy thousands of iPads would cost more than originally agreed upon. Many publications picked up the info and ran with it without bothering to fact-check.
LA School Report's Chase Niesner has the story. Here's a clip:
"This is not new news and [is] part of the original board-approved contract," said LA Unifed spokesperson Shannon Haber.

The article, "School iPads to cost nearly $100 more each, revised budget shows," circulated by numerous media outlets including LA School Report, reported that the iPads now cost $770 per tablet, stating, "the newly disclosed price, a 14 percent increase per iPad, appeared in a revised budget released in advance of a public meeting Tuesday on the $1-billion project."

But there was no revision. The "newly disclosed price" was available by reading the July contract, which states that the district would receive a significant discount upon purchasing 520,000 devices, totaling $400 million.
The folks at the LA Times weren't the only ones confused about the iPad deal, another story by the LA School Report's Vanessa Romo says that the LAUSD school board was shaky on the details. Here's a clip:
...two months into the school year, with more than 30,000 iPads deployed, $50 million already spent and another $500 million on the line, school board members still have more questions than answers about the most basic details of getting a sleek new(ish) tablet into the hands of every student. And what has become painfully obvious is that school board and committee members alike are only now asking questions that should have been asked long before the project got off the ground.
For instance, board members seemed not to know what was actually in the contract with Apple, or what it would actually cost per unit.
(Read the details here.)
---
LA COUNTY DEPUTY CHARGED WITH ASSAULTING HIS GIRLFRIEND MULTIPLE TIMES, THREATENING TO KILL HER AND MOTHER OF HIS CHILD
LA County Sheriff's Deputy Mark Eric Hibner was convicted Tuesday of beating his girlfriend after she found out that he was seeing another woman. He was also charged with threatening to kill both his girlfriend and the mother of his child. (Yet another story that makes the case for more thorough background checks.)
Here's a clip from the Orange County DA's website:
On Dec. 25, 2012, Hibner got into an argument with Jane Doe #1 after the victim discovered a sexually suggestive voicemail from another woman on the defendant's cell phone.

The following day, Dec. 26, 2012, Hibner continued to argue with Jane Doe #1 over his relationship with the other woman. Over the next few days, Hibner physically assaulted Jane Doe #1, spit on the victim, repeatedly swore at her, and threatened to kill her.

On Dec. 30, 2012, Hibner woke Jane Doe #1 and dragged her to the living room by her hair. Hibner threw the victim on the floor and got on top of her. Jane Doe #1 cried, begged Hiber to stop, and banged her foot on the floor to wake the neighbors. Hibner then covered the victim's mouth, pinched her nose, and threatened to make her pass out. He got off of Jane Doe #1, spit on her, threw a lit cigarette at her, and called her derogatory names.

On Feb. 19, 2013, Hibner met with Jane Doe #2, with whom he formerly had a romantic relationship and minor child, for a child custody exchange. During the meeting, Hibner threatened to kill Jane Doe #2 if she appeared in court at a hearing scheduled for two days later regarding a protective order for the crimes against Jane Doe #1.
---
LA WILL LIKELY BECOME FIRST CITY TO BAN ELEPHANT BULL HOOKS
On Wednesday, LA City Council moved to ban the use of bull hooks and other objects used to inflict pain on circus elephants, and asked that a city ordinance be drafted and presented to the council for a final vote.
The LA Daily News' Dakota Smith has the story. Here's a clip:
Swayed by graphic undercover video showing elephants being prodded with the tools, City Council members unanimously backed a ban on the steel-pointed rod resembling a fireplace poker. The tool is used to inflict pain on the animals, argued City Councilman Paul Koretz, who has sponsored numerous laws in support of animals' rights.

"It causes great harm and great pain to elephants," said Koretz, who held a bull hook aloft as he spoke on the council floor.

With the vote, the City Council ordered a draft ordinance, which must return to the council for a final vote. If ultimately approved, the ban would take effect in three years.

The delayed ban allows local workers dependent on Ringling Bros.' annual show to find replacement work, officials said.

With the move, Los Angeles is set to become only city in the country to ban the bull hook. Animal activists contend the tools are cruel, and point out that progressive zoos and habitats ban their use.