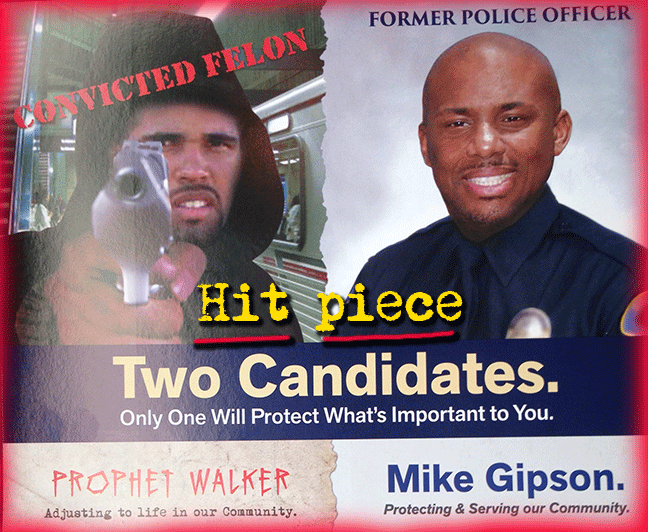 UGLY MUD FLIES IN THE ASSEMBLY RACE BETWEEN PROPHET WALKER AND MIKE GIPSON
Mud-slinging is an unpleasant fact of politics, particularly at the end of a hotly contested race.
But the form of loathsome mud that got thrown in the closing days of the 64th District Assembly race between Mike Gipson and newcomer Prophet Walker made even cynical campaign watchers blanch.
The worst of the mud came in the form of a campaign mailer that began landing in voters' mailboxes on Friday, October 31.
The flyer depicted a photo of Gipson in a police uniform, next to highly photoshopped image of Walker holding a very large, very menacing gun, which is pointed at the observer. Courtesy of Photoshop Walker is also wearing a hoodie sweatshirt (which disconcertingly recalls the hoodie of Trayvon Martin hybrid with that of the evil emperor in the Star Wars series).
The 64th district is made up South Los Angeles, Compton, Carson and a slice of North Long Beach, cities that—particularly in the case of South LA and Compton—have neighborhoods that have been deeply scarred by gun violence. As a consequence, many district residents and others reacted to the flyer with fury.
In an editorial, the Los Angeles News Group called the mailer the "most egregious dirty campaign flier in a local race that members of this editorial board can recall in decades of experience…"
Hip Hop mogul Russell Simmons (@UncleRush) tweeted:
Since u follow me @mgipson2014, take my advice + apologize for despicable ad. This is very offensive to our community pic.twitter.com/M1qGr2s0Fv
Walker's campaign called a press conference for Monday morning to protest the mailer. It was a well-attended gathering featuring angry appearances by community leaders and others, and lots of TV cameras.
---
REDEMPTION STORY
Across the doctored photo in the offending flyer the Gipson campaign stamped the words CONVICTED FELON.
As it happens, Prophet Walker, 26, is a convicted felon.
He was born in Watts to a heroin-addicted mother who, when Walker was six-years old and his sister was four, left the two children in an apartment in the Nickerson Gardens housing projects and never came back for them.
Eventually the authorities discovered that the two little kids were alone in a projects apartment, social services were called in and, eventually, Walker and his sister went to live with their father, who was hardworking but overwhelmed.
By the time he was a teenager, Walker had somehow managed to steer clear of gangs, but he was a troubled, unhappy kid who did poorly in school and struggled with roiling emotions. By sixteen, in the course of riding the MTA with two other boys for two days straight, Walker and the other two got in fight with some other young men, one of whom Walker hit hard enough to fracture the guy's jaw in several places before stealing the guy's CD player.
Walker was caught, tried as an adult for the robbery and great bodily injury, and sentenced to six years in state prison. In California, teenagers with adult sentences stay in juvenile facilities until they turn eighteen. It was in Sylmar Juvenile Hall that Walker met film producer Scott Budnick, of the Hangover series. Budnick, among his other forms of criminal justice activism, taught writing to locked-up kids for the group Inside Out Writers. Budnick was impressed with Walker's intelligence, but not his self pity, and told the unhappy young man he need to buck up and grab hold of his life.
The lecture took. After Walker was sent to state prison at Ironwood, he began to read, to study and, in the course of doing so, to find himself. Eventually, he a wrote to Budnick about an idea he had in which young prisoners could be evaluated for their potential and, when appropriate, shipped to lower security prisons where they could take college classes and ultimately earn a two-year degree.
Budnick went for it, and so did the state. Jerry Brown signed off on the program. Walker was in the first pilot group to be transferred.
When Walker was released from lock-up after five years and three months, he was 22-years old, had a two year degree, a surprising amount of charisma, and a strong sense of direction. He managed to get himself accepted into the engineering program at Loyola Marymount University then, before graduation, got hired by a respected Westside construction firm, Morley Builders. Suddenly, four years out of prison, he had a degree and a budding career.
But he wanted more than that.
While working his day job on large construction projects (he now is working for the Jordan Downs Redevelopment Project), Walker spent his spare time with low-income kids from the kind of violence-fraught neighborhoods he'd known, and helped found a program called Watts United Weekend, in which inner city kids are mentored at retreats outside the city. He also gave time to the Anti-Recidivism Coalition, a program of Budnick's, where Walker talked to other former prisoners struggling to reboot their lives. Soon he was on the board of directors for Inside Out Writers.
Eventually, with strong encouragement from supporters like Budnick and others, Walker decided his next step in helping keep kids away from the kind of damaging paths he'd once walked, was to run for office. Out of a field of four candidates running for the newly opened District 64 assembly seat, he came in second in the primary with 21 percent of the vote, trailing Gipson, the mainstream candidate backed by a string of elected officials and unions, who cruised to any easy lead with 51 percent. It was presumed that Gipson, a three-time Carson city council member, former Maywood police officer, who was very politically connected, would win in the general election without much problem.
But, after a summer of knocking on doors in the district, Prophet Walker's story had taken hold with residents and, for the first time in the race, Gipson had a serious challenger.
And Walker had attack ads aimed his direction.
He was accused, among other things, of being a tool of Hollywood and a deadbeat dad who paid no child support for his daughter, although his campaign has produced documents that he is fully up to date with child support, having fallen behind when he was in prison. (Walker managed to get a girl pregnant when he and she were both teenagers, before he assaulted the guy with the CD player. He now shares custody of 8-year-old Pryla, who has often been cheerily visible during the campaign.)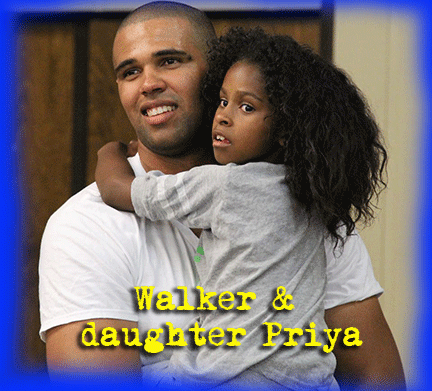 Finally there was the photoshopped gun and hoodie.
---
APOLOGIES… SORT OF
Although Gipson hasn't talked to reporters about the photoshopped hit flyer, he did put forth an apology of a sort on his website in which, after saying that he was, in fact, the one who had endured attacks (although he gave no examples or specifics). Then three quarters of the way through the thing, he suggested that he allowed his "emotions to get the better of me.." and then so he…
"...allowed a volunteer to design and send out a mail piece to a small amount of voters in our district to set the record straight. I stand by the facts of the mail piece designed by this volunteer, as it was 100% factual, but in retrospect I realize that the volunteer's graphic design elements went too far. This mail piece was not properly vetted by my entire campaign team, it was only one volunteer and myself, and for that I take responsibility for allowing something to go out with my name on it, that was 100% true, but included over-the-top visuals.
The Walker campaign felt a response was needed, as need a string of community members and angry supporters. Hence the Monday's press conference, which featured people from Congressman Tony Cardenas, to community organizer, Najee Ali, to former state senator, Tom Hayden, to producer Norman Lear, to Homeboy Industry's Hector Verdugo reading a note from Father Greg Boyle, and more.
"It is, in no uncertain terms," wrote Boyle, "that I denounce here the photo-shopped travesty which was the flyer circulated by Mr. Gibson. it is beneath the dignity of the entire electorate of Los Angeles to see such a demonizing and reckless act in the name of 'political business as usual.'"
The speakers were equally passionate.
"In a post Trayvon Martin society," said Najee Ali, "it's extremely disappointing to see a black candidate smear another black candidate with lies and stereotypes we are trying so desperately to overcome…. My story is similar to Mr. Walker's story and many of the South Los Angeles residents who identify with the story of redemption and being given a second chance. There is only one way to stop people like Mike Gipson from committing this sort of despicable act and that's to vote him out of office….
So, is he right? Should the creepy campaigning affect the actual election? Will it? And, if so, in what direction?
We're about to find out.
---
BUT WHOMEVER YOU VOTE FOR…..BE SURE TO VOTE.
---
---