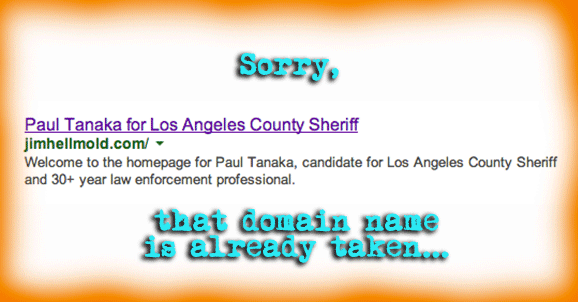 AN LASD CAMPAIGN WEBSITE PRANK
When Assistant Sheriff Jim Hellmold and Long Beach Police Chief Jim McDonnell, both candidates for Los Angeles County Sheriff, tried to set up campaign websites, they found most of their viable options were already purchased. Not only that, the bought up sites (JimHellmoldforSheriff.com, for instance) redirected to a site for former Undersheriff Paul Tanaka.
Tanaka's campaign denied any involvement when contacted, and asked the web hosting company to shut down the redirecting sites shortly thereafter.
The LA Times' Robert Faturechi has the story. Here's a clip:
When Jim Hellmold decided to run for sheriff of Los Angeles County last month, he knew that one of the first things his campaign needed was a website. He figured JimHellmoldForSheriff.com would make the most sense.

Except when he typed the address into his browser it took him to an already established site promoting one of his competitors: former Undersheriff Paul Tanaka.

So he tried another: JimHellmold2014.com.

Again, he was directed to a site boosting Tanaka.

"I was left with 'Hellmold-the-number-four-sheriff-dot-com," the assistant sheriff said. "I look rinky-dink."

Across town, Long Beach Police Chief Jim McDonnell, who decided to run for sheriff around the same time, was having a similar experience. Basic domain names with his name were already taken and leading him to a site for Tanaka…

"Apparently he bought everything he thought I wanted," McDonnell said. "I was disappointed. I thought, you know what, we're all cops trying to run for a job and hopefully we respect each other.
---
AN ASSEMBLY BILL TO CREATE INDEPENDENT OVERSIGHT OF THE LASD
A new California bill, introduced by Steven Bradford (D-Gardena), would create a permanent civilian oversight committee for the LA County Sheriff's Department.
For months, the LA County Board of Supervisors have been discussing the possibility of an oversight commission. On Tuesday, the Supes voted to have IG Max Huntsman, (interim) Sheriff John Scott, and county counsel to look into what kind of oversight would work for the department. (Read about it here, if you've missed it.)
---
THE PLIGHT OF EXONEREES IN THE UNITED STATES
People who are exonerated after spending time in prison rarely receive monetary compensation, and when they do, it takes years to travel through the court system. Exonerees given the assistance that everyone else released from prison receives.
In 2013 alone, 87 people were freed after wrongful incarceration.
Over the weekend, the NY Times' Alan Feuer had a worthwhile story (we didn't want you to miss) about the lack of support offered to the unjustly imprisoned upon their release. Jeffrey Deskovic, a fellow exoneree who is working to bridge that gap. Here are some clips:
A sprawling literature exists describing the challenges of re-entering society after serving time in prison, an experience that is marked by depression and disorientation, and is hard enough for those who have been rightfully punished for their crimes. But what about those who are wrongly sent away as the victims of mistaken identity or prosecutorial error? The justly incarcerated are likely to have access to a battery of post-release services like health care, housing aid and social-work assistance, but those who should not have been locked up in the first place are rarely given treatment to address their special needs, and are often left to fend for themselves, finding the cure for their "disease" in one another's company.

"There was a gap for men like us and I wanted to fill it," said Mr. Deskovic, who spent 16 years in prison for a rape and a murder he did not commit. After his release in 2006, he filled that gap with the Jeffrey Deskovic Foundation for Justice, a product of a settlement with his jailers that is focused on helping the innocent who found themselves imprisoned to manage the financial and emotional results of their own release.

A combination of advocacy organization and support group, the Deskovic Foundation, since its creation in 2012, has collected a small, tightknit brotherhood of exonerated inmates, a society of the wronged whose members have been forced to come together and assist one another in the absence of assistance from anyone else.

When Eric Glisson, improperly imprisoned on a murder charge for 17 years, was recently planning at age 40 to open Fresh Take, his juice bar in the Bronx, Mr. Deskovic offered him marketing advice and bolstered his credit by co-signing the lease. When Mr. Lopez, convicted of a killing he did not commit, was freed from prison last winter after serving more than 23 years, Mr. Deskovic replaced the clothes he was arrested in with an outfit from Macy's and put him up for six months — rent free — in the foundation's apartment in Washington Heights.

[SNIP]

"People who have been wrongly convicted don't have any reason to trust authority," said Karen Wolff, a social worker with the Innocence Project. "The irony is it impacts their ability to deal with the people there to help them — with their lawyers, the social-service agencies they go to, even with potential bosses down the line."

Then, of course, there are "bitterness issues," Ms. Wolff said.

"The first year out is critical in their ability to transition back to life," she added, "and there is no central place, no single institution that can tell them, 'O.K., this is what we took from you, now here's what we're going to give you back.' "

It is widely assumed that exonerated inmates can simply make a claim against their jailers and walk away, like Mr. Deskovic, financially set for life. But only 29 states have laws that permit the wrongfully imprisoned to sue for compensation, and even in those states, the cases often languish in court for years.
---
JAM-PACKED CONGRESSIONAL HEARING ON SOLITARY CONFINEMENT HAS TO FIND A BIGGER ROOM
The debate about solitary confinement, an issue we often point to on WLA, has really been heating up, at both the congressional and state levels.
On Tuesday, a Senate Judiciary Committee hearing on the issue had so many attendees that the committee had to move to a larger room.
NPR's Carrie Johnson talks about the hearing with Melissa Block on All Things Considered. Here's a clip:
BLOCK: And it was just last week that we saw New York announce sweeping changes to solitary confinement for inmates in state prisons there. Why are we hearing so much about this practice right now?

JOHNSON: In the last couple of years, a lot of different factors have come together. There have been efforts by states to save a lot of money and reduce violence in prisons and also a critical massive advocacy by the ACLU and some researchers. And now, today, we saw some bipartisan interest in the U.S. Senate.

One fact that came out today was that it cost about $78,000 a year to house somebody in the federal prison system in solitary. That's three times as much as it cost to put somebody in a regular prison unit. And, Melissa, here, as in so many areas of law and order around the country, states are leading the way. Mississippi and Maine have been early adopters of reforms in this area. And even in Texas, state lawmakers last year have passed legislation to study solitary confinement.
---
CALIFORNIA BILL TO END USE OF "GAY PANIC" AND "TRANS PANIC" AS CRIMINAL DEFENSE STRATEGIES
Another new California bill, AB 2501, would ban the use of "gay panic" or "trans panic" as a defense strategy in criminal cases. Under the bill (to be introduced by Assemblymember Susan Bonilla in partnership with Equality California), a defendant would no longer be able to blame an alleged crime against another person as having occurred due to fear caused by the victim's orientation or gender identity.
Here's a clip from Assemblymember Bonilla's website:
"It is reprehensible to learn that criminal defendants are encouraged by their defense counsel to employ a 'gay panic' or 'trans panic' defense in an attempt to receive a possible lesser charge or avoid conviction," said Assemblywoman Bonilla. "A panic attack defense allows a criminal defendant to claim that violence against the LGBT community is somehow understandable or acceptable due to the victim's orientation or gender identity. With this bill, we are making it very clear that it is never acceptable, and that there is no place for prejudice against people who are lesbian, gay, bisexual, or transgender.

AB 2501, sponsored by Equality California, a statewide advocacy organization for the LGBT community, would prohibit the use of a "panic defense" to qualify for a conviction of voluntary manslaughter instead. Current law calls for the jury to be instructed that their verdict should not be influenced by bias against a victim.
(And a quick shout out to Arizona Gov. Jan Brewer for target="_blank">vetoing the bill that would have allowed businesses to use their religious beliefs as an excuse to refuse service to the LGBT community.)