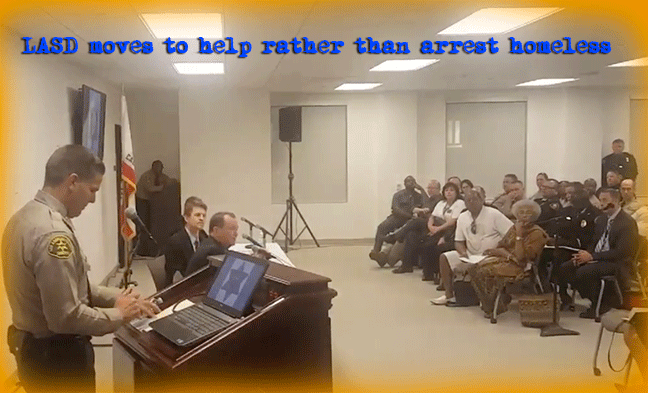 INSTEAD OF ARRESTING HOMELESS, LA COUNTY SHERIFF'S DEPUTIES WILL CONNECT THEM WITH SERVICES
On Tuesday evening, LA County Sheriff Jim McDonnell announced that sheriff's deputies will be instructed to refrain from arresting homeless people for minor crimes related to homelessness. Instead, the goal for deputies will be to connect homeless people with much-needed services. The department's decriminalization initiative is expected to go into effect at the beginning of next year, after deputies receive training.
The initiative was discussed during a public forum held with the LA County Fire Department, and the LA Homeless Services Authority. Sheriff McDonnell said he is also "trying to get the funding to provide, across our department, crisis intervention training, so that we have the ability to give the tools necessary to our deputies, to our personnel throughout the organization."
Decriminalization of the county's homeless was one of 47 recommendations in a $100 million comprehensive interagency plan to combat homelessness, which was approved by the LA County Board of Supervisors Back in February.
"It's going to take an active holistic effort from you, our non-profits, our churches, private and public entities to address this challenge," LA County Fire Chief Daryl Osby said, addressing the audience.
Meanwhile, the county supervisors are still urging lawmakers to call on Governor Jerry Brown to declare a state of emergency over the homelessness crisis in California, in order to drum up $500 million in state funds for cities and counties grappling with serious homelessness.
The supes voted back in June to urge Sacramento to declare homelessness a state of emergency. The next day, Gov. Brown announced that he would not make the move. The governor's press secretary said the issue of addressing homelessness is a task for local governments. Since then, the state Assembly, local officials throughout California, and more than 25,000 petitioners have joined the call for the governor to act.
Supervisor Mark Ridley-Thomas urges the state Senate to join the push, and for Brown to take action. "If [Brown] can declare a state of emergency over a fruit fly infestation, doing the same for homelessness should be a no-brainer," said the supervisor.
Ridley-Thomas also notes that while a governor declaring a state of emergency over homelessness is rare, it has been done before. "Hawaii did it last year and again this year, with a homeless population of 7,000—less than one-tenth of those in California," Ridley-Thomas said.
---
FOR BLACK COMMUNITIES, TOO MUCH, AND NOT ENOUGH, POLICING
Jill Leovy, discusses the complex problem-–spotlighted in her 2015 book, Ghettoside: A True Story of Murder in America—of both under-policing and over-policing black communities in an interview with Vox's German Lopez.
In Ghettoside, Leovy writes about the disproportionate number of black men who are murdered in Los Angeles and across the nation—most of them killed by other black men—and the fact that most of those murders go unsolved by law enforcement. Yet people of color are disproportionately targeted by law enforcement and overrepresented in the justice system.
Leovy explained the issue in the context of a school playground: "…bullies beat you up every day on the playground. But the only time the playground supervisor comes around, he or she says, 'Don't chew gum on the playground.' In this way, Leovy says, the playground supervisor is ignoring the much larger issue of the physical harm inflicted on the student. "You would cease to believe in the system," Leovy said in the interview with Lopez.
Part of the problem, according to Leovy, is that we ask too much of law enforcement officers above their duty to protect the public from violence and other dangers and enforce the law. Police focus their time and resources dealing with mental illness, substance abuse, and classroom discipline, rather than public safety. Here's a clip from the interview:
In fact, you'd probably cease to believe that it's just the bullies picking on you, but rather that the system is a bully in and of itself. Pulling back to the criminal justice system, this is how Leovy described the situation in her book: "Like the schoolyard bully, our criminal justice system harasses people on small pretexts but is exposed as a coward before murder. It hauls masses of black men through its machinery but fails to protect them from bodily injury and death. It is at once oppressive and inadequate."

The result, Leovy argues, is more violence. The fundamental basis of the law has long been to help people settle disputes without violence and through some sort of legal system instead. White communities have lived with this comfort, based on the higher number of crimes solved in those communities, for generations. Black communities — where people are often trapped due to severe residential segregation — have not, and that helps explain why they suffer from high homicide and general violent crime rates.

As Leovy writes, "Take a bunch of teenage boys from the whitest, safest suburb in America and plunk them down in a place where their friends are murdered and they are constantly attacked and threatened. Signal that no one cares, and fail to solve murders. Limit their options for escape. Then see what happens."

It's not just homicide. The clearance rate for other violent crimes, such as robbery and assault, are generally even lower: FBI data shows that in the murder clearance rate in 2014 was about 64.5 percent in 2014, but 47.4 percent for violent crime overall — and just 29.6 percent for robbery. And these rates are much lower in minority communities.

"Ghettoside has been accused of being too reductive by hanging so much on the narrow issue of homicide clearances, which is a fair criticism," Leovy told me. "I'm not arguing that you can hang everything on homicide clearances, or that [more clearances] alone would resolve the disparities in death rates in homicide on racial lines. But I do think it's a big deal. And homicide is an indicator; it's actually used by a lot of criminologists as an indicator of crime, where the numbers are thought to be relatively accurate."

Homicide also shows the vicious cycle involved. Police need witnesses and cooperation from the community to solve crimes, including murders, and therefore build legitimacy that can help prevent future crimes. But if communities feel distrustful as a result of being both overpoliced for low-level crimes and underpoliced for serious crimes, they are going to be less likely to cooperate with cops.

So most murders will go unsolved, and those unsolved murders lead to more distrust. That leads to more murders, which will subsequently go mostly unsolved. And so on.

This is why so much of the work on policing reform, such as President Barack Obama's Task Force on 21st Century Policing, focuses largely on rebuilding trust between the police and minority communities.
---
BILL TO HELP MORE LOCKED-UP KIDS FINISH SCHOOL GOES TO GOVERNOR FOR FINAL APPROVAL

A bill to help more justice-system involved California kids graduate high school on time has passed out of the state Senate and Assembly, and now heads to Governor Jerry Brown's desk for a final signature.
The bill, AB 2306, would exempt kids locked up in county juvenile detention facilities from having to complete locally required coursework (like health and language courses) beyond what the state requires for graduation. Other high-needs student groups—homeless and foster youth—are already exempt from having to complete additional coursework.
The Redding Record Searchlight's Nathan Solis has more on the bill and the ongoing problems with the juvenile court schools in California. Here's a clip:
As the system works now, students who transition from the Juvenile Rehabilitation Facility after finishing their sentences to local high schools can fall behind in their classes as they work to meet local graduation requirements such as health or language classes. Hartman said there is not enough time to fit all the necessary course work to meet both state and local requirements while a student is at the facility.

"Simply put there were so many holes in their educational path," Hartman said.

With the proposed law, juvenile court students who complete their second year of high school would be placed in the same category as foster care and homeless students who are exempt from local requirements.

According to Frazier, the bill would "remove barriers experienced by at-risk students when making the transition" to public high schools.
---
EVEN MORE PRESIDENTIAL COMMUTATIONS
On Tuesday, President Barack Obama commuted the sentences of another large group of federal inmates—including several in California—serving outdated sentences for cocaine, methamphetamine, marijuana, and other drug-related offenses.
With Tuesday's 111 commutations, and 214 petitions granted earlier this month, Obama appears to be ramping up his clemency efforts as he nears the end of his second and final term as president. Obama has granted more commutations just in August than any president in an entire year in approximately 100 years. Tuesday's clemency move brings Obama's total number of commutations to 673.