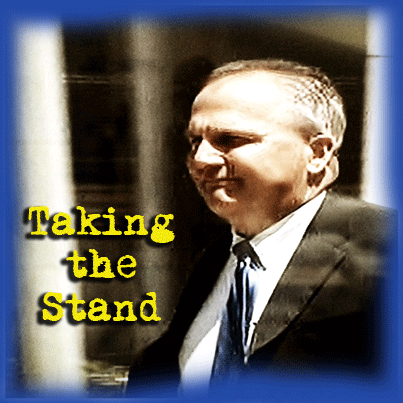 OPERATION PANDORA'S BOX GOES TO TRIAL: LEAVINS TAKES THE STAND, PART 1
Last December, seven members of the LA County Sheriff's Department were indicted for conspiracy to obstruct justice pertaining to the alleged hiding of federal informant Anthony Brown from his FBI handlers, and related actions, an assignment that came, unofficially, to be be called "Operation Pandora's Box."
In total, 20 members of the LA County sheriff's department have been indicted as part of the FBI investigation into allegations of civil rights violations and corruption, a probe that U.S. Attorney Andre Birotte described last year as "ongoing and wide-ranging."
In May of this year, Deputy James Sexton, one of the seven obstruction defendants, was tried separately. The result was a mistrial. The remaining six—deputies Mickey Manzo and Gerard Smith, sergeants Scott Craig and Maricella Long and lieutenants Greg Thompson and Stephen Leavins—are on trial now.
Lieutenant Steve Leavins, one of six defendants in the ongoing obstruction of justice trial involving members of the Los Angeles Sheriffs Department, took the stand on Friday morning in a packed federal courtroom. In the testimony that followed, Leavins described a chain of events that began with a meeting on August 20, 2011, at which Sheriff Lee Baca (whom Leavins said he'd never met before that day) gave him the orders that set in motion a sequence of actions by Leavins and his five fellow defendants—Lieutenant Greg Thompson, Sergeant Scott Craig, Sergeant Maricela Long, Deputy Mickey Manzo and Deputy Gerard Smith—that ultimately led to the charges for which Leavins and the other five are now on trial.
According to the prosecution, those actions include, but are not limited to, allegedly helping to hide federal informant Anthony Brown from his FBI handlers, attempting to threaten and intimidate FBI special agent Leah Marx at her home, and endeavoring to bully and cajole sheriff's deputy named Gilbert Michel into not cooperating with the FBI.
The jury had already heard in earlier testimony, how the August 20 meeting was called by the sheriff on an emergency basis on the Saturday after Baca and former undersheriff Paul Tanaka first learned that an inmate named Anthony Brown had been found with a contraband cell phone, and that Brown was not any inmate, but an FBI informant. The jury had also heard previously that, two days before the August 20 meeting, Baca had been told by the head of the FBI's Los Angeles office that the cell phone and Brown were part of an undercover federal investigation into brutality and corruption in the LA County jails, meaning the whole matter of the cell phone was fully sanctioned by FBI higher-ups.
Nevertheless, according to Leavins, Baca ordered him to launch a criminal investigation into the actions of FBI Special Agent Leah Marx, who was the lead agent on the feds' undercover probe, and thus responsible for Brown and the cell phone. He also ordered Leavins to "safeguard" Brown, which ultimately led to Brown being hidden—using an elaborate strategy of repeated name changes and avoidance of the normal fingerprinting process—from the FBI.
---
THE RISKS AND BENEFITS OF TESTIFYING
It is usually considered a risk for a defendant to get on the stand because, in cross-examination by the prosecution, the defendant is suddenly subject to questioning that may not be in his or her best interest. Yet on Friday the risk appeared to be mostly paying off for Leavins in that much of what he said bolstered an important part of the defense's theory of the case, namely that all six defendants were good cops following lawful orders that were not of their own making.
In that vein, Leavins described the meetings subsequent to August 20 in which he said he briefed, got approval, and/or had been given orders by Baca or then undersheriff Paul Tanaka (or sometimes both men) about each action he and other defendants took to hide inmate Brown.
On the stand, Leavins' painted a picture of a hyper-involved sheriff and equally present undersheriff who collectively directed him to circumvent the normal chain of command and report directly to them in meetings that were generally held in Tanaka's office.
He also told how he had obtained "authorization" from Tanaka before he ordered surveillance of special agent Marx and how, in a meeting in Tanaka's office, Sheriff Baca had instructed him to contact Marx at her residence "to get facts and information about the introduction of the cell phone."
Another significant revelation that came out in Friday's testimony was the fact that, according to Leavins, at least two department-related attorneys gave advice and signed off on the legality of many of the actions that are the now the basis of the government's criminal charges. These included the hiding of Brown, and the investigation of FBI special agent Marx.
One of the attorneys Leavins said he consulted multiple times was Paul Yoshinaga, a deputy county counsel who was assigned to the sheriff's department and had his office in the sheriff's headquarters in Monterey Park. (Yoshinaga is reportedly also a long-standing personal friend of former undersheriff Tanaka, with the friendship dating as far back as high school when the two were in the same 1976 graduating class from Gardena High.)
The other attorney with whom Leavins said he consulted on repeated occasions about the legality of his actions was Mike Gennaco, head attorney for the Office of Independent Review (OIR). According to Leavins, at one point in a meeting in which the sheriff was also present, Gennaco said that "the FBI was going to be in trouble for smuggling that phone," meaning the contraband cell that LASD deputy Gilbert Michel had brought in illegally to informant Brown as part of the FBI's undercover sting. Baca, said Leavins, was in agreement.
"This furthered my belief that we were on firm legal ground to proceed," Leavins testified of that meeting with Gennaco and Baca.
---
SYSTEM FAILURE
In another interesting and unexpected feature of both his direct testimony and in cross-examination by prosecutor Brandon Fox, Leavins admitted that he had "become aware that the sheriffs department's internal mechanism to investigate…abuse" and brutality by deputies toward jail inmates "had failed," that there was a "systemic breakdown" in supervision, discipline and investigation of abuses "that were occurring on a wide scale."
Under questioning from Fox, Leavins conceded that, in one instance, he had become aware of a video of an inmate being abused by a deputy while restrained by chains. And yet, despite the presence of the video, both the department's internal affairs investigators, and an "executive force review panel" concluded that the incident was fine and required no action. Leavins further conceded that, because of the "lack of discipline" signaling "tacit approval" for the deputy's actions, the man committed more assaults on inmates, and has since been charged with the original assault.
While the theme of deputy abuse of inmates and "systemic breakdown" in the LASD's ability to investigate such matters was originally brought up during the defense's questioning of Leavins, it seemed mostly to support the prosecution's contention that the FBI's launch of an undercover investigation into abuse and corruption inside the jail system was more than warranted.
---
BUT WERE THE ORDERS LAWFUL?
Although the just-following-orders part of the defense strategy seemed measurably strengthened by Leavins' testimony, the contention that these were lawful orders that he and the others were following seemed a harder theme to maintain, due to problems with the timeline in which the actions occurred.
For instance, Leavins had repeatedly insisted that Brown was only moved to outlying areas of the jail system with his name repeatedly changed, not to hide him from the feds, per se, but out of fear for the inmate's safely because, due to his informant status, corrupt deputies might wish to do him harm. However, in cross examination Leavins conceded that, after Brown stopped cooperating with members of Leavins' task force in early September 2011, he was moved virtually immediately back to Men's Central Jail where he remained for 10 days (making him presumably within reach of deputies who might wish him ill) before finally being transferred to state prison.
Also in cross examination, Leavins described his attendance to a meeting on August 29, 2011, that included—among other people—Sheriff Baca and U.S. Attorney Andre Birotte. It was at that meeting that Birotte told the sheriff to—as Leavins' put it—"butt out" of the feds' civil rights investigation into wrongdoing in the LA County Jails. Birotte further said, according to Leavins, that he didn't want any more discord in the matter, and that he hoped the sheriff's department would cooperate.
Yet, despite what was made clear at the August 29 meeting, according to Leavins' earlier testimony, he kept on, as ordered, with a criminal investigation of FBI agent Marx and, in late September, with the sheriff's encouragement and approval, sent Craig and Long to Marx' home where the two sergeants falsely threatened to arrest her.
Leavins' testimony will continue on Tuesday morning.