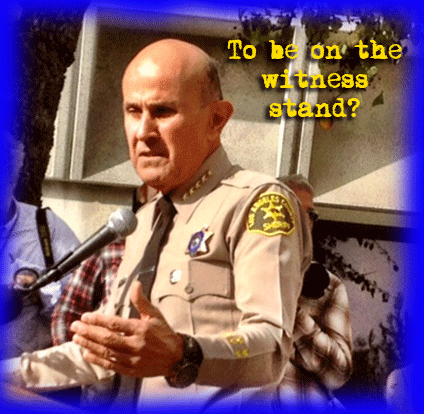 On Monday, LASD Deputy James Sexton and his attorney, Thomas O'Brien, were in court as Judge Percy Anderson decided what evidence would and would not be permitted to be used for Sexton's defense in his retrial scheduled to begin on September 9.
Although Anderson did not issue final rulings on all of the day's motions, for the most part he appeared to lean toward excluding what the prosecution wanted excluded.
He did appear to mostly agree, however, that Sexton's attorneys could call former Sheriff Lee Baca as a witness.
Sexton, if you'll recall, was one of seven members of the Los Angeles Sheriff's Department indicted for obstruction of justice for allegedly hiding federal informant and then jail inmate, Anthony Brown, from his FBI handlers in the summer of 2011.
Deputy Sexton was already tried once on obstruction charges this past May. The trial resulted in a "hopelessly deadlocked" jury, with a split of 6-6.
Initially, it was not clear that the prosecution would try Sexton a second time. Yet, after the government got guilty verdicts in early July against the six other department members charged with obstruction, federal prosecutors announced they were going to go ahead and retry the deputy.
Although Sexton will be retried on charges similar to those of which the other six were convicted, his case is dissimilar in significant ways, in that he was far lower on the food chain that the two lieutenants, two sergeants, and two deputies who were convicted, and are scheduled to be sentenced next month.
Also, unlike the others, Sexton cooperated with the FBI for more than a year, reportedly submitting willingly to 37 different interviews.
(The deputy talked with the FBI so much, in fact, that, in order to make communication with the feds easier and safer for Sexton, FBI agents gave him a cell phone that he could use solely for his calls to them.)
Interestingly, among the elements from the last trial that the prosecution wishes to exclude from Sexton's defense in the second trial are the details of this cooperation.