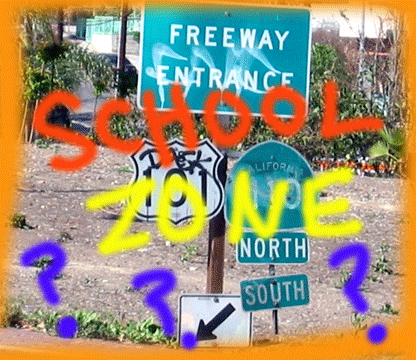 Just when I was starting to feel a teensy, weensy bit optimistic that the LAUSD board had finally knocked some sense into itself, I open the LA Times this morning and read this:
Despite a state law that seeks to prevent schools from being built near freeways and mounting evidence that road pollutants harm children's lungs, the Los Angeles Unified School District is in the process of adding seven new schools to the more than 70 already located close to highways.

Okay, let me get this straight. A state law passed in 2003 specifically prohibits public school districts from building campuses within 500 feet of a freeway "unless the district can mitigate the pollution or determines that space limitations are so severe that there are no other options." The district already has 70 such campuses. So the board's reaction is…..
…To build more of them?
According to the Times, the reason LAUSD officials have decided to build additional schools in unhealthy locations is because…. the district's "choices have become more and more limited."
Oh, well, gee, then it's perfectly okay. By the way, does this mean that those same officials will be willing to send their own kids (or grandkids) to one of these freeway-close campuses?

Right. I didn't think so.
It could be worse, I guess. I mean what's a little freeway pollution compared to building a school on a site loaded with toxic contaminates (cough-Belmont-cough). But, when multiple new studies show that kids going to schools near major thoroughfares are more likely to suffer from asthma and/or bronchitis, and with childhood asthma already alarmingly on the rise according to the CDC, particularly among inner city kids, then pushing that envelope still further doesn't seem all that….you know…. smart.

Or kid friendly.
The deeper you read into the article, the more your want to start banging your head against the nearest hard surface.
For instance, when Angelo Bellomo, the head of district's Office of Environmental Health and Safety, analyzed the two newest freeway-close schools in the works, he found "….both suffered from significant pollution and recommended three steps to mitigate damaging effects: air filtering, reduced outdoor activity when air quality is particularly bad and a 200-foot buffer from the freeway."

In other words, kids at these schools will experience few adverse health effects as long as they remain inside the school's air-filtered classrooms, never go outside for recess, or play any kind of outdoor sports. Heck. Sure. That works!
He said that if the school board wants to build on the edge of a freeway anyway, it will have to find that the benefits outweigh the health risks.

"It would be very difficult to justify such a finding," Bellomo said. "We are trying to do a better job dissuading the real estate agents from even looking at properties that are close."
Great. No wonder we have gang problems on our campuses. The LAUSD folks can't even get their real estate agents to behave.
Anyway, read the article. Tell me what you think.