Los Angeles County's public defender's office has been without a permanent leader since the previous Public Defender, Ron Brown, stepped down at the end of 2016.
Unlike district attorneys who are elected, public defenders are—with a few exceptions—appointed.
Such is the case in Los Angeles where the LA County Board of Supervisors has been trying for around fifteen months to find the right person to head up the nation's oldest PD office, which is comprised of approximately 700 attorneys who represent those county residents accused of a crime but unable afford to hire a lawyer.
Locating the right person to take the helm of LA's huge and complex office has evidently not been easy.
In July 2017, the executive search firm of Korn Ferry—which had been engaged by the county to help the board find high quality applicants —sent out a letter to various organizations soliciting candidates.
Prominent among the qualities a successful candidate for should have, according to the 2017 Korn Ferry letter, was plenty of experience working in the upper echelons of a public defender's office.
In other words, being a smart, talented, and highly experienced lawyer was not enough. In addition to all that, the right candidate must have spent significant time in world of indigent defense.
Approximately seven months later, however, the Board of Supervisors still had not managed to find and hire a new PD, although they had reportedly offered the job to two people, both of whom apparently turned them down.
Thus, in March 2018, a new search firm sent out a new letter of solicitation.
This time, however, the verbiage in the letter describing the necessary qualifications for the candidates no longer listed working in a public defender's office, or the equivalent, as a Must Have requirement.
Instead, the executive search firm of Hamilton, Rabinowitz, and Associates, Inc. appeared to be attempting to cast a wider net with their recruitment letter, which listed public defender work as only one among approximately a dozen qualities that were "preferable," but—according to the letter at least— no longer an absolute requirement.
Admittedly, to many people reading this story the notion of picking through the language of a search firm's letter with a pair of eyebrow tweezers may sound a bit…excessive.
Plus there is the fact that two sources inside the offices of two of the members of the Board of Supervisors told WitnessLA that the board is still committed to hiring someone who has PD experience.
Yet for public defenders or former public defenders, the change in the search letters' language is anything but trivial.  Rather, it has raised so much concern in California's criminal defense world that, on Friday, a letter signed by nearly 40 of some of LA's most respected criminal defense attorneys, civil rights attorneys, and former public defenders, went out to the supes respectfully expressing the collective alarm of the letter's signatories.
"We jointly urge the Board to modify the description of qualification for the position of Chief Public Defender to include the requirement that we believe is most critical for the position: significant criminal defense experience," the group letter stated. "Ideally, this would include public defense experience in a supervisorial capacity. The invaluable and unique knowledge and insights gained through criminal defense practice generally, and public defense practice specifically, are absolutely necessary to the posted position. There is no reasonable substitute for experience in this field of work: it is wholly unique to the practice and administration of law."
To illustrate the point, the letter offers some helpful edits and additions to the existing March 2018 search letter.
(You can read the entire letter for yourself here.)
The 39-attorney letter was not the only one of this nature. The National Association of Criminal Defense Lawyers (NACDL) wrote an earlier letter expressing similar concerns that was signed by the organization's president-elect.
Other attorneys wrote their own individual letters that they sent to each member of the board.
And the ACLU of Southern California—-which was one of the first to become aware of the changes in the recruiting letters—expressed strong opposition to the notion that the board was "even considering" hiring a chief public defender "who does not have "substantial experience" working in a public defender's office.
"You can't manage what you don't understand," Peter Eliasberg, Chief Counsel/ Manheim Family Attorney for First Amendment Rights for the So Cal ACLU, told WitnessLA. 'And you can't understand how a public defender's office works and the needs of its of clients if you haven't worked in one for a long time."
Plus we have talked to still other attorneys, each of whom seemed to have genuinely strong feelings on the topic.
For instance, there is Brendon Woods, Alameda County's well respected Chief Public Defender, who called the possibility of a non-PD being appointed extremely disturbing.
"You can't have someone who's never represented a criminal client be in charge of the largest public defender's office in the nation," he told us. To lead such a office one has to "deal with critical and ethical decisions every day," which is not a situation Woods believed one can parachute into without a lot of relevant prior experience.
To illustrate, the Alameda PD reeled off a couple of everyday examples. "There are decisions about spending money on experts, whether they're essential or not to a case.  You will be assigning death penalty cases to attorneys," where a wrong assignment carries a very high price.  And there are many other daily decisions that require a depth of past experience, without which, according to Woods, "you simply cannot do the job."
Civil rights attorney Ron Kaye was equally emphatic. Kaye is known for, among other things, the high ticket settlements he has gotten for his wrongly convicted clients. But previous to private practice, he had a career as a public defender.
"I can't emphasize enough that this is a totally different animal from any other kind of law," Kaye told us on Friday.
Okay, but if the supervisors say they are going to hire someone with the requisite experience, why is everyone so upset?
---
The Interim PD factor
To have a better idea of why a few lines in a couple of recruitment letters have turned into a big deal, it helps to know about the recent quarrel over the hiring of an interim public defender.
Due to the fact that LA County has been so long without a permanent leader for its PD's office, three different interim leaders have stepped into the breech, one after the other.
The most recent of these three is lawyer Nicole Davis Tinkham, whom the Board of Supervisors appointed for a six-month term as interim head of LA's Public Defender's Office in late January of this year, despite vehement objections from a majority of the attorneys whom she would be leading for the half-year of her contract.
The deputy PDs contended that their about-to-be new boss was the wrong person for the job for several reasons, the primary reason being the fact that Tinkham has no experience in the world of criminal defense, or in criminal law in general. None. Zero. Zip.
Furthermore, Tinkham, while an experienced and respected attorney, had most recently worked as the senior deputy county counsel in the office of LA's County Counsel. Prior to that, she had a past of defending law enforcement clients in civil rights cases, and one of her best-known repeat clients is the Los Angeles County Sheriff's Department, which critics of her appointment believed presented a potentially troubling conflict of interest.
It was Tinkham, for example, who represented the sheriff's department in a high profile civil case, Fetters v. County of Los Angeles, in which a sheriff's deputy shot a 15-year-old Palmdale boy who was riding his bike holding a toy gun, as he played a tag-like game with his brother and friends. The deputy said the teenager failed to drop the realistic looking toy weapon, when asked to so. The civil jury found otherwise.
A few days before the board took its vote on January 23, 390 out of the agency's approximately 700 deputy public defenders signed a letter that expressed misgivings about Tinkham's lack of experience in criminal law, and her past instances of representing the LASD.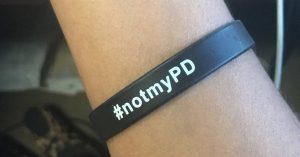 When the board voted to hire Tinkham anyway, around 150 or so public defense attorneys, along with a group of justice advocate supporters, held a protest rally on February 12 in Grand Park, right behind the Clara Shortridge Foltz criminal court building. Protesters wore wristbands bearing the message #notmyPD, and carried signs that read #ClientsFirst and #Resist.
(WitnessLA wrote about the vote and the conflict here.)
At the time of the vote, LA County Supervisor and Board Chairman, Sheila Kuehl, wrote that she was confident that Tinkham would bring "much-needed stability to the Public Defender's Office during this uncertain time."
The hope was, Kuehl wrote, that Tinkham's six-month tenure would give the board the time to recruit and "identify an individual who has the skills and vision to lead the country's largest and preeminent Public Defender's Office."
Since her appointment, some people with whom WLA has spoken in the PD's office have praised the work Tinkham has begun the task of reorganizing an agency that, in recent years—while innovative in certain areas—has become notorious for its pockets of morale-damaging dysfunction and toxic internal factions.
Others are less enthusiastic about their new boss.
Yet, whatever Nicole Tinkham's eventual score card turns out to be, the principle that her appointment represents has much to do with why so many experienced attorneys have been motivated to speak out.
---
Not a job, "a calling"
One of the most consistent messages we heard from both present and former public defenders is how much they believe the work to be, not a job, but a calling—more so even than most other forms of legal endeavor.
"I went to law school to be a public defender," said Alameda County's Brendon Woods. "I wanted to be in a courtroom representing primarily poor people of color accused of crimes. For me it had to do with my background and what I saw growing up. I wanted make sure I was that voice for people who had similar backgrounds to mine."
Nationally lauded civil rights attorney and author Bryan Stevenson has often said in public talks that "…the opposite of poverty is not wealth; the opposite of poverty is justice."
Woods suggests the same principle is at the center of the job description of a good public defender.
"I wanted to advocate for them," he said of the PD's clients, "and to make sure that they got, not just adequate representation, but excellent representation. I've dedicated my life to it. This is all I wanted to do. And I think that dedication helps you through the difficult times."
And the times can get very difficult, said Woods.
"If you mess up as a public defender, your client can end up spending more time in prison, or life in prison," or—in the worst case—they can get "the death penalty."
Or still worse, "an innocent person can be convicted."
Add to that, he said, "the amount of resources that the other side has is almost infinite."
Sean Kennedy, who is the Executive Director for Loyola Law School's Center for Juvenile Law & Policy, and the former Federal Public Defender for the Central District of California, put the issue another way.
"I think that the supervisors are trying to take the time to do this right," he said. "But they also need to understand that the Public Defender's Office has a difficult mission that is under attack 24/7. You need someone who understands what it is like to be criticized and under siege all the time. And to have so many clients in such great need.
"And unless you've represented people who are under attack in court, it's very difficult for you to create that mission and inspire the troops."
If everything is working correctly, Kennedy added, "the defense attorney is there to be thorn in the side of powerful institutions. They're supposed to point to the inequity of funding that needs to be corrected if you want to have equal justice under law."
Ron Kaye—who, along with his law partner, David McLane, and Loyola's Kennedy, was a signatory of the multi-attorney letter to the supervisors—pointed to the complexity of the problems that one finds with indigent clients: Homelessness, mental illness, drug addition, and more, along with immigration issues that can be greatly adversely affected by an inexperienced deputy public defender who pushes for the wrong plea deal, causing a permanent legal resident to suddenly land on a deportation list.
"I've had a lot of success in private practice. And I love my job now," said Kaye. Yet, he described his earlier career as a public defender as "the most life-affirming job I've ever had.
"To me," he said, "the most important word that describes being a public defender is 'represent.' You represent someone. They aren't able to represent themselves. So you are standing in their shoes. It's a profound responsibility."
That's why, he concluded, the right LA County Public Defender "must be someone that the PDs feel has their backs."
So are all these impassioned words and letters necessary? Or is the board of supervisors already in agreement, and no one has anything to worry about?
Whatever the case, let us hope that, in the not too distant future, we have an excellent new Los Angeles County Public Defender with mountains of relevant criminal defense experience, who is also wonderfully expert at wrangling all those persons and factions in need of wrangling.
Surely more than a few such persons are out there.
But as the outcome of this crucial story continues to unfold, be sure to….stay tuned.
---
Editor's Note: This story was updated and revised at 10:45 a.m. April 10.