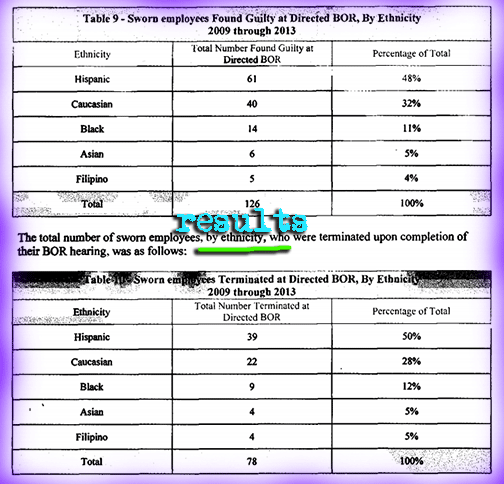 LAPD SURVEY SHOWS OFFICERS FEEL THEY ARE UNFAIRLY, INCONSISTENTLY DISCIPLINED
An LA Police Department discipline survey of 500 officers and civilian workers in response to former LAPD officer Christopher Dorner's rampage over his alleged biased termination from the department. While the department found the firing of Dorner justified upon review, it opened up a discussion among other officers who felt they had experienced discriminatory or otherwise unfair discipline.
The survey indicated that officers and other employees commonly feel the LAPD discriminates based on gender, ethnicity, and rank. But the results were mixed, in some cases. For instance, some survey-takers said they believed minorities were treated unfairly in the disciplinary process, while others said they believed minorities received better treatment from the disciplinary process because the department feared potential lawsuits. Similar contradictory opinions were given regarding female officers.
A considerable number of officers felt the department takes too many complaints made against officers, particularly ones that are "obviously false." According to the survey, a yearly average of 28% of LAPD employees have at least one complaint filed against them.
The survey recommends updating and distributing complaint, discipline, and penalty guides, as well as regularly gathering and analyzing department data on these issues.
KPCC's Erika Aguilar has more on the report. Here's a clip:
The survey was done shortly after former LAPD officer Christopher Dorner was killed in February. The disgruntled ex-officer murdered four people and prompted a massive manhunt before fatally shooting himself during a standoff in the San Bernardino Mountains.

Though officers expressed disgust with Dorner's actions, some said his grievances about disciplinary bias within the police department sounded legitimate. After a review of Dorner's disciplinary hearing, the department declared his firing was justified.

The LAPD asked focus groups of employees to give anonymous feedback using a computer system. A group of academics and human relations consultants analyzed the feedback to look for trends.

Below is a sampling of some of the comments published in the survey report.

"Females are held to a lesser standard due to fear of lawsuits or claims of bias."

"Race is a factor in the discipline system."

"The media and public pressure have a direct impact on how discipline investigations are handled."

"Discipline is not imposed when it involves managers and supervisors."

L.A. Police Chief Charlie Beck has been criticized for inconsistent discipline for several years now. It surged in the last year or so when a few LAPD captains filed lawsuits alleging unfair discipline and retaliation, saying Beck did not follow top brass recommendations for disciplining other officers. It has been one of the complaints of the L.A. police union that represents the rank-and-file.
The LA Times' Joel Rubin and Jack Leonard also reported on the survey. Here's a small clip:
The report…contained data that raised doubts about some of those perceptions of bias. Statistics compiled by the LAPD show that the ethnic, gender and rank breakdown of officers sent to disciplinary panels for suspensions or termination roughly matches the demographics of the LAPD as a whole. White officers, for example, make up 36% of the department and 35% of officers sent to a Board of Rights disciplinary hearing for a lengthy suspension or termination. Black officers account for 12% of officers and 14% of those sent to such hearings.

LAPD Chief Charlie Beck ordered the report more than 20 months ago after Dorner, an ex-LAPD officer, went on a shooting rampage across Southern California, killing police officers as well as the daughter of an LAPD captain and her boyfriend. In a rambling online document, Dorner claimed that he was seeking retribution after being unfairly fired and was the victim of racial discrimination within the department.

The civilian Police Commission is expected to review the report at a meeting next week.
---
NON-PROFIT PUBLICATION, THE MARSHALL PROJECT, LAUNCHES WITH TWO-PART SERIES ABOUT DEATH ROW ATTORNEYS MISSING LAST-CHANCE APPEAL DEADLINES
Ken Armstrong, of the new non-profit news organization launched over the weekend, the Marshall Project, has an excellent two-part series in the Sunday Washington Post about what happens when lawyers miss the final deadline for their death row clients' last-chance appeal.
The first story tells of the 80 death penalty cases in which lawyers miss the final appeal deadline, by an average of nearly two and a half years (but in several cases by a single day). Of these 80 death row inmates thus denied habeas corpus, 16 have been executed. The reasons attorneys miss the cut off run the gamut from failing to overnight documents, to misunderstanding the complicated habeas law, to neglect. Here are some clips:
An investigation by The Marshall Project shows that since President Bill Clinton signed the one-year statute of limitations into law — enacting a tough-on-crime provision that emerged in the Republicans' Contract with America — the deadline has been missed at least 80 times in capital cases. Sixteen of those inmates have since been executed — the most recent was on Thursday, when Chadwick Banks was put to death in Florida.​

By missing the filing deadline, those inmates have usually lost access to habeas corpus, arguably the most critical safeguard in the United States' system of capital punishment. "The Great Writ," as it is often called (in Latin it means "you have the body"), habeas corpus allows prisoners to argue in federal court that the conviction or sentence they received in a state court violates federal law.

For example, of the 12 condemned prisoners who have left death row in Texas after being exonerated since 1987, five of them were spared in federal habeas corpus proceedings. In California, 49 of the 81 inmates who had completed their federal habeas appeals by earlier this year have had their death sentences vacated.

The prisoners who missed their habeas deadlines have sometimes forfeited powerful claims. Some of them challenged the evidence of their guilt, and others the fairness of their sentences. One Mississippi inmate was found guilty partly on the basis of a forensic hair analysis that the FBI now admits was flawed. A prisoner in Florida was convicted with a type of ballistics evidence that has long since been discredited.

[SNIP]

Some of the lawyers' mistakes can be traced to their misunderstandings of federal habeas law and the notoriously complex procedures that have grown up around it. Just as often, though, the errors have exposed the lack of care and resources that have long plagued the patchwork system by which indigent death-row prisoners are provided with legal help.

The right of condemned inmates to habeas review "should not depend upon whether their court-appointed counsel is competent enough to comply with [the] statute of limitations," one federal appeals judge, Beverly B. Martin, wrote in an opinion earlier this year. She added that allowing some inmates into the court system while turning others away because of how their lawyers missed filing deadlines was making the federal appeals process "simply arbitrary," she added.
In the second story, Armstrong explains how only the death penalty inmates suffer the consequences of these lawyers' missed deadlines. Here's a clip:
Among the dozens of attorneys who have borne some responsibility for those mistakes, only one has been sanctioned for missing the deadline by a professional disciplinary body, the investigation found. And that attorney was given a simple censure, one of the profession's lowest forms of punishment.

The lack of oversight or accountability has left many of the lawyers who missed the habeas deadlines free to seek appointment by the federal courts to new death-penalty appeals….

In 17 of the country's 94 federal judicial districts, special teams of government-funded lawyers and investigators monitor the capital cases coming out of their state courts to make sure deadlines are recognized and met. In some other districts, the federal defender's office helps to evaluate the private attorneys who might be appointed to handle those appeals.

But for lawyers outside the government, the work is difficult and often unpopular, with limited funds available for investigators and experts. And in most districts, where judges screen candidates themselves or with the help of review committees, the quality of legal counsel varies widely.

Federal judges sometimes appoint lawyers "who are not good enough to handle these cases," says habeas expert Randy A. Hertz, a professor at the New York University School of Law.

However well-meaning, such lawyers may be inexperienced or overmatched. Some may know the judges who make the appointments, but not the voluminous and complex law surrounding habeas corpus. Others have been found to have mental-health problems, substance-abuse issues or other complications that were missed in their screening.

In about one-third of the 80 cases where habeas deadlines were missed, the federal courts eventually allowed prisoners to go forward with their appeals, often because their attorneys' failures went beyond what the courts would categorize as mere negligence.

Yet even when attorneys have been chastised in federal court rulings for work described as "inexcusable" or "deeply unprofessional," they have managed to evade any discipline from bar associations or other agencies. One lawyer castigated by the U.S. Supreme Court for "serious instances of attorney misconduct" still has an unblemished disciplinary record.

A prominent death-penalty defense lawyer, Gretchen Engel of the Center for Death Penalty Litigation in North Carolina, offered a simple reason for the discrepancy between the magnitude of some lawyers' mistakes and the paltry consequences they face: "The people who were hurt by it are prisoners."
The Huffington Post's Michael Calderone speaks with Marshall Project founder Neil Barksy and editor Bill Keller (formerly NY Times editor-in-chief) about the Marshall Project, its mission, and what we can expect from the new publication. Here are some clips:
Neil Barsky has taken on varied roles over the years, from Wall Street Journal reporter to Wall Street analyst, hedge fund manager to documentary filmmaker. Now he has returned to the newsroom as founder and chairman of The Marshall Project, a nonprofit news organization covering criminal justice and edited by New York Times veteran Bill Keller.

Barsky's interest in criminal justice and the inequities of the U.S. system was ignited in recent years by two books: The New Jim Crow, which tackles mass incarceration and the over-representation of African-Americans in prison, and Devil in the Grove, which focuses on a 1949 rape case fought by Thurgood Marshall, then head of the NAACP Legal Defense and Educational Fund and later the first black Supreme Court justice. The project gets its name from Marshall — and for Barsky, its inspiration.

In an interview at The Marshall Project's midtown New York offices before Sunday's launch, Barsky said he wants to push criminal justice issues into the national spotlight. There's a lack of urgency in dealing with the system's flaws, he said, despite "how abysmal the status quo is."

[SNIP]

Keller said he likes coming out of the gate with Armstrong's piece because it shows readers that The Marshall Project won't expose flaws in the system only when they concern the wrongly convicted.

"The easiest way to get reader sympathy is to write about people who are innocent," Keller said. "Everybody feels a sense of unfairness if the law sends somebody away to jail for something they didn't commit."

Keller recalled how early on, he and Barsky visited different advocacy organizations, including the Innocence Project, which fights to exonerate those wrongly convicted through DNA evidence. After their meeting, Keller recalled that Barsky said, "You know, we're sort of the Guilt Project."

"Most of what we're going to write about is people who are not innocent," Keller said. "But people who are not innocent are entitled to a fair trial. They're entitled to not being raped when they get to prison. They're entitled to competent defense. They're entitled to prosecutors who don't withhold exonerating information. They're entitled to cops who follow Miranda. All these things that are built into our criminal justice system are there for the guilty as well as the innocent. That's one of the reasons I particularly liked this piece as a debut."
---
FEDS ORDER CALIFORNIA TO START PAROLE HEARINGS OF INMATES WITH NON-VIOLENT SECOND-STRIKE FELONIES
On Friday, federal judges ordered California to begin early parole hearings for non-violent second-strike felons by January, overriding the state's projected hearing launch time-frame of July 2015. The state has been meeting mini-goals set toward a two-year population reduction goal by expanding parole and sentence reduction programs and policies. But because the prison population is still expected to grow, the federal judges are pushing for more lasting solutions. (For backstory on California's prison population problems, go here, and here.)
The LA Times' Paige St. John has more on the topic. Here's a clip:
In February, California officials were ordered to take a number of steps to reduce inmate numbers. At the same time, federal judges agreed to the state's request for a two-year extension to meet population caps the courts had been trying to enforce for years.

Gov. Jerry Brown's corrections department did move thousands of inmates out of state-owned prisons while expanding parole programs for frail and elderly inmates. Corrections officials also increased the sentence reductions some nonviolent felons could earn.

Those moves cut California's prison population by 1,000 inmates, meeting short-term goals even though state projections show inmate numbers will continue to rise. Judges had sought additional actions to produce a "durable" long-term solution.

The California Department of Corrections and Rehabilitation has failed to adopt those steps, including the granting of early parole to second-strikers, the judges noted. In October, prison officials told judges that creating such a parole program was "a time-consuming process" and moving faster would "endanger the public." They did not expect to finish until July 2015.

In an order several weeks ago, the judges said they were "skeptical" of such a delay. On Friday, they gave the state until Dec. 1 to finish plans for the parole program and ordered it in place by January.