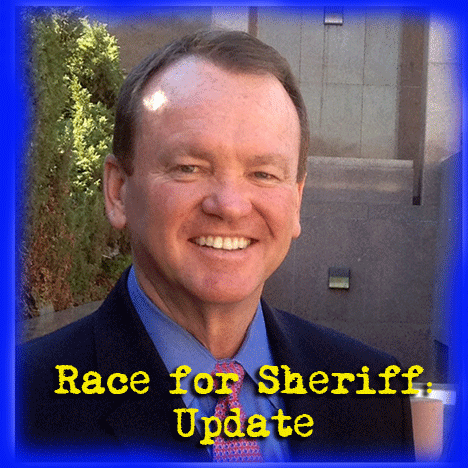 LA TIMES ENDORSES JIM MCDONNELL (ONCE MORE) FOR LA COUNTY SHERIFF
The LA Times endorsed Jim McDonnell for Sheriff in the primary, and they have just endorsed him again for the runoff vote in November. Yet, this time their endorsement is far more full-throated and detailed when explaining to voters why the paper's editorial board believes McDonnell is the right person to lead the troubled and badly fractured department at this moment in the LASD's history.
Here's a clip:
….He is a consummate law enforcement professional, with an outstanding record as a Los Angeles police officer who rose from the academy to patrol to second-in-command at the LAPD at a time when the department was facing a crisis not unlike the Sheriff Department's today. When the LAPD needed to leave behind the "thin blue line" style of occupation policing and commit itself to a community-engagement model, McDonnell was one of the department's leading thinkers and implementers. When evidence of perjury and evidence tampering turned into the Rampart scandal, and when the U.S. Department of Justice threatened suit over civil rights violations, McDonnell helped overcome resistance to a consent decree and was instrumental in getting the LAPD to embrace it and meet its requirements. As second-in-command to Chief William J. Bratton, he guided a wholesale change in department culture, and he saw firsthand the degree to which that change was made possible by strong leadership and smart training.

McDonnell was qualified to lead the LAPD, but when city leaders instead chose Charlie Beck, McDonnell accepted the job as chief of the Long Beach Police Department. While there, he has piloted the department through some difficult times and has earned the respect of officers who were at first wary of an outsider as their leader. Significantly, he also won plaudits from department critics.

When reports of inmate beatings and management breakdowns at the Sheriff's Department became too numerous and too shocking to ignore, and county supervisors convened a citizens commission to examine problems and recommend remedies, McDonnell was an inspired appointment, but also an obvious and perhaps even a necessary one. In the panel's year of hearings, interviews, site visits and reports, McDonnell saw firsthand the depth of problems at the department and was in a position to be able to distinguish between those ills that could be attributed to individual deputies or leaders and those that were inextricably wound up in a culture of defiance and dysfunction.

As a candidate, McDonnell has boldly embraced structural reforms such as a civilian oversight commission, even though such a body could curb his power, or anyone else's, as sheriff. It's hard to overstate the importance of that position. All of the candidates embraced the concept, but McDonnell put himself on record in favor of particular structural details and demonstrated, in so doing, a commitment to transparency and public participation badly needed at the department. Some proponents back oversight to guard against the actions of a bad sheriff, and some consider the move less necessary with McDonnell at the helm. McDonnell, presumably, recognizes that oversight can make a good sheriff better and can help guard against the corrupting influence that unchecked power can have on even the most talented and well-motivated leaders.
---

PAUL TANAKA RE-STARTS CAMPAIGN—SORT OF—WITH SATURDAY VIDEO
Former undersheriff Paul Tanaka is, of course, the other candidate for sheriff and he has been startlingly silent since the primary election in June, save for one tweet posted in early August (and again on his Facebook page) saying he was giving his supporters the summer off.
Then over the weekend, he directed supporters and others to the video above that was posted on YouTube on Saturday.
So Tanaka's not out of the race. But is he really…you know…campaigning?
Hard to say.
Mr. Tanaka will be testifying for the defense on Monday morning at the Sexton retrial, so perhaps we will learn more at that time. (Or not.)