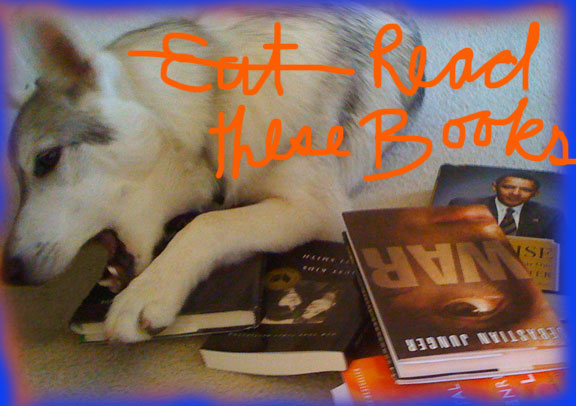 The finalists for this year's LA Times book awards were announced Tuesday morning and it's a great list filled with things that you honestly ought to run out and read immediately. (Or soon, anyway.)
For instance, I love the range covered by the five books short-listed for the fiction prize: This year's megabook, Freedom, by Jonathan Franzen is (deservedly) on the list. It's a brilliant work, despite all the, you know, Franzenfreude it seemed to trigger. Franzen's ability to turn a character this way and that, each time letting the light catch a different psychological angle, is genuinely remarkable.
Another delight on the list is the glorious A Visit From the Goon Squad by Jennifer Egan, a terrifically entrancing and original novel that uses the story cycle form to create a larger psychic canvas than a purely sequential narrative likely could have accomplished. (It's easily one of my favorite books from last year.)
Happily, in addition to the above highly recognized novels, the list also includes things like Rick Bass's Nashville Chrome. Bass—like his friends Thomas McGuane and Jim Harrison—is a kick ass prose stylist yet, because he lives in Montana (the horror) he (like McGuane and Harrison) is often viewed as a "regional writer" by east coast reviewers who are made nervous by people who spend too much time out of doors in states other than Connecticut. This time, however, Bass set his book in Nashville and wrote a partially true tale about the country music business. This change of venue, plus the music biz angle, seemed to get him removed—if only temporarily—from the Regional Lit ghetto. (Not that the LAT judges would have dreamed of putting him there. We have better sense out here on the left coast.)
I was on the judging panel for Current Interest Nonfiction, along with Henry Weinstein and Ron Brownstein, and we love our five finalists.
We found The Big Short and All the Devils Are Here to be far and away the best all 'round books written about the financial meltdown in the past two years. (And between us we looked at all of 'em, and read most of 'em, trust me.) There were other extremely worthy books on the topic, but these hit so many marks they easily stood out as important works that were also marvelously well-realized from a literary standpoint. (A word of warning: I don't recommend reading deeply on this subject if you have any kind of blood pressure or anger issues.)
In another realm entirely, Patti Smith's memoir, Just Kids, is a beautifully rendered memento mori, as Publisher's Weekly puts it, "of a relationship fueled by a passion for art and writing." We all agreed it had to be on our short list. (Two of us were also taken with Keith Richards' memoir, Life, which features, among other things, helpful tips about winning a knife fight. And who among us cannot use such handy advice? For a variety of reasons it didn't land in our top five. Yet we wouldn't have missed it and you shouldn't either if you are any kind of music lover.)
After reading a pile of the Obama and 2008 elections-related books that gushed into the book stores last year, several of which were quite good and definite contenders, we came back over and over to the surprising and canny insight, combined with great access and reporting, that characterized Jonathan Alter's The Promise. Speaking personally, I did not really expect to love this book. I thought it would probably be too political, too partisan, too…something. But it was instead a sober-eyed and unflinchingly detailed look at Obama's first year in office that landed firmly on our individual top 5 lists and stayed there.
I don't think any of us intended to put a book on either the Iraq or the Afghanistan war on our list. It seemed that there had been too many of them already these past years. But then we read Sebastian Junger's brilliant and harrowing and deeply wise book, War. In terms of its content, it is about the 173rd Airborne brigade in Afghanistan's Korengal Valley, but really it is just about war—in general. And it is utterly unforgettable.
Oh, I could go on. I've read all but one of the finalists in the mystery category and can recommend all. The science and history lists look great. (For example, The Immortal Life of Henrietta Lacks is terrific. We read it to see if it should be in our category, but realized it should be in history or science.) And I'm just about to wade into the poetry list.
Go and look for yourself. And read on! Reading great books (or downloading 'em via audible.com com.) makes life richer and better, IMHO.
The winners will be announced April 29th.