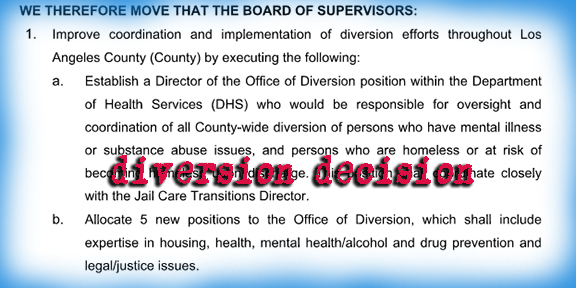 LA COUNTY SUPES LIKELY TO VOTE ON CREATING AN "OFFICE OF DIVERSION" TO KEEP MENTALLY ILL OUT OF JAIL
Today (Tuesday), the LA County Board of Supervisors is slated to vote on increasing mental health diversion efforts in the county through creating and funding an Office of Diversion.
Last week, LA County District Attorney Jackie Lacey presented a report full of recommendations on how to redirect LA's mentally ill from county jails and into far more appropriate community treatment. Several of the most important pieces of DA Lacey's report include implementation of major mental health crisis training for law enforcement, adding more urgent cares to which officers can bring people in crisis, and launching a specialized housing program.
So far, $30 million has been set aside for diversion efforts, and in a report presented to the board last week, interim CEO Sachi Hamai estimated Lacey's diversion plan would have a total implementation cost of $83,574,841. The necessary additional funding will come from realignment money, as well as money from SB 678, the Community Corrections Performance Incentives Act.
Today's motion by Supervisors Mark Ridley-Thomas and Sheila Kuehl would establish a Director of the Office of Diversion position under the Department of Health Services (DHS).
The director would work with five other Diversion staff members (experts in mental health, substance abuse treatment, housing, etc.) to oversee LA County's efforts to divert the mentally ill, homeless, and those with substance abuse problems from lock-up. The Diversion office will coordinate closely with the Jail Care Transitions Director (whose job it is to ensure inmates have access to reentry services when they're released).
The motion would also create a committee to push diversion recommendations and to keep cross-agency collaboration running smoothly. The Permanent Steering Committee would be comprised of one official from the Chief Executive Office, the Superior Court, the Public Defender's Office, the Alternative Public Defender's Office, the District Attorney's Office, the Sheriff's Department, Probation, the Fire Department, the Department of Mental Health, the Substance Abuse Prevention and the Control division of the Department of Public Health, and DHS.
"We need the Office of Diversion Services to serve as a pipeline, bringing people from one resource to the next in an effective way so they do not commit more crimes once they are released," said Supe. Ridley-Thomas. "In fact, we need to design a game plan so that they don't enter the system in the first place."
The SoCal ACLU's legal director, Peter Eliasberg, said that if the motion passed, "it would be a major step forward in the diversion effort."
---
DIFFERENT DEFINITIONS OF SOLITARY CONFINEMENT POSE PROBLEMS
During a Senate Committee on Homeland Security and Governmental Affairs hearing that focused on conditions in federal prisons, including solitary confinement practices, criminal justice advocates and prison officials had a strange disagreement about whether the US Bureau of Prisons even uses solitary confinement.
Charles Samuels, the director of the Bureau of Prisons, told US Senator Cory Booker (D-NJ) that isolation isn't actually happening in federal facilities because in the overstuffed prisons, inmates are sharing cells in solitary confinement, and are only housed solo if they are determined to be a threat to others or if a health professional deems it necessary.
But according to the Department of Justice's own definition of solitary confinement, if inmates are kept in their cells for 22 or more hours per day, in limited contact with other people, it doesn't matter whether or not inmates are in their own cells or housed with others.
The ACLU's Amy Fettig, called the confusing exchange "simply a word game to try to cover up a practice that harms people."
The National Journal's Emma Roller has more on the issue. Here's a clip:
"We do not practice solitary confinement," Samuels told Booker at the hearing. "Our practice has always been to ensure that when individuals are placed in restrictive housing, we place them in a cell with another individual, to also include that our staff make periodic rounds to check on the individuals."

"I'm sorry, I just really need to be clear on that," Booker cut in, sounding baffled. "Your testimony to me right now is that the BOP does not practice solitary confinement of individuals singularly in a confined area?"

"You're correct," Samuels said. "We only place an individual in a cell alone if we have good evidence to believe that the individual could cause harm to another individual and/or if we have our medical or mental health staff given an evaluation that it would be a benefit to the individual to be placed in a cell alone. We do not under any circumstances, nor have we ever, had a practice of placing individuals in a cell alone."

Amy Fettig, senior staff counsel at the American Civil Liberties Union's National Prison Project, said Samuels did not testify accurately.

"It's patently untrue. The Bureau of Prisons does use solitary confinement," Fettig said. "It is simply a word game to try to cover up a practice that harms people."

So, what explains the two different stories? According to Fettig, the bureau has reckoned with a growing prison population by double-celling inmates in solitary confinement, then claiming that doesn't qualify as solitary confinement.

In fact, this interpretation is at odds with the bureau's parent organization, the Department of Justice. The DOJ defines solitary confinement as "the state of being confined to one's cell for approximately 22 hours per day or more, alone or with other prisoners, that limits contact with others."
---
FORMER PROSECUTOR AND JUDGE OPENS RANCH TO HELP KIDS BREAK FROM THE PATH TO JUVENILE DETENTION
In an essay for the Washington Post, Monterey County Supervisor John Phillips tells the story of how he went from landing kids in detention facilities as a Monterey County prosecutor (and then as a superior court judge), to creating a camp to keep kids out of lock-up.
The 100-acre Rancho Cielo Youth Campus in Salinas, provides teens and young adults with opportunities to earn college credits, participate in job training, and other skills-building services.
Judges can recommend teens for placement at Rancho Cielo, but no one is "sentenced" to stay at the camp. Phillips said he wanted the kids to see it as a space to grow and succeed, rather than as a punishment facility.
(now a Monterey County Supervisor)
According to Phillips, around 200 kids have graduated from Rancho Cielo, and that 83% of participants are still employed or in college one year after their time in the program ends. And, all told, Rancho Cielo's costs are around 10% that of incarceration.
Here's a clip from Phillips' story:
I gained firsthand knowledge of the cycle of violence here — first during a long tenure as a Monterey County prosecutor and later as a Superior Court judge. I devoted most of my 21 years on the bench to criminal cases. During my career, I was responsible for sending a lot of young people to prison. That was my job.

By the mid-1990s, California had gotten tough on crime ("Use a gun and go to prison" and the three strikes law), and the legislature was severely restricting judicial discretion. I found myself having to decide whether an 18-year-old kid would be sentenced to either 46 years to life or 52 years to life. Most of the young people who stood before me were men of color who, because of multiple factors, had never had the opportunities that are supposed to be afforded to all our kids in this great nation.

There was also a bit of economic irony. Very few services were provided for young people involved in criminal activity before they got in trouble. But once the trigger was pulled, all sorts of resources were directed to them — police, prosecutors, a defense attorney, the judge, the judicial system, probation officers, and of course, prison incarceration. After a while, I didn't feel as good as I once did about my job; I didn't feel as if I was making things better. So I decided to do something about it.

I had learned there was one strategy that actually worked to engage disenfranchised young people: the combination of education, job training and, eventually, employment. These critical three experiences allow youths to reconnect with communities from which they feel alienated and help build the self-esteem and self-confidence that many lack.

I knew of a county-owned, 100-acre, abandoned facility in Salinas called Natividad Boys Camp. The beautiful land and distance from the streets of Salinas made it the perfect location for programs to help struggling kids regain trust in themselves and in our community. I tried to convince our county to restore the facility as a site for youth programs, but was told it would take $20 to $30 million to reopen the doors. It took the help of some friends in the legal community to form a nonprofit and convince the county to lease me the property.

Initially, my board of directors consisted mainly of elected officials. Frankly, we didn't accomplish much. I was able to raise enough grant money to fund a feasibility study of my idea, but that $26,000 study concluded that the Rancho Cielo project was totally impossible. I decided to change direction and replaced my board of directors with people in the business community — construction industry leaders, in particular, since they were willing to get to work revamping the old building along with the kids.

I had no money, but we moved forward anyway, commencing work on the property in 2003. When I arrived at 7 a.m. on that first Saturday, 75 pickup trucks already covered the hills; 22 dump trucks from various trucking companies lined the road. It was a beautiful sight to see. We never looked back. a beautiful sight to see. We never looked back.
---
WASHINGTON POST AND HUFFPOST JOURNALISTS WHO COVERED FERGUSON ARE NOW FACING CHARGES IN ST. LOUIS
The Washington Post's Wesley Lowery and Huffington Post's Ryan J. Reilly, who reported on the 2014 Ferguson protests, are now being charged in St. Louis with trespassing and interfering with a police officer.
According to officers, the journalists did not leave the McDonald's they were working in quickly enough when they were ordered to pack up and go. Reilly reportedly had his head slammed against glass during the arrest, and Lowery said he was pushed into a soda fountain.
In a statement, the Washington Post's executive director, Martin Baron said, "Charging a reporter with trespassing and interfering with a police officer when he was just doing his job is outrageous."
The Huffington Post, in a statement backing the reporters, said, "At least we know St. Louis County knows how to file charges. If Wesley Lowery and Ryan J. Reilly can be charged like this with the whole country watching, just imagine what happens when nobody is."