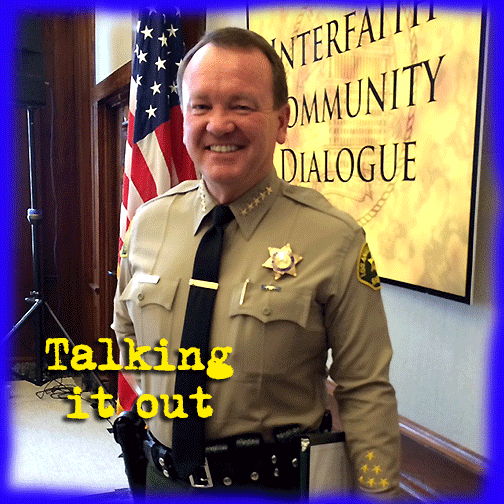 On Tuesday afternoon, Los Angeles County Sheriff Jim McDonnell, LAPD Chief Charlie Beck and a cluster of other LA law enforcement figures got together with around two dozen local religious leaders for a two-hour, no-press-allowed post-Ferguson chat in the hope that everyone might speak candidly about the tensions between law enforcement and the communities they serve.
The meeting, which took place on the 8th floor of the newly renovated Hall of Justice, on Temple Street in downtown LA, was the inaugural event for the historic building.
Judging by what WitnessLA was able to gather as everyone was dispersing, most came away with the feeling that some real and relevant things had been said. Moreover, everybody wanted to do it again.
"We don't want to have this be one-and-done," said Sheriff McDonnell when we spoke after the event. The idea was to build ongoing relationships, he said.
The gathering was billed as being co-hosted by McDonnell, Beck and CHP Commissioner Joe Farrow. District Attorney Jackie Lacy, LA City Attorney Mike Feurer, and Acting U.S. Attorney Stephanie Yonekura were also on hand.
But, it was clearly an LASD-organized affair. Still everyone had reportedly had things to say—a lot of it straight talking from both the faith leaders and the cops. "It was not a booster club," said McDonnell.
Interestingly, the faith leaders didn't just raise issues with law enforcement, they also spoke frankly to each other. One issue in particular that reportedly caused discussion, according to those present, was the necessity of the clergy to engage when there is a police/community problem "not Just read about it."
On this topic, one pastor reportedly said, 'It breaks my heart that [when something happens] we close the doors of he churches."
Another subject that caused much discussion was the religious leaders' acknowledgement that affluent communities tend to view—and experience—the police very differently than do lower income communities
McDonnell and Beck both talked about interaction with the clergy as a being "critical piece of community policing." They also spoke of the need to bring what occurred on Tuesday, "to the station level," said McDonnell, for the LASD and the LAPD.
Community oriented policing is not something law enforcement agencies should do on the side or merely to appease critics," he said. "Rather, a focus on community oriented policing ensures law enforcement is viewed by the community as legitimate."
"We are very fortunate in this community to have law enforcement leadership that recognizes and understands the importance of strengthening community relations," said Reverend Chip Murray, in a pre-meeting statement. "This timely event will help us build upon the strong foundations that already exist and enable us to do even more, working together."
A pastor from Compton, who was leaving just as WLA arrived, pronounced the meeting, "Good. Very good." Things were said that needed to be said, he told me. "And that's a very good thing."