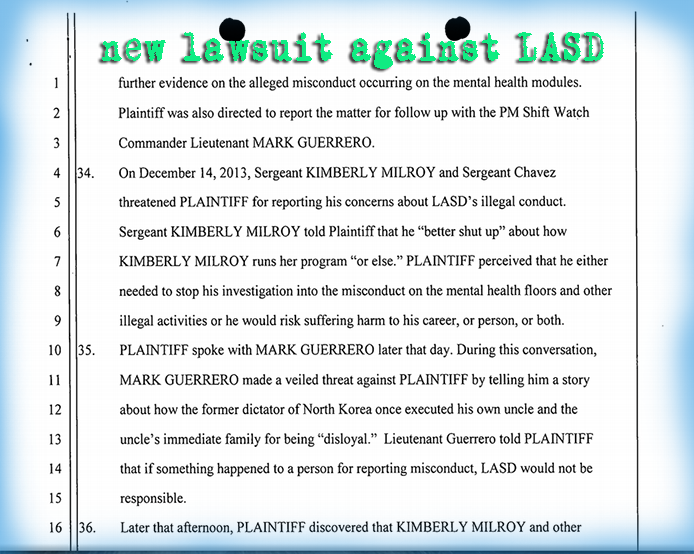 LASD DEPUTY SUES OVER ALLEGED RETALIATION FROM DEPUTIES, SUPERVISORS FOR REPORTING INMATE ABUSE IN JAILS
In a lawsuit filed Wednesday, Los Angeles County Sheriff's Deputy Ronald Brock alleges department peers and superiors bullied, discriminated against, threatened, and then fired him for protesting inmate abuse in several LA County jails, including Men's Central Jail and Twin Towers.
A great number of department members are mentioned in Brock's complaint (a riveting 78 pages), including Sgt. Mark Renfrow, Lt. Mark Guerrero, as well as former Sheriff Lee Baca, ex- Undersheriff Paul Tanaka and Sgt. Kimberly Milroy.
My News LA posted this story from the City News Service. Here are some clips:
He alleges a "veiled threat" came from Lt. Mark Guerrero, who he says told him about how North Korean dictator Kim Jong-Un executed his uncle and the latter's family members for being disloyal.

"Lt. Guerrero told plaintiff that if something happened to a person for reporting misconduct, LASD would not be responsible," according to the Los Angeles Superior Court complaint filed Wednesday.

[SNIP]

The next month, Sgt. Mark Renfrow ordered Brock to fire a stun gun at an inmate who was not aggressive toward any deputy, the suit states.

"The bloodied and battered inmate was then handcuffed and taken away for medical attention," according to the lawsuit.

Brock alleges he was told by Renfrow to falsify a statement in a report of the incident to state that the inmate was trying to punch a deputy, or else he would be determined to be insubordinate.

Brock "eventually relented to the incredible pressure and wrote in the report that the inmate was punching at (the deputy)," according to his court papers.

Brock says he later received a note from inmates stating they heard deputies saying they wanted to bring false allegations against him in retaliation for his complaints.
---
CA PRISONS AND LA JAILS SIGNIFICANTLY REDUCE OVERFLOWING INMATE POPULATIONS
Late last month, California's prison population dropped below the 137.5% of capacity mandated by a panel of federal judges. The milestone was reached more than a year before the judges' deadline. This important victory is made possible in large part by the passage of Propositions 36 and 47, but there is still potential for the population to swing back up if the state officials stop making significant strides toward easing overcrowding. (Refresher: 36 reformed the Three Strikes Law, and 47 downgraded certain low-level felonies to misdemeanors.) Since Prop 47's passage in November, 2,035 California inmates have been freed.
California jails have also seen a substantial drop in inmate numbers, mostly thanks to Prop 47. Since November, Los Angeles County Jails have reduced the overall population by 3,200 inmates. San Diego achieved a 900 inmate reduction.
Jessica Eaglin, Counsel for the Brennan Center for Justice at NYU, has more on the numbers' significance and why neither state nor LA County are out of the woods, yet. Here's a clip:
This is the first time that the state's prison population reached this level since 1994. The decline is a direct result of Proposition 36 and Proposition 47. Since Proposition 47 took effect, 2,035 inmates have been released from prison. 1,975 inmates have been released since Proposition 36 took effect.

California jails, too, have experienced reductions in their jail populations in recent months. Initially, Realignment facilitated shifting inmates from prison to county jails. The recent sentencing reforms – particularly Proposition 47 – changed this landscape. Los Angeles County, with the largest jail system in the country, saw its jail population decline by 17%, or 3,200 inmates, since November 2014. The San Diego County jail population, too, declined by 900 inmates. This is a critical development towards reducing overall incarceration in the state beyond simple compliance with the federal mandate.

California still has a long way to go to successfully get its incarcerated population under control. The state continues to send almost 9,000 prisoners out of state in order to comply with the court's mandate. California increasingly relies on private and public facilities – including by sending 2,000 prisoners to a private facility in the state. The state will spend $12 billion on incarceration this year while trying to accommodate the court's federal order. Moreover, CDCR's numbers represent weekly snapshots. It may be that next week the number spikes above the threshold again. On the jails side, the population may creep back up as inmates previously being released early due to overcrowding are now serving as much as 100 percent of their sentences.
---
STAGING SCARY FAKE SCHOOL SHOOTINGS TO TRAIN KIDS ON WHAT TO DO DURING A REAL SCHOOL MASSACRE
A growing number of law enforcement agencies and schools across the nation are performing "active shooter" drills during school hours to prepare kids for real school shootings. Schools have even carried out these exercises, entirely unannounced to students. In a Florida middle school last November, students believed the cops barreling down their halls with fake guns were real shooters, and sent frantic text messages to their parents.
While most agree that lockdown drills are vital to ensure kids know what to do when there is a human threat on campus, experts say the gunman drills, particularly the unannounced kinds, can traumatize kids. But surprise drill advocates say kids do not take scheduled disaster exercises seriously, and that they do not learn from them.
Kids at a junior high in Bakersfield responded similarly to a surprise active shooter drill in November. And here's what happened in Harlem.
The LA County Sheriff's Department has performed similar drills at Topanga Elementary, but only to prepare teachers and staff. Students were not involuntarily involved.
Angela Almeida, who has personally participated in a mock school shooting, explores both sides of this issue in an excellent story for the Atlantic. Here are some clips:
Forget what you've learned about fake blood and Airsoft props on-site—in these schools, the word "drill" is a frightening misnomer; neither students nor faculty are given any advanced notice of them.

Last November, a middle school in Florida made headlines after students believed an unannounced drill, in which two gunmen barreled down the school's hallway with a pistol and AR-15, was real. Turns out the shooters were local police officers yelling, "This is a drill!"—but that didn't stop many students from texting their parents hysterically, telling them they feared for their lives.

[SNIP]

I asked Joseph LeDoux, a highly-regarded neuroscientist at New York University, what might be the most useful strategy for teaching students to act. While it is possible to change how humans instinctually freeze, LeDoux explained, the most effective route for learning may also be the most traumatic. "The introduction of surprise is probably a very useful tactic, because it means the brain has to learn each time students go through the drill," he said. "When your expectations are violated, then there's novel information and that's where you learn. If there's no violation of expectation, no learning takes place."

Put simply, if humans know a drill is coming, it's unlikely they'll learn much from it. However, while scaring students senseless might make them more equipped to handle an emergency, LeDoux added, the degree to which people are affected by the trauma, in real life or in a simulation, depends upon their preexisting conditions. Everyone reacts differently to trauma.

For individuals struggling to recover from Post-Traumatic Stress Disorder, or PTSD, for example, reliving memories of high stress and fear can trigger unwelcome flashbacks. As a result, students who fit into this category run the risk of re-experiencing symptoms when confronted with simulation drills firsthand. School psychologists argue that the cost of unearthing terrible memories outweighs the potential benefit of these practices—not to mention the rare chance that someone in the school is carrying a concealed weapon and decides to act defensively. A drill to prepare for tragedy could turn into a tragedy itself.
Bonus: watch what Stephen Colbert has to say about Florida's surprise drill.
---
SCOTUS TO HEAR CASE REGARDING INMATES' RESTRICTED ABILITY TO SUE OVER PRISON CONDITIONS
Alliance for Justice has released a new report spotlighting an important case the US Supreme Court will hear next week. Inmates must overcome huge barriers to sue over conditions behind bars. The biggest roadblock is the Prison Litigation Reform Act (PLRA). The PRLA was intended to weed out petty lawsuits, but has succeeded in barring inmates from justice who have serious grievances about inhumane treatment behind bars, according to the Alliance for Justice report.
The case challenges the PRLA's three-strikes provision restricting the number of civil lawsuits an inmate can file before the $400 filing fee—a colossal sum for inmates working for pennies per hour—will no longer be waived. Interpretations of the provision vary, and can mean that inmates can run out of waivers for a number of reasons, when their cases are dismissed, due to technicalities, timing issues, and more.
Here are some clips from the report:
Recent court decisions have expanded congressional restrictions on the right of inmates to access the courts. Today, inmates are losing more cases, winning fewer settlements, and going to trial less often than any time in the past two decades. Yet, civil lawsuits are often the only way to hold prisons accountable for violence, overcrowding, and medical neglect.

And as with all burdens in the criminal justice system, these developments disproportionately burden people of color, particularly African Americans and Hispanics. Fifty-eight percent of all inmates in 2008 were African American or Hispanic, despite these groups only making up 25 percent of the general public. Recent events have shown how difficult it can be for members of these groups to find justice in all walks of life, but nowhere is it as difficult as in a prison.

This report details the ways courts have expanded nearly every element of the so-called "three-strikes" rule of the Prison Litigation Reform Act to keep inmates out of courts, in ways Congress never intended. Later this year, the Supreme Court will decide Coleman-Bey v. Tollefson, and with it, the future of inmate justice. AFJ calls on the Supreme Court to restore the right of all Americans to petition their courts. Access to justice is far too important an American value to take away from one of our country's most vulnerable populations.

[SNIP]

On February 23, 2015, the Supreme Court will hear oral argument in Coleman-Bey v. Tollefson. Andre Lee Coleman-Bey is an inmate in Michigan who brought a lawsuit against prison officials for interfering with his access to the courts. Coleman-Bey had brought two previous civil cases that were dismissed. He then brought a third case, which was dismissed by the trial court, and he appealed. That appeal is still pending. When Coleman-Bey brought his fourth and most recent suit, the district judge ruled that the three previous cases were strikes, and that he could not have his filing fees waived. The Supreme Court is reviewing the case to decide whether a district court's dismissal of a lawsuit can count as a strike—and effectively prevent an inmate from filing any more lawsuits—when it is still being appealed.

This case highlights a much greater trend of lower courts expanding the PLRA to hand out strikes based on technical errors, poor timing, and reasonable arguments that end up losing. Even inmates with law degrees, not just the "frequent filers" the PLRA was supposed to target, could now find themselves locked out of our civil justice system.

Congress enacted the PLRA to "reduce the quantity and improve the quality of prisoner suits," yet the claims of unbounded frivolous prison litigation that sparked its passage do not match reality. Inmates file roughly half as many lawsuits per capita as the general public, but are successful at a similar rate.

Even as pro se litigants bringing cases without lawyers, inmates have been successful in bringing and winning cases in the United States Supreme Court. And litigation has brought reform to prisons that desperately need it. Recent lawsuits have successfully improved inmate medical care, reduced violence and overcrowding, and reformed prison use of solitary confinement.