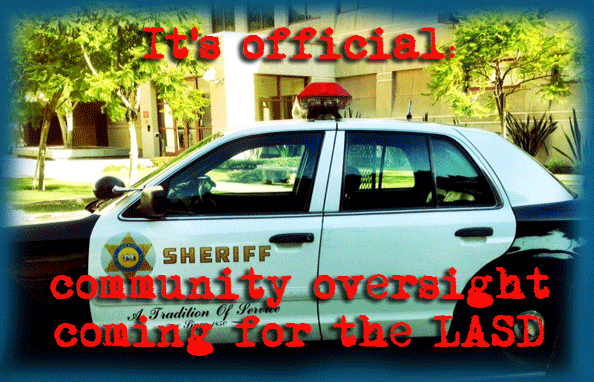 With a 3-2 vote, the LA County Board of Supervisors passed the motion introduced by Supervisors Mark Ridley-Thomas and Hilda Solis to create a civilian commission to oversee the Los Angeles Sheriff's Department. Supervisor Sheila Kuehl was the third, and very emphatic vote in favor of the oversight commission's creation.
Ridley-Thomas first proposed a civilian oversight body back in the fall of 2012, after the Citizens Commission on Jail Violence delivered their highly critical report on the brutal conditions in the LA County jail system and the LASD leadership that the CCJV said allowed such conditions to continue to exist year after year.
Until now, the votes were not there for the idea. But following the arrival on the board of Solis and Kuehl, all at once a majority was onboard for a civilian commission.
"The people of Los Angeles have demanded a new day by electing a new sheriff," said Solis. "…Under the new leadership, we have a chance to restore trust in the county. This is not just a morally right answer," she added, "it is fiscally prudent. Taxpayer money spent defending lawsuits is money that can't go to improving the lives of our constituents…."
Supervisor Mike Antonovich disagreed. "The darkest days within the sheriff's department in recent experience…," he said, came about "during a time when it had the most amount of external oversight." Then he ticked off the oversight entities of the recent past: the Office of Independent Review, Special Counsel Merrick Bobb, the county ombudsman, and the court-ordered jail monitors of the ACLU. Thus Antonovich favored "a single watchdog entity" that would "streamline and strengthen civilian oversight"—namely the inspector general.
Tuesday's vote took place just a little after the 1 pm hour, after a long and impassioned segment of public comment. Prior to the vote, LASD Undersheriff Neal Tyler read a letter from Sheriff Jim McDonnell giving strong support to the motion. The letter said, among other things that "… partnerships with our community should be embraced, not feared."(At the time of the vote, McDonnell was at a long-scheduled meeting of the California State Sheriff's Association.)
Interestingly, LASD Inspector General Max Huntsman also spoke positively about the idea of community oversight.
In the end, the motion to create the civilian commission was divided into three parts. Part one was the approval of the civilian oversight body. Part two was to cause the creation of a working group to hash out what the new commission would look like, what its mandate and its powers would be, and so on. And part three was the request of a report from County Counsel having to do with issues such as the correct legal language necessary to create the civilian group.
This partitioning of the motion was at the suggestion of Supervisor Mike Antonovich who wanted to vote for the working group, and the County Counsel's report, but against the commission.
Bottom line: The creation of a civilian oversight body passed 3-2, with Antonovich and Supervisor Don Knabe both voting no—at least for the time being. The creation of the working group, solely, passed with a unanimous vote, as did the request for a report from the county's lawyers.
And so it was that, after more than two years of discussion, civilian oversight of the county's long-troubled sheriff's department will soon be a reality.
---
THE DEVIL & THE DETAILS
The devil will, of course, be in the details.
Among those devils and details will be the make-up of the commission, the degree of access it will have to LASD information and what, if any, legal power it will have.
In his letter to the board of supervisors, Sheriff McDonnell was actually quite specific in his suggestions as to what kind of commission members he envisioned, and how many commissioners there ought to be. (He figured 7 to 9 commissioners, to be exact.)
As to whom they ought to be, McDonnell thought the commission should made up of volunteers, not paid employees. They should be "…highly regarded and esteemed members of the community, committed to public service on this body in an unpaid and part-time capacity (similar to how CCJV functioned). The structure should also include not simply individuals appointed by the Board of Supervisors, but also others selected by other appointing authorities…."
When IG Huntsman spoke he also had a number of suggestions. He stressed that, if oversight was to mean anything, it was essential that he and, by extension any commission he reported to, must have maximum access to information.
"I used to be an attack dog," he said. "Now I've been asked to be a watchdog. If you buy a watchdog, they are only worth it if they come into your house. If you keep them in the backyard, then the burglars can come in the front door. A watchdog can't watch what they can't enter and be a part of. So transparency means complete access…"
Huntsman said it was his understanding that there was a way to accomplish this access and still respect the restrictions of the Peace Officers Bill of Rights.
As for the question of whether or not the soon-to-be created civilian commission could or should have any legal power, Huntsman was unconcerned.
"There are lots of commissions that have legal authority," he said, "and those who don't have legal authority, and that doesn't really control how effective they are." A commission's effectiveness had more to do about "whether or not what they have to say is welcomed by the department, whether or not the department interacts with them, and whether or not they speak in a language the department understands."
---
---
AND IN OTHER NEWS….
NEVER CONVICTED OF A CRIME BUT HELD BACK BY A CRIMINAL RECORD
It's bad enough that significant percentages of job-seeking Americans are hampered in finding employment for which they are otherwise qualified by criminal records. This story by Brendan Lynch writing for TalkPoverty tells how yet another slice of U.S. job hunters faces the same barriers even without criminal convictions.
Here's how the story opens:
Tyrae T. and N.R. needed what any thirtysomething American without regular income needs: a well-paying job. They were both ready and eager for work, yet both were turned down for numerous entry-level positions they were qualified for. The reason? Criminal records. Tyrae and N.R. have never been convicted of any crimes, but they face a problem that afflicts millions of low-income Americans: arrests without conviction that are improperly used as grounds to deny employment.

Job applicants with criminal records, especially men of color, face a high hurdle to employment. Studies have shown that black men without criminal records get callbacks for job interviews at rates below those of white men with criminal records; and for a black man with a record, the callback rate is almost negligible.

Arrests that never led to conviction shouldn't affect employment—innocent until proven guilty is a fundamental principle of American justice, after all. Because there is a presumption that arrests without convictions don't hinder employment opportunities, this issue has received far less media and political attention than the employment obstacles created by past convictions. But the fact is that when it comes to getting jobs, a mere arrest can be just as bad as a conviction for millions of people like Tyrae and N.R.

Many companies conduct pre-employment background checks using FBI rap sheets, which are notoriously hard to read: employers often can't discern whether the charges resulted in conviction, were withdrawn, or dismissed.

State-level databases can be equally confusing. In Pennsylvania, if an item turns up when an employer runs a background check through the state police, the system immediately responds with a generic code, indicating that details will follow within four weeks. If someone only has arrests on his record, the report eventually comes up clean, but many employers won't wait that long for the clarification—they simply move on to the next job applicant.
---
…CORY BOOKER SPEAKS TO FELLOW U.S. SENATORS ABOUT BIAS IN THE CRIMINAL JUSTICE SYSTEM
"Enough lamentation, when will there be legislation?" asked New Jersey Senator Cory Booker when he spoke before Senator Richard Durbin's Tuesday hearing on the State of Civil Rights & Human Rights. It's strong stuff, filled with both passion and common sense. And Booker bolstered his points with plenty of statistics.
Take a look.
---
MORE BAD NEWS ABOUT LAUSD'S MALFUNCTIONING SOFTWARE SYSTEM THAT SCREWED UP STUDENTS' SCHEDULES
Recently we wrote about the restraining order an angry judge slapped on California Department of Education head, Tom Toriakson, to force Toriakson and LAUSD to come up with a plan to fix a disastrous tangle of problems with the district's student data system. It seems the data snarl had somehow resulted in many students at Jefferson, Dorsey and Fremont High Schools losing more than a month's worth of class time, and other students' transcripts being comprised as college application deadlines rolled around.
So is the system fixed yet? Uh, no. Even more alarming, the cost of repairing the mess has, thus far, cost three times what the district initially spent to set up the data system.
Annie Gilbertson of KPCC has the story-–and it ain't pretty.
Here's a clip:
The Los Angeles Unified School District board approved another $12 million Tuesday to fix the student data system that failed to schedule classes, take attendance and track students with special needs beginning last fall.

Under the new plan, the district will spend up to $2 million per week from Jan. 1 to Feb. 15 to have technology companies, including Microsoft, debug the system, stabilize servers, and expand use of the system known as MiSiS at charter schools, among other tasks.

The money will also pay for oversight of the work by an outside party and expansion of the help desk.

The new spending brings the total cost of the software system to $45.5 million, three times as much as was initially invested in it.

When the six weeks are up, the board will be presented with another, pricier spending plan for MiSiS improvements. Earlier estimates submitted to the school construction bond oversight committee showed the price of addressing the system's problems could double to about $85 million….
---
A FEW WORDS ON THE TORTURE REPORT
We don't normally report on issues—even criminal justice issues—that occur beyond U.S. borders, because they are too far outside our California-centric mandate.
But we cannot fail to acknowledge—however briefly—the release of what is being called the "torture report," the Senate's long awaited report on C.I.A. torture during the Bush Administration released Tuesday. It has too many implications about criminal justice issues we do write about.
This week's revealations are so dispiriting that a lot of the writing about the report that we've read in the last 24 hours has sort of a stunned eloquence, like this opening of Tuesday's story by the New Yorker's Amy Davidson.
There is a tape recording somewhere, unless the Central Intelligence Agency has destroyed it, that captures the sound of a man named Nazar Ali crying. He was a prisoner in a secret C.I.A. prison, in a foreign country where terrorists were supposed to be interrogated. But Nazar Ali, whom a Senate Select Intelligence Committee report, part of which was released on Tuesday, suggests has a developmental disability—it quotes an assessment of him as "intellectually challenged"—was no sophisticated Al Qaeda operative. It is not even clear, from what's been released of the report, that his interrogation was an attempt to gain information, or indeed that he was properly interrogated at all. According to the report, his "C.I.A. detention was used solely as leverage to get a family member to provide information." A footnote later in the report, where his name appears, explains that Nazar Ali's "taped crying was used as leverage against his family member." Left unexplained is what the American operatives did to make this man cry. Did they plan ahead, preparing recording equipment and proddings, or did they just, from their perspective, get lucky?

That audio may be long erased or destroyed, as ninety-two videotapes documenting waterboarding were. The unauthorized running of those videotapes through an industrial shredder, in 2004, put in motion the production of the Senate report. (The Washington Post has a graphic guide to its twenty key findings.) It took nine years and cost forty million dollars, largely because the C.I.A. and its allies pushed back, complaining about unfairness and, finally, warning darkly that Americans would die if the world knew what Americans had done. Senate Republicans eventually withdrew their staff support. The Obama Administration has largely enabled this obstruction. The opponents of accountability nearly succeeded. In another month, a Republican majority takes control in the Senate, and they might have buried the report for another decade, or forever. As it is, only a fraction has been released—the five-hundred-page executive summary of a sixty-seven-hundred-page report—and it is shamefully redacted. But there are things the redactions can't hide, including that the C.I.A. and the Bush Administration lied, in ways large and small. One telling example has to do with the number of people held in the secret C.I.A. prisons. General Michael Hayden, as director of the C.I.A., regularly said that the number was "fewer than a hundred." By that, he meant ninety-eight—and, when he was informed by others in the Agency that there were at least a hundred and twelve, "possibly more," he insisted that they keep using the number ninety-eight. The report released today lists the number, for the first time, as a hundred and nineteen. Of those, twenty-six were held wrongly—that is the C.I.A.'s own assessment; the number may be greater—either because there was no real evidence against them or because of outright Hitchcockian cases of mistaken identity. There's a footnote where the report mentions the twenty-six who "did not meet the standards for detention." Footnote 32, the same one that outlines the motives for holding Nazar Ali, has a devastating litany, starting with "Abu Hudhaifa, who was subjected to ice water baths and 66 hours of standing sleep deprivation before being released because the CIA discovered he was likely not the person he was believed to be…"
There's lots more in Davidson's story, in the New Yorker in general, and, of course, in every other mainstream publication.