At the Tuesday August 10, meeting of the Los Angeles County Board of Supervisors, the board unanimously approved a $187.7 million spending package to advance the county's care first, jails last vision with a series of investments that would go directly into community-based projects, which are, in turn, meant to help provide alternatives to incarceration.
Some examples of the ways the money will be spent include:
*$42 million to close Men's Central Jail by providing mental health and substance abuse services
*$8 million for pre-trial services
*$3 million for a reentry program for women
* $1.4 million for the Alternatives to Incarceration "Incubator Academy" to help guide smaller community organizations in the process of becoming "service providers," which are sorely needed, if people are to be diverted away from jail and prison.
And there are additional related line items where those came from.
For those who need a quickie reminder of why this is important, rewind to last November when more than 57 percent of LA County's voters approved Measure J, the ballot initiative that was designed to amend Los Angeles County's charter to permanently set aside at least 10% of locally-controlled revenues to be directed to community investments and alternatives to incarceration that, starting in fiscal year 2021-22, could further advance the county's Care First Jails Last commitment.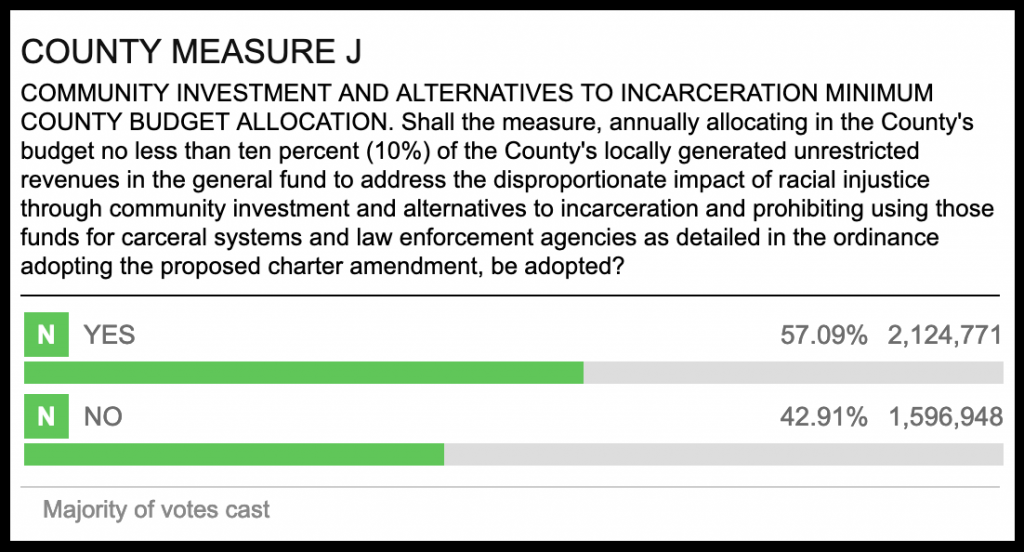 After the ballot measure passed, to help determine exactly how Measure J dollars should be used,  the board created a 17-member advisory committed, which brought community members into the process of guiding what dollars went where.
All seemed to be going relatively well until June of this year when LA County Superior Court Judge Mary Strobel ruled that Measure J was unconstitutional, after the Coalition of County Unions, a group of labor unions that includes the Assn. of Los Angeles Deputy Sheriffs — or ALADS — filed a legal challenge to the ballot measure.
Specifically, Judge Strobel said the amendment to the county's charter improperly restricted the L.A. County Board of Supervisors from deciding how and where to spend county funds — never mind that the measure was the existing board's idea, and that a big part of Measure J's purpose was to permanently cement this particular distribution of county funds into place, so that future Supes could not yank the funding in another direction.
Judge Strobe's ruling is, of course, being appealed by the county.
In the meantime the board and the County CEO's office took matters into their own collective hands with Tuesday's move to go ahead and allocate the $187.7 million funding package, in order to jump start the implementation of Measure J, with or without the ballot measure itself.
A down payment 
Originally, the CEO's Office estimated that the 10 percent allocation Measure J designated would amount to between $360 and $490 million per year.  And, while Tuesday's spending package doesn't get close to those amounts, it's still being viewed as a substantial step in that it embraces the spirit of the ballot initiative with a $100 million "downpayment," to be put toward  board-approved "Care First Community Investment" programs.
In addition to the $100 million, the board expanded the county's fiscal commitment by leveraging $87.7 million in one-time funding from the American Rescue Plan, bringing Tuesday's total to $187.7 million, in the hope of further putting into place a strong foundation of programs, until the county can reach higher funding levels.
Not perfect, but a good step, said justice advocates.
"Less than a year ago, 2.1 million voters used their vote to say 'Yes on J,' demanding that the Board of Supervisors use Los Angeles County funds to divest from systems of harm and invest in systems of care and opportunity," said Assemblymember Isaac Bryan, D-Los Angeles, in a Wednesday email.
(Prior to being elected to the Assembly, Bryan was one of the Co-Chairs of the Measure J Campaign, as well as Director of Public Policy at the UCLA Ralph J. Bunche Center, and Director of Organizing for the nationally recognized Million Dollar Hoods project.)
Tuesdays' vote,  he said, was "a victory as we continue the fight to invest our public dollars in the resources that truly keep communities safe and thriving."
L.A. County Sheriff Alex Villanueva also had a great deal to say about the board's new Measure J-driven spending package.
"All it is," he said in his virtual appearance at Tuesday's board meeting, "is a giveaway of taxpayer funds that belong in public safety."
Then, in an impressive burst of creative expression, he pronounced a related motion that created a new advisory committee to help decide how the funds were allocated, "a bureaucratic orgy of wokeness."
On Wednesday, the sheriff once again slammed the board's fiscal decision in a live address on Facebook.
Measure J, he said, had been designed "to defund the sheriff's department." Now, he said, the board was merely "giving money to their cronies," which, he repeated, was greatly harming public safety .
To illustrate his point, he brought up the department's homicide investigators, whom he said now have a murder clearance rate that has fallen below 50 percent, "which means that killers are walking scott free."
All this, the sheriff said, was the fault of the board.
Eunisses Hernandez, Co-Founder and Executive Director of La Defensa, and a Measure J Campaign Co-Chair, did not agree.
"Law enforcement special interests can try to threaten our work to preserve the dignity and human rights of all community members," she said in an emailed statement on Wednesday. "But the heart and will power of our people is stronger. We pledge to continue to fight for life-affirming public safety, true security, and the resources our communities need to flourish."
More as we know it.