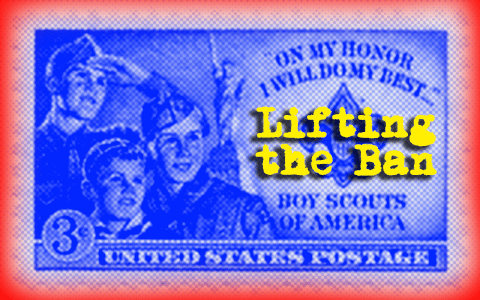 WEST LA BOY SCOUT CHAPTER PUSHES ORGANIZATION TO WELCOME GAY YOUTH AND ADULTS
The W. LA County branch of the Boy Scouts of America is calling for the organization to both execute an offered proposal to lift the ban on gay scouts and also allow gay adults to be troop leaders.
Reuter's Alex Dobuzinskis has the story. Here's how it opens:
The council, which represents more than 14,000 scouts and ranks as the nation's 14th-largest scouting chapter, called for the Texas-based youth organization to go further by welcoming gays into the ranks of its adult volunteers as well.

In issuing its declaration on Tuesday urging a "true and authentic inclusion policy," the Los Angeles group joined at least two branches in New York state that have pushed for allowing gays to work as troop leaders or staff members.

The Boy Scouts of America holds its annual national meeting on May 23 in Texas, where a resolution will be voted on that would end the century-old group's policy denying membership to youths on the basis of sexual orientation.
---
AND WHILE WE'RE ON THE SUBJECT…
On Tuesday, Delaware's state Senate voted to make DE the eleventh state to legalize gay marriage. (Way to go, Delaware!)
Here's a clip from the Associated Press:
Less than an hour after the Senate's 12-9 vote, Democratic Gov. Jack Markell signed the measure into law.

"I do not intend to make any of you wait one moment longer," a smiling Markell told about 200 jubilant supporters who erupted in cheers and applause following the Senate vote.
---
NEW BILL WOULD FURTHER EQUALITY FOR TRANSGENDER YOUTH IN CA SCHOOLS
AB 1266, a bill in California Legislature introduced by Assemblyman Tom Ammiano, would allow transgender kids to participate in sex-segregated school sports and activities regardless of the sex listed on the student's records. Passage of AB 1266 would be a huge step in the direction toward equal opportunities for trans youth who already face plenty of hardships and discrimination in school, as it is.
NY Times' Ian Lovett has the story. Here's a clip:
Over the last decade, the International Olympic Committee and the National Collegiate Athletic Association have adopted regulations for athletes who were born male but now consider themselves females and want to play on women's teams.

And now, high schools are beginning to take on the issue as well, as a small but growing number students who identify themselves as transgender have begun demanding access to the same school activities, like interscholastic sports, that other students enjoy.

More than half a dozen states, from Washington to Massachusetts, have adopted rules to allow transgender students to compete on teams that correspond with their gender identities rather than the sex listed on their school records. Half a dozen more states are considering similar regulations. And a bill in the Legislature would make California the first to specifically guarantee by law that transgender students like Tony are allowed to play school sports.

"Transgender students deserve equal access to everything in public education, including sports," said Tom Ammiano, the state assemblyman sponsoring the bill. "You can't discriminate just because you're uncomfortable with a young man transitioning to become a young woman."
---
MAJORITY OF AMERICANS WRONGLY ASSUME GUN VIOLENCE IS ON THE RISE
Firearm-related crimes have seen a significant decrease over the last two decades, but most Americans are under the impression that gun crimes have increased since 1993 with only 12% of those surveyed aware of the decrease, according to a report released Tuesday by the Pew Research Center. Another Tuesday report from the Bureau of Justice Statistics says that the number of gun-related homicides dropped 39% from 1993 to 2011.
LA Times' Emily Alpert has the story. Here's a clip:
It's unclear whether media coverage is driving the misconception that such violence is up. The mass shootings in Newtown, Conn., and Aurora, Colo., were among the news stories most closely watched by Americans last year, Pew found. Crime has also been a growing focus for national newscasts and morning network shows in the past five years but has become less common on local television news.

"It's hard to know what's going on there," said D'Vera Cohn, senior writer at the Pew Research Center. Women, people of color and the elderly were more likely to believe that gun crime was up than men, younger adults or white people. The center plans to examine crime issues more closely later this year.
---
---
Photo by Douglas Muth through Wikimedia Commons.