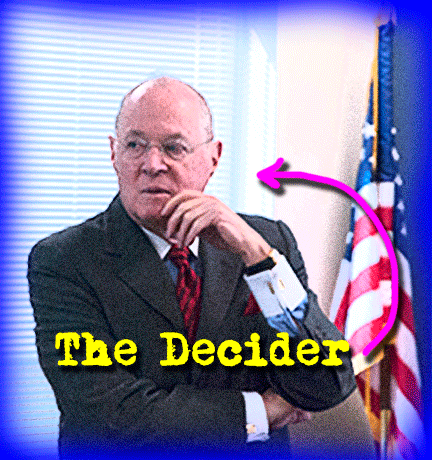 ALL EYES ON JUSTICE KENNEDY FOR CALIFORNIA PRISON OVERCROWDING DECISION
It's up to US Supreme Court Justice Anthony Kennedy to decide whether to grant Gov. Jerry Brown a requested stay on the three-judge panel's order to release more than 9,000 inmates by the end of 2013 to further reduce prison overcrowding.
If Justice Kennedy approves to Gov. Brown's request, the state will have time to file a full appeal of the order to the Supreme Court. If Kennedy denies the appeal, Brown will have to comply and begin releasing low-risk inmates or face contempt. (By the way, WitnessLA's Matt Fleischer has a story coming up on the all-but-unknown problem of serious overcrowding in women's prisons.)
LA Times David Savage has the story. Here are some clips:
Two years ago Kennedy spoke for a 5-4 majority in upholding one of the largest prison release orders in U.S. history, affirming a three-judge panel in California that concluded prisoners were dying from a lack of decent medical care because of severe overcrowding and the state's failure to act. Kennedy said the conditions amounted to cruel and unusual punishment.

The state was ordered to reduce its prison population to 137% of capacity within two years. That could mean releasing or transferring as many as 46,000 inmates since the beginning of the current case in 2008, Kennedy said. So far 37,000 have been released.

But Kennedy also said that "if significant progress is made toward remedying the underlying constitutional violations," that could "demonstrate that further population reductions are not necessary."

Citing these passages, Gov. Jerry Brown is now asking Kennedy and the high court to block a pending order from a special three-judge U.S. District Court panel that calls for releasing 9,600 more inmates by the end of the year.

[SNIP]

Lawyers representing the prisoners urged Kennedy to turn down the appeal. "This is political posturing. It's the manufacturing of a constitutional crisis," said Rebekah Evenson, a Berkeley lawyer.

In their brief filed with Kennedy, the lawyers said it was "truly remarkable" that the state would defy the high court's decision requiring the prisons to meet the 137%-of-capacity limit. "Rather than redoubling their efforts" to comply this year, state officials "have adopted a stance of outright defiance," they said.

The lower court judges also made clear this month that they were not willing to tolerate further delays. They noted that the lawsuits challenging the prison overcrowding began more than 20 years ago.
---
LOCKED IN SOLITARY AND CONDEMNED TO DEATH
Anthony Graves, a Texas death row exoneree, describes the horrors of solitary confinement on death row as only one who has experienced it first-hand can. (Anthony's letter was published in conjunction with a new ACLU report about the "double punishment" of isolation on death row and the mental and emotional conditions that such isolation produces in inmates.)
Here's a clip from Anthony's letter:
I am death row exoneree #138.

There are 12 more people like me from Texas. Twelve people who spent years of their lives locked alone in concrete cages waiting to die before they were set free, exonerated for their innocence.

Eleven people have committed suicide on Texas' death row. All because of the conditions.

When I was sentenced to death, I did not know that this sentence would also mean that I would have 12 years without any human contact, i.e. my mother, my son, my friends. All those people were stripped from my life because of this injustice. I did not know it would mean 12 years of having my meals slid through a small slot in a steel door like an animal. I did not know it would mean 12 years alone in a cage the size of a parking spot, sleeping on concrete steel bunk and alone for 22 to 24 hours a day. All for a crime I did not commit. The injustice.

For me and the 400 other prisoners on Texas' death row while I was there, a death sentence meant a double punishment. We spent years locked alone in a tiny, concrete cage in solitary confinement, with guys going insane, dropping their appeals, doing everything they could to check out of this place before we were ever strapped to an execution gurney. All because of the conditions.

I am writing today because the ACLU has put out an important new paper about what it does to people to lock them alone in cages on death row. They found that over 93% of states lock away their death row prisoners for over 22 hours a day. Nearly a third of death row prisoners live in cages where their toilet is an arm's length away from their bed. Sixty-percent of people on death row have no windows or natural light.
---
CRITICS SAY A&E'S HIT REALITY SHOW'S "SCARED STRAIGHT" PROGRAMS NOT A CRIME DETERRENT, CAUSE HARM TO KIDS
"Scared Straight" programs, in which kids are taken to tour detention facilities where inmates try to deter them from crime with scare tactics, have been shown to actually lead to more criminal behavior in participating youth. The federal government will not fund these programs and they are widely discredited. And yet, with the fourth season of the A&E hit reality series, "Beyond Scared Straight," the network continues to blithely promote a practice that is believed to harm children.
Juvenile Justice Information Exchange's Maggie Lee has the story. Here are some clips:
This week, the fourth season of the A&E TV show "Beyond Scared Straight" follows two young sisters to the adult jail in Douglas County, Ga., where one inmate tells one of the sisters how she could beat her up "and make you not so pretty no more."

Plenty of critics pan the show, saying it publicizes a discredited, harmful practice. Neither Georgia nor the feds will fund such jail tour programs, citing both evidence that it doesn't work and the liabilities jails take on when they invite minors to meet with inmates.

"I still break the same law that sent me there," said Pete Thomas, 27, of Atlanta, who for that reason spoke under a pseudonym. Ten years ago in central Florida's Lake County, deputies pulled Thomas over and found him carrying less than 20 grams of marijuana. A scared straight-type visit to the county jail was part of his sentence in "Teen Court," a diversionary program for young offenders.

"They tried to intimidate everyone in the group as much as possible, singled me out for having long hair, and the inmates acted crazed," said Thomas, adding that he already knew people in that jail and that they were encouraged to lay it on thick.

That illustrates some of the objections to jail awareness programs detailed by Nancy Gannon Hornberger, executive director at the Coalition of Juvenile Justice, a network of organizations dedicated to keeping children and youth out of court.

A kid's response to such aggressive tactics, said Hornberger, is to "harden their bravado."

[SNIP]

Anthony Petrosino agrees. He's a researcher at WestEd, a research nonprofit and an author of an influential 2002 meta-analysis of scared straight studies.

"This program doesn't have any positive effect and it may very well hurt the kids that are in the program," he said. Petrosino and his team revisited the topic in 2012, trying to add more studies to their analysis. There were none to add and thus no new conclusions to make. Petrosino said that's likely because scared straight is seen as a discredited program, so no one studies it anymore.

Scared straight-type programs have no effect on deterring crime, according to his research, and they actually lead to more offending behavior.

"We've got a real serious ethical program here," said Professor Del Elliott, the founding director of the Center for the Study and Prevention of Violence at the University of Colorado Boulder. "We've got a TV production that's promoting a program which is doing harm to our children."
---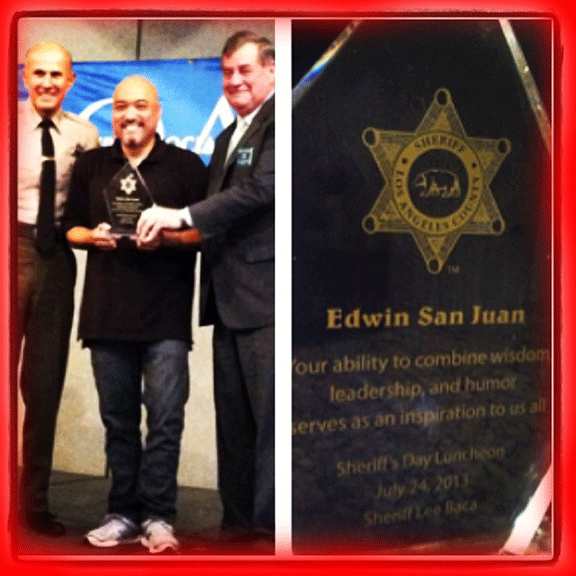 HOT-WEATHER LAW ENFORCEMENT STORY OF THE DAY: AN UNFUNNY LASD LUNCH EVENT
This week, a comedian named Edwin San Juan performing at a yearly law enforcement event called the Sheriff's Day Luncheon told sexually explicit and racist jokes for thirty minutes. Matters were not helped when, at lunch's end, although this was not an LASD event, San Juan received a gratitude plaque from Sheriff Lee Baca. (See above.) Audience members were reportedly not at all pleased. (Conservatively speaking, approximately a gazillion of our friends in law enforcement—both LASD-affiliated and not—brought the LA Times story on the matter to our attention.)
LA Times' Joel Rubin and Robert Faturechi have this must read.