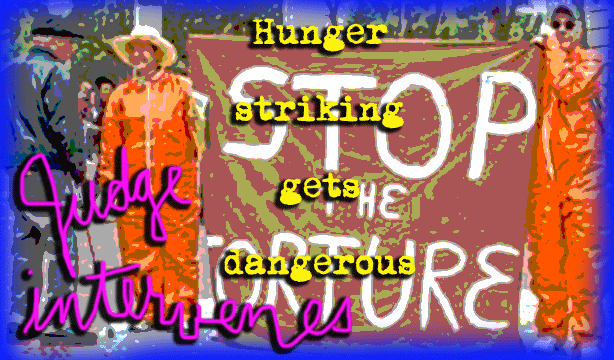 CDCR OFFICIALS GET PERMISSION TO FORCE-FEED HUNGER STRIKING INMATES IF CONDITIONS BECOME LIFE-THREATENING
Even if inmates have signed "Do not resuscitate" orders, prison officials now have permission to force-feed them if their conditions become too dire, ruled federal judge Thelton Henderson on Monday.
CDCR officials say that some of the strikers are being coerced into participating.
But advocates and attorneys working with the strikers deny coercion.
(For the record, based on our conversations with inmates, and family members of inmates, at the strike's beginning, there was plenty of pressure for certain groups to participate. But, after the first week or so, the pressure seemed to vanish. Those who are participating now seem to be doing so of their own volition with an understanding of the consequences. Admittedly, ours is an unscientific survey. But this is what we've heard, without variation.)
Sharon Bernstein of Reuters has more. Here's a clip:
Some 136 California inmates are currently taking part in a hunger strike that began July 8 in prisons statewide to demand an end to a policy of housing inmates believed to be associated with gangs in near-isolation for years. Some 69 of the striking inmates have refused food continuously since the strike began.

This is the second time prisoners have launched a hunger strike to protest the state's practice of housing some inmates for years in its four Security Housing Units.

About 4,500 prisoners were housed in the units when the strike began, officials said. State officials say the units are needed to stem the influence of prison gangs – and in fact, administrators have repeatedly characterized the hunger strike as a power grab by gang leaders.

But the state's policy of housing prisoners for years in these units has been condemned by a number of human rights organizations, including Amnesty International. And at least one prisoner on the hunger strike has said that he is willing to die to make his point that the detentions are inhumane.
---
DOES LA REALLY NEED THE PROPOSED ECHO PARK GANG INJUCTION?
A new LA Times editorial doesn't come right out and nix the idea of a new gang injunction for the Glendale Boulevard Corridor in Echo Park—an injunction that, if it is put into place, would be LA's 46th. But the editorial board's essay does diplomatically suggest that "more constructive ways of dealing with destructive behavior" would be better.
We agree.
As the Times points out, new City Attorney Mike Feuer is not rushing pell mell to embrace the injunction that was proposed by Feuer's predecessor, Carmen Trutanich, during his final days in office. (Trutanich, if you'll remember, was extremely fond of injunctions and even tried to gin up the notion of gang injunctions for taggers.)
And we are not saying that gang injunctions aren't sometimes useful tools. They can be helpful in instituting a legal "time out" of sorts, when a community is in crisis. But when used carelessly or unnecessarily, their cost can greatly outweigh their benefits.
For all these reasons we, like the Times, are glad that our new city attorney is taking time to consider the cost/benefit ratio.
Here's a clip from the editorial that lays out a few more of the issues. But read the whole thing.
Backers of an injunction in a "safe zone" in Echo Park known as the Glendale Boulevard Corridor argue that the injunction is needed to consolidate gains and to nip out the remaining problems, and to prevent the area's relapse into chaos as imprisoned gang members complete their terms and return to their old neighborhood and, perhaps, their old ways. They argue that new City Atty. Mike Feuer is right to continue the court process, begun by his predecessor in the waning days of his term, to put an Echo Park gang injunction in place.

Critics point out that Echo Park is well past its gang emergency days and argue that an injunction, if it was ever appropriate, would be 15 years too late. Some assert that an injunction would serve to harass longtime residents, preventing, for example, two brothers who may have tenuous connections to a gang and haven't been charged with any specific crime from sitting together on their own front steps.

In pursuing the injunction, Feuer has a more complete and more enlightened approach than did previous city attorneys. He seems to recognize that although they are intended to protect neighborhoods, gang injunctions also ensnare thousands of the city's young men and their families in a cycle of failure. For example, in addition to barring two or more members of a designated street gang from gathering in public, and in addition to allowing city lawyers to seek civil penalties for illegal behavior (with evidence that can fall short of the strict criminal law standard of proof), injunctions flag people — often for life — as gang members and make it harder for most to get decent jobs with advancement opportunities or to seek higher education. And, some assert, they don't do it all that accurately, occasionally including a person who fits a demographic profile or who may be friends with or related to gang members without being one.
---
MUPPET KIDS WITH LOCKED UP MUPPET DADS
This summer Sesame Street added a new Muppet named Alex who has a dad in prison.
It is an important addition. According to a 2010 Pew Report, 1 in 28 American children have an incarcerated parent. (Just 25 years ago, the number was 1-in-125.)
A 2010 Bureau of Justice Statistics report found that half of the mothers (52%) and fathers (54%) in state prison reported that they were the primary provider for their children before their incarceration.
With all this in mind, the Sesame Street folks designed the muppet Alex and his dilemma to give adults tools to help the children of prisoners to better cope with their feelings of loss, shame and grief over their parents' absence.
Cara Tabachnick writes about the issue for The Crime Report. Here's a clip:
Alex has blue hair, wears a big hoodie, and has a father in jail.

Say hello to Sesame Street's newest Muppet.

The United States is frequently cited for having the world's highest documented incarceration rate, with over two million inmates in federal and state prisons. But few people are aware that those numbers are matched by the children who inmates leave behind: more than 2.7 million youngsters have an incarcerated parent, according to a 2010 Pew Center study.

That number climbs even higher when you add the approximately 10 million children who have experienced parental incarceration at some point in their lives, the study says.

Sesame Workshop, the nonprofit educational organization behind Sesame Street and other media programming for children, has found a way to address the experiences of such kids, who otherwise have few ways to communicate feelings ranging from shame and embarrassment to defiance.

Alex the Muppet with a jailed father, doesn't mince words.

"I don't want people to know about my dad," he says in a video produced by the workshop for the toolkit.

Together with experts in the correctional field, workshop staff members developed a tool kit, "Little Children, Big Challenges: Incarceration," featuring a DVD, a guide for parents and caregivers, and a children's storybook…
---
LA COUNTY SHERIFF CANDIDATES PAUL TANAKA AND BOB OLMSTED ON KABC WITH DOUG MC INTYRE
The newest challengers to Sheriff Lee Baca are off and running. In the last week, both Paul Tanaka and Bob Olmsted have been making the rounds of various media outlets and community groups. Here, for example, are links to the interviews each man did with KABC radio's Doug McIntyre.
Go here for the Tanaka interview, which took place last Thursday. (Fast forward to 20:00 for the interview.)
Then McIntyre interviewed Bob Olmsted on Monday morning. (You can find it here. Fast forward to about 6:45 for the interview's beginning.
McIntyre said that he would have LA County Sheriff candidates Lou Vince and Patrick Gomez in the future.
Tanaka was also on KABC Larry Elder's show on Monday afternoon. (Irritatingly enough, to hear it Elder makes you pay for the podcast!)
Olmsted, however, is slated to be on Larry Elder's show on Tuesday at 5:00 PM. (Obviously, you have to listen to it in real time, what with the pay-to-play, podcast situation and all.)
Lou Vince will be on at 5:14.
It should be noted the Olmsted now has a Facebook page, and Tanaka (or his surrogate) is now madly tweeting as is Lou Vince.