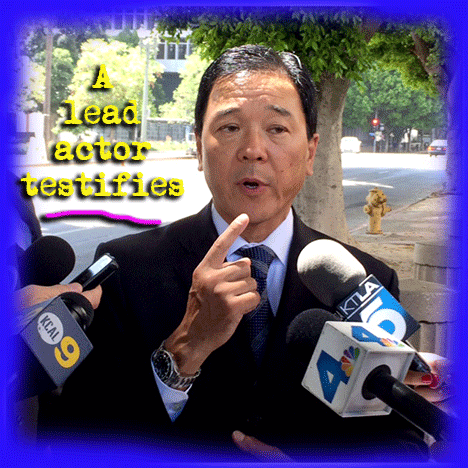 OPERATION PANDORA'S BOX GOES TO TRIAL: TANAKA TESTIFIES
Last December, seven members of the LA County Sheriff's Department were indicted for conspiracy to obstruct justice pertaining to the alleged hiding of federal informant Anthony Brown from his FBI handlers, an assignment that came, unofficially, to be be known among those involved as "Operation Pandora's Box."
In total, 20 members of the LA County sheriff's department have been indicted as part of the FBI investigation into allegations of civil rights violations and corruption, a probe that U.S. Attorney Andre Birotte described last year as "ongoing and wide-ranging."
In May of this year, Deputy James Sexton, one of the seven obstruction defendants, was tried separately. The result was a hung jury. He may or may not be tried again. The remaining six—deputies Mickey Manzo and Gerard Smith, sergeants Scott Craig and Maricella Long and lieutenants Greg Thompson and Stephen Leavins—are on trial now.
---
PAUL TANAKA & THE TRIAL THUS FAR
It was 11:40 am on Friday, June 6, and the second federal obstruction of justice trial involving six members of the Los Angeles County Sheriff's department was exactly at the halfway mark. The prosecution had just rested its case and the defense was preparing to call its first witness: former undersheriff Paul Tanaka, who is also a candidate for LA County Sheriff, having barely squeaked into a runoff with Long Beach Chief of Police Jim McDonnell.
As had been true in the first obstruction of justice trial a few weeks ago, word of Tanaka's impending appearance caused the courtroom presided over by Judge Percy Anderson to go from half-filled to jammed.
Prior to Tanaka's arrival, the trial had already proved to be a complicated one. The government was prosecuting six different LASD defendants at once, each of whom it accused of some variation on the theme of deliberately attempting to get in the way of a federal investigation into brutality and corruption in the county's jails. This included but was not limited to: helping to hide federal informant and jail inmate Anthony Brown from his FBI handlers, attempting to threaten and intimidate FBI special agent Leah Marx at her home, and endeavoring to bully and cajole a sheriff's deputy named Gilbert Michel into not cooperating with the FBI. This alleged intimidation occurred after Michel had been nailed by the feds for bringing a contraband cell phone into the jail and giving it to inmate Brown—whom Michel was unaware happened to be an FBI informant—in return for a healthy bribe.
Last month, the trial of a seventh LASD defendant, Deputy James Sexton, who was also accused of obstruction of justice in the hiding of Anthony Brown, ended in a mistrial when the jury declared itself "hopelessly deadlocked," 6 to 6. The feds have yet to decide if they will come after Sexton again.
This second obstruction of justice trial is somewhat different than the first in that most of the defendants—which include two sergeants and two lieutenants, along with two deputies—are farther up the departmental food chain than was Sexton. There is also the fact that Sexton, unlike any of the six in this proceeding, had cooperated extensively with the FBI for more than a year.
Yet despite any dissimilarities in the two trials, the government's lawyers appear to have drawn lessons from their losses in trial one, and have worked vigorously to shore up any weak points in their theory of the case.
Essentially, the prosecutorial theory is as follows: In August of 2011, members of the LASD learned that the FBI had launched an undercover investigation into brutality and other forms of wrongdoing by deputies inside the county's jail system.
The LASD higher-ups learned of the undercover probe through the discovery of a contraband cell phone in the possession of an inmate named Anthony Brown. They then further discovered that the inmate was a federal informant, and that the phone had been smuggled to Brown as part of an FBI sting, brought by a jail deputy named Gilbert Michel who muled in the contraband phone then was compensated with cash payments, and whom the feds subsequently were trying to flip into becoming an informant. Upon learning of all this clandestine sleuthing, the department's sole focus became, not cleaning up its own dirty house, but shutting out the FBI and any other federal agents from the jail and from contact with Brown and Michel, in doing so materially hampering the government's undercover probe, at least according to the prosecution.
The defense is expected to counter that the six defendants, who are comparative underlings, were not obstructing anything but rather were just doing their jobs as legally ordered by those at this paramilitary organization's very top.
---
WITNESSES FOR THE PROSECUTION
Thus far, the most dramatic testimony for the prosecution had been from Deputy Michel, who not only told the jury how he smuggled in the phone and other contraband for Brown, but also described the manner in which, when he first began working the 2000 and the 3000 floors of the notoriously troubled Men's Central Jail, he'd learned as part of his initiatory training the "right way" to cover up unjustified beatings and abuse of inmates. In testimony that spread over two days, Michel went into harrowing and sometimes tear accompanied detail about some of the individual beatings of inmates he'd been present for, or administered himself.
His lengthy testimony portrayed, not merely his own mistreatment of prisoners, but pointed beyond itself to paint a picture of an entire subculture of deputies inside the jails who engaged in routine brutality against inmates. The brutality was accompanied, according to Michel, in many instances, by the falsification of criminal charges against those same inmates, when such charges were needed to cover deputy violence. Michel's testimony further suggested that such behavior went on virtually unchecked by jail supervisors and LASD higher-ups.
This latter point seemed to be demonstrated when the prosecution played a recording of a jailhouse interview with Michel conducted by three of the defendants after it was discovered that Michel had smuggled the contraband cell phone to Anthony Brown. In the recording, Sgt. Maricela Long, Sgt. Scott Craig, and Lt. Steve Leavins acted remarkably concerned about Michel's accepting bribes from Brown in return for the phone, a legal slip that they assured their interviewee "could happen to anybody." They seemed far more concerned with frightening and hectoring the deputy out of telling the FBI anything about the ongoing brutality against inmates that he'd both witnessed and perpetrated.
The jury was also able to read an email from Leavins to his immediate superior, Captain William Carey, evidently written after Deputy Michel suddenly began blurting to investigators about the inmate beatings in which he'd taken part, admissions that LASD supervisors seemed to view as awfully inconvenient rather than useful. In the email Leavins wrote:
"That idiot Michel is confessing to beating handcuffed inmates with other deputies…Not looking good…They are still interviewing him….Will advise."
In addition, the jury heard readings of the grand jury testimony by Sergeants Long and Craig in which both admitted—among other things—to being told by a judge that they had no legal jurisdiction to investigate FBI special agent Leah Marx, who was Brown's main federal contact, prior to going to her house and falsely threatening her with arrest.
And, as they had in the Sexton trial, the prosecutors presented a string of witnesses who told of the byzantine methods the defendants and and others had employed to conceal Anthony Brown's whereabouts from his FBI handlers.
---
TANAKA FOR THE DEFENSE
On Friday, it was the defense's turn to present its view of events.
The defense—which, due to the plethora of defendants, consisted of nearly a dozen lawyers—originally planned to call the former undersheriff as their third witness. But, it seems that, after nearly a year of a campaigning to become the next LA County sheriff, Tanaka had planned to take a vacation the week of June 9, so hoped his testimony wouldn't string over until Tuesday. (The court is dark on Monday.) To try to accommodate, the various defense teams shuffled their collective witness list to allow the former undersheriff to be first up on Friday morning.
Tanaka's purpose as a witness was assumed to be to help the defense prove its theory, which was in simplest terms that A. anything that the defendants might have done wrong was done pursuant to orders by either the sheriff or the undersheriff, or both, and B. that none of this was unlawful.
Although Tanaka's testimony was not completed on Friday (he will have to return on Tuesday morning after all) what he has said thus far will likely be helpful to the defense in some areas, less so in others.
Miriam Krinsky, the executive director of the Citizen's Commission on Jail Violence and herself a former Assistant US Attorney, was also at the trial and explained it this way.
"I think the problem with alternative defenses, as well as the way that Mr. Tanaka's testimony played out, is that the narrative doesn't always hold together.
"This was a situation where the narrative and the explanation— that the inmate was moved around because Brown was a snitch and had to be kept safe from other inmates and deputies—isn't fully consistent with the actions that were taken. If the concern was to keep Brown safe, its hard to reconcile why the sheriff deputies and supervisors would have terminated an interview between him and the FBI, and why they would have locked the FBI out of the jail. And why they would have gone to such great lengths to keep this cooperator away from another law enforcement bureau."
Krinsky suggested that Tanaka's testimony was more useful to the defense when he put either himself or Baca in the role of giving orders. Although he was careful to place himself, in most instances, as the one who conveyed the orders of his boss, Lee Baca, to others, not the one who originated them.
This stance was, by the way, an interesting contrast to a moment at the beginning of Tanaka's testimony when, asked to describe his job as the undersheriff for the jury, speaking directly to the jurors, almost as if stumping for votes, he answered that the undersheriff is "the one who oversees the day to day operations of the department" while "the sheriff is more the face of the organization."
When it came to the touchier matters of the trial, however, Baca was suddenly no frontman at all, but the primary nuts and bolts decider and giver of orders.
According to Krinsky, the part of Tanaka's testimony that is most likely to cause the defendants some problems was his repeated attempts to distance himself from some of the more legally questionable actions of which the defendants are accused, acts which someone above the six had to have ordered. For instance, Tanaka said that he had no knowledge that members of the sheriff's department were planning to approach an FBI agent at her home and threaten her.
"Tanaka also claimed to be unaware of the approach that was taken vis-à-vis deputy Gilbert Michel," said Krinsky, "when members of the department were discouraging Mr. Michel, through the type of questions and statements they made, from ongoing cooperation with the federal government. In other parts of his testimony," she said, "it was telling that Mr. Tanaka claimed that he was being briefed constantly and, then when pressed about one of the more troubling acts, he claimed to have no recollection, no recall, or no knowledge about whether he'd been told."
And when the former undersheriff could not reasonably dodge knowledge of the actions of the defendants that were part of the prosecution's theory of the obstruction charges, Tanaka carefully handed off actual authorship of the actions to those below him, claiming that he had only ordered that inmate Brown be kept safe, not how it was done. When asked if he "agreed" with this strategy or that one, he answered in the vaguest terms. "I don't believe I disagreed," he said repeatedly.
---
TANAKA IS REBUKED BY JUDGE
Two of the more startling moments in the Tanaka's testimony came when he was rebuked twice by Judge Anderson for answering a question with a statement, when the inquiry properly required only a yes or no.
In the first instance, Tanaka slipped in his opinion that, "A cell phone introduced in custody is very, very dangerous," nevermind that prosecutor Brandon Fox shot up to object immediately before the statement was fully out.
"Don't volunteer information," the judge instructed Tanaka. "Just answer the question, yes or no. And when Mr. Fox stands, you stop talking."
Tanaka nodded that he would do so.
Sometime later, however, the incident repeated itself. In response to another yes or no question Tanaka answered with a full and decededly provocative sentence. It occurred when one of the defense attorneys asked Tanaka about a time when, sometime after the discovery of the cell phone, he had accompanied an angry Sheriff Baca to a meeting with U.S. Attorney Andre Birotte and other members of Birotte's office.
In answer Tanaka said this:
"The sheriff was able to communicate to [the U.S. Attorney] that the FBI had committed a crime."
Before the sentence had made it even half way out into everyone's hearing, prosecutor Fox had flown to his feet to object.
Judge Anderson's reaction was just as immediate. He quickly sustained Fox's objection, then ordered the former undersheriff's statement stricken from the record. After that, his head snapped around to look directly at Tanaka.
"Don't do that again!" Anderson said, visibly furious.
When I talked about the incident later with Krinsky, she told me that Judge Anderson's reaction was extremely unusual.
"It takes a lot to get a federal judge to admonish a witness in front of a jury," she said. "What the defense was clearly trying to do was to get from the witness confirmation of its main theories, which was that the FBI took it upon themselves to commit a crime as part of investigating a crime, and that the sheriff's department was appropriately responding by taking dramatic steps to shut the FBI down.
"This is an incredibly professional and even-handed and even tempered judge," Krinsky continued. "So for him to be sufficiently upset at the witness to have reacted as he did is not something you see terribly often in federal court and not from a judge who has the temperament of Judge Anderson."
So why would the presumably legally savvy former undersheriff risk angering a federal judge?
"Witnesses will often try to get out an opinion if they have a vested interest in trying to get that message out," said Krinsky. "Mr. Tanaka might well have viewed this as an opportunity to deliver his own argument as to why his conduct would justify his own actions as well as that of the defendants.
"It is, after all, highly unusual for a candidate for elected office to be the subject of an ongoing criminal investigation," she said.
Krinsky was referring to the fact that, during James Sexton's trial in May, prosecutor Fox made news when he asked Tanaka—–a candidate for sheriff—-if he was aware that he was the subject of an ongoing criminal investigation.
---
SO WHERE DO WE GO FROM HERE?
This trial is expected to conclude in the next week or so. Then late in June, the prosecution will announce whether or not it intends to refile on Deputy Sexton. Most trial watchers assume that the outcome of the present trial will have at least something to do with the Sexton decision.
Yet the other, larger question that cannot help but loom over this trial is, of course, whether or not the charges of obstruction of justice will ever travel farther up the department ladder. After all, during this and the Sexton trial we saw plenty of testimony that appears to make clear that orders for most of the acts that has caused seven department members to be federally indicted—and if convicted, to likely face prison time—originated with people who have, at this point, not been charged with anything.
When I asked Krinsky what she thought, the former assistant U.S. attorney sighed. It was "incredibly hard" to speculate, she said. "I think that the government is likely taking this one trial at a time. I think their focus right now is, appropriately, what they have in front of them. Then once these cases have made their way through the system, they'll start to reassess where they are in terms of any further indictments."
Yet she thought it significant, Krinsky said, that the prosecutors referred to this case as an ongoing investigation. "That sends a clear message that the book has yet to be closed by the government in regard to these acts."
TO BE CONTINUED
---
---
EDITOR'S NOTE: STORIES ON OTHER TOPICS COMING LATER TODAY AND TONIGHT
For instance, we need to talk about the fact that, on Friday, while many of us were watching this trial, the word came down from the U.S. Department of Justice that the DOJ was so fed up with the way that LA County treats its mentally ill inmates inside the jails that it will likely seek federal oversight. More on that later.
In the meantime, while you're waiting, here's what the LA Times editorial board had to say on the matter on Sunday. Here's a clip:
It should come as no surprise that Los Angeles County's treatment of mentally ill jail inmates falls so short of acceptable standards that the U.S. Department of Justice is seeking federal court oversight. County officials did too little for too long to correct egregious problems. Recent efforts to improve jail management and to identify and better serve mentally ill and suicidal inmates came too late.

County leaders may be tempted to argue that Friday's notice from the Justice Department shows that they were right to move ahead with a plan to raze the decrepit and rat-infested Men's Central Jail in downtown Los Angeles and to build a more modern and humane facility in which mentally ill inmates would be better treated.

A better lesson would be that for nearly two decades, the county has moved at an unnecessarily glacial pace in responding to long-standing concerns about poor treatment of incarcerated people who more properly should have been treated as patients in medical and mental health treatment facilities.