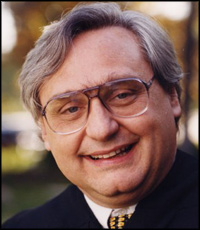 Kozinski's questions aren't going away
The feds', in their anti-terror fervor after 9/11, whipped up some prying questions for JPL scientists to answer if they wanted to keep their jobs. The U.S. Ninth Circuit Court of Appeals is right in siding with the workers and their privacy, but it would be better if they hadn't short-circuited debate.
Earlier this month, the appeal court's 27 judges refused to take the issue out of the hands of three judges and grant the Department of Justice's request for an 11-member panel to review the matter. Expect this case to go to the U.S. Supreme Court, with the blessings of dissenting Chief Judge Alex Kozinski and three of his colleagues. They wanted the broader hearing by the Ninth Circuit.
Big cases with broad implications for the conduct of government should not be made a tiny group, without a full hearing and discussion.
Whatever your views, it's refreshing to read Kozinski's dissent. The case began In 2007, when senior scientist Robert W. Nelson and 27 others, including scientists, engineers and administrative support staff, objected to a highly intrusive background check imposed as a condition of their continued employment at JPL. Unless the Obama administration sides with privacy advocates, it's likely the case will go to the Supremes.
Kozinski would like to see the high court address this question: "Is there a constitutional right to informational privacy?"
"Does being asked to disclose information one would prefer to keep private, in order to keep a government job to which one has no particular entitlement, amount to a constitutional violation? If the answer is yes, then the government commits all manner of constitutional violations on tax returns, government contract bids, loan qualification forms, and thousands of job applications that are routinely filled out every day."
Kozinski seems unbothered by government investigators canvassing the neighborhood in pursuit of information about an employee's relationships and sex life.
"Does one really have a free-standing constitutional right to withhold from the government information that others in the community are aware of? I don't think so. How then can it be constitutionally impermissible for the government to ask a subject's friends, family and neighbors what they know about him? Surely there's no constitutional right to have the state be the last one to know?"
So long as the snooping isn't high-tech, Kozinski doesn't seem to have much trouble with it.
While I can think of many reasons to worry when the government seeks to uncover private information using the special powers that private entities lack, it's far less obvious why it should be hamstrung in ensuring the security and integrity of its operations in ways that private employers are not. The delicate knowledge handled by thousands of federal employees seems as worthy of protection as the formula for Coca-Cola."