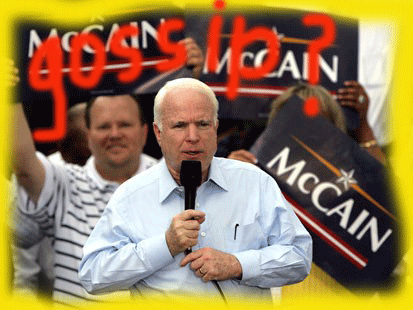 Okay…..so now we've got the curious and innuendo-laden story of John McCain and a blond woman lobbyist…as told by the New York times.
And here's the Wa Po's follow-up.
One of the more interesting takes on the situation is Josh Marshall's post over at Talking Points Memo. Here are some of the core 'graphs:
At the moment it seems to me that we have a story from the Times that reads like it's had most of the meat lawyered out of it. And a lot of miscellany and fluff has been packed in where the meat was. Still, if the Times sources are to be believed, the staff thought he was having an affair with Iseman and when confronted about it he in so many words conceded that he was (much of course hangs on 'behaving inappropriately' but then, doesn't it always?) and promised to shape up. And whatever the personal relationship it was a stem wound about a lobbying branch.

I find it very difficult to believe that the Times would have put their chin so far out on this story if they didn't know a lot more than they felt they could put in the article, at least on the first go. But in a decade of doing this, I've learned not to give any benefits of the doubt, even to the most esteemed institutions.

Equally telling, though, is the McCain camp's response and their clear unwillingness to address or deny any the key charges of the piece.
Is there more to come on this story? Yeah. I'm afraid so.