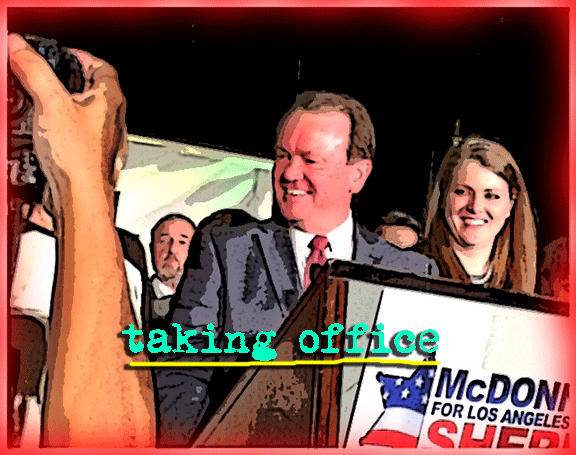 TODAY: LA GETS A NEW SHERIFF
Jim McDonnell will be sworn in as the 32nd Sheriff of Los Angeles County today, December 1. The swearing-in will take place downtown at the Kenneth Hahn Hall of Administration at 2:00p.m.
McDonnell will replace Interim Sheriff John Scott, who took over for Sheriff Lee Baca after he resigned in January.
Former chief of the Long Beach Police Dept. and a 29-year LAPD veteran, McDonnell is the first new sheriff elected from outside the department—the fourth largest law enforcement agency in the US—in more than a century.
We will have much more on our new sheriff after the swearing-in.
---
NATIVE AMERICAN KIDS PLAGUED BY COMMUNITY VIOLENCE, FAILED BY THE JUSTICE SYSTEM
Children growing up in American Indian and Alaska Native (AI/AN) communities experience violence at a rate higher than any other race, according to a recent report. (The 120-page report from the Attorney General's Advisory Committee on American Indian and Alaska Native Children Exposed to Violence was presented to Attorney General Eric Holder in mid-November.)
According to the report, 75% of deaths of Native Americans between the ages of 12-20 are due to violence.
AI/AN kids are also five times more likely than the general population to have four or more Adverse Childhood Experiences (ACEs). Kids with four ACEs have a much higher likelihood of having emotional and physical health issues, among other serious negative outcomes.
Clearly this is a national issue, but it's a California issue, as well, in that our state has the second largest Native American population in the US (the largest is in Oklahoma).
The report makes 31 recommendations to improve the lives of AI/AN kids exposed to violence, including allowing tribes to prosecute non-Native Americans who abuse Native American children on reservations.
Here are some clips from the report:
Violence in American Indian and Alaska Native (AI/AN) communities occurs at very high rates compared with non-AI/AN communities—higher for AI/AN than all other races. And violence, including intentional injuries, homicide, and suicide, accounts for 75 percent of deaths of AI/AN youth ages twelve through twenty.2 Unfortunately, Indian children cannot escape the violence that surrounds them.

Repeated exposure to childhood violence has a staggering lifelong impact on an individual's health and well-being. The Adverse Childhood Experiences (ACE) Study demonstrated that persons who experience four or more childhood adversities have a four- to twelvefold increased risk for alcoholism, drug use, depression, and suicide attempt when compared to those that had experienced none. This study, coupled with data that show American Indians and Alaska Natives have a fivefold higher risk of being exposed to four or more adverse childhood events, underscores the overwhelming impact of exposure to violence in AI/AN communities.

Children engulfed by this level of community violence often struggle with rebuilding trust, finding meaning in life apart from desires for safety and justice, finding realistic ways to protect themselves and their loved ones from danger and dealing with feelings of guilt, shame, powerlessness, and doubt. Additionally, when children experience ongoing violence in their communities, it may become an accepted condition of life. They may learn to think of recurring danger, fear, injury, and death as normal. Instead of celebrating life, too often they must mourn losses. This may confuse them in figuring out how to navigate life. These children wait nervously or helplessly for the next explosion of violence in their neighborhood or school, or they mourn the all-too-common deaths or devastated lives of families, friends, and community members. At some point, these children may feel the need to fight back against actual or potential perpetrators, causing them to have difficulty acting appropriately on those feelings. Unfortunately, a number of these children become perpetrators in adolescence and adulthood.

[SNIP]

Vulnerability Due to Homelessness. Homelessness may be caused by a need to escape violence in the home, and homeless youth become easy targets of violent crime in the community. In Minnesota, where the Advisory Committee conducted a Listening Session, it was reported that AI/AN youth make up 20 percent of homeless youth ages twelve through seventeen, although they make up only 1 percent of the general population.

[SNIP]

The cycle of violence that now grips AI/AN communities was years in the making and largely due to failed federal policies. Breaking the cycle of violence will require cooperation at the federal, tribal, and state level as well as the investment of significant new resources.
The Washington Post's Sari Horwitz has more on the report.
In a more recent story for the Washington Post, Horwitz tells of how the federal justice system is failing Native American kids. Horwitz takes a particularly close look at kids from the violence-ridden Pine Ridge Indian Reservation in South Dakota and their encounters with the juvenile system. Here's a clip:
Around the country, juveniles on reservations are left to languish in cash-strapped facilities that cannot afford to provide the kind of rehabilitative services afforded to most young offenders in the United States. Because some reservations have no juvenile detention centers, offenders often are shipped to facilities far from their homes, compounding the isolation of incarceration.

A jurisdictional legal maze in Indian country further complicates matters. Indian reservations are sovereign nations. So when juveniles commit minor crimes, their cases are usually handled by the tribes. But when they commit a serious felony, their cases are generally handled by federal prosecutors, and they can be sent to either federal prison or a federal facility.

In the federal system, there is no juvenile division, and no court judges, rehabilitation facilities or probation system for juveniles. From 1999 through 2008, as many as 60 percent of juveniles in federal custody were American Indians, according to a commission that last year recommended that tribes be given full jurisdiction over Indian children and be released from "dysfunctional federal and state controls."

Advocates say Native American youths have essentially been forgotten.

"There is no systemic program to educate kids or provide services for them in detention centers," said Troy Eid, the chairman of the Indian Law and Order Commission and a former U.S. attorney from Colorado. "They don't have computer instruction. They don't have classrooms. They have nothing, and their services are lacking because Congress hasn't appropriated the funding. They just sit in a cell all day."
---
MAN FREED AFTER THE LONGEST WRONGFUL INCARCERATION IN CALIFORNIA, PLUS INTERVIEW WITH HEAD OF INNOCENCE PROJECT
Michael Hanline, a man wrongly convicted of a 1978 murder, was released from prison after serving 36 years behind bars—the longest wrongful imprisonment ever in California. —and a 15 year battle on his behalf by the folks at the California Innocence Project. (You can read the rest of Hanline's story here.)
UT San Diego's Dana Littlefield interviewed Justin Brooks, founder of the California Innocence Project. Brooks discusses breaking the good news to Hanline about his exoneration. He also explains how the Innocence Project chooses cases, and a walk from San Diego to Sacramento to file twelve clemency petitions.
Here are some clips from the interview:
Q: What was it like to tell Michael Hanline he would finally be getting out of prison?

A: It was stunning. I think it had been such a roller coaster over all these years that it was hard for him to believe it. I still don't think he really believed it until (the day after he was released). I think he had to get out. He had to go to bed and wake up somewhere else to really have it hit him.

I've been doing this for 25 years and I've walked 15 people out of prison in that situation. And I still don't know what it's like because I'm still just an observer. I always try to imagine it, but I can't imagine it. I mean, I don't like staying home sick one day. I can't fathom 36 years of in prison, thinking you're gonna die there.

[SNIP]

Q: What's the California 12?

A: With Hanline, we thought we'd run out of options. We were still fighting but we had been going on for so long. So one night I thought, Well, the governor has the ability to grant clemency and my goal isn't necessarily to exonerate everybody it's to free innocent people. Clemency isn't about exonerating you, it's about getting you out of prison.

So I thought, I'm going to file clemency on all the cases that we've been fighting for years and where we have strong evidence of innocence, but we haven't been able to convince the courts of it.

Clemency is so hard to get because it's so political and you have to get the governor's attention. So I came up with this crazy idea that I would walk the clemency petitions from my office here (in San Diego) to his office in Sacramento. Fortunately two of my young and much fitter staff attorneys agreed to walk with me.

It was the most difficult thing I've done in my life and it was the most amazing experience of my life…
---
WHY THE PROCESS OF FINDING AN LA CHILD WELFARE CZAR HAS BEEN DELAYED
The LA County Board of Supervisors was expected to begin interviewing candidates for the new child welfare czar—to oversee much-needed reforms to the Department of Children and Family Services—at the beginning of November. Instead, the board postponed the process until the two new Supervisors would be sworn in today, December 1.
Leslie Gilbert-Lurie, co-chair of the transition team tasked with preparing the way for the new Office of Child Protection, expressed concern over whether the search would gain momentum before the end of the year.
Gilbert-Lurie also noted that the Supervisors may not be happy with the size of the applicant pool. (Judge Michael Nash, presiding judge of the LA Juvenile Courts, has been the only person to publicly announce interest in the position, thus far.)
The Chronicle of Social Change's Christie Renick has more on the issue. Here's a clip:
"The interviews themselves were postponed," said transition team co-chair Leslie Gilbert-Lurie during the Nov. 24 meeting. "I was disappointed to hear that the interviews were postponed, but hopefully it will lead to a very positive result."

The board had also voted 3-2 on October 7 to include members of the transition team in the selection process to fill the director position. But Gilbert-Lurie reported to the rest of the transition team that the board of supervisors was not actually planning to include the transition team in that process.

"What our office was told on the Friday before interviews that were set for Tuesday and Wednesday afternoon was that this was going to be in closed session for the Supervisors only," Gilbert-Lurie said.

[SNIP]

"What I would question is if the Supervisors were not happy with the search that took place, if they did not feel that they had enough choices, I don't know how that search gets revved up, redone, and interviews take place again in December," Gildbert-Lurie added. "I'm just not sure how that timing could possibly work."