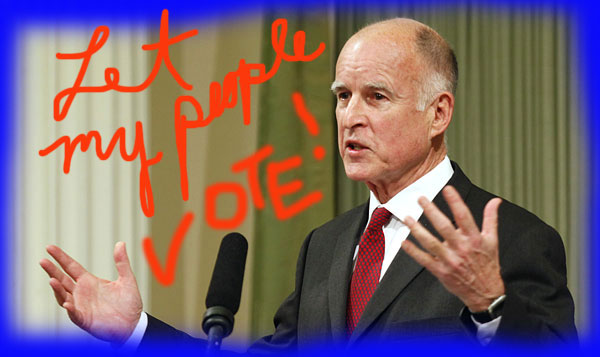 Just after 5 pm on Monday, Jerry Brown gave his 8th ever State of the State speech—the first of his new term, and his first in 30 years. (The last time he delivered one of these he had a very full head of dark hair.)
Brown's oration was not overly polished. There was no teleprompter. Instead, he tended to hunch over the podium, bird-of-prey-like, staring more at his notes than at the camera.
Lt. Gov. Gavin Newsom, who introduced Brown, was many times more camera-courting and telegenic.
Surface style aside, however, Jerry's speech came across as the no-punches-pulled, straight talk that was needed. And it was presented by a governor who gave the distinct impression that he had personally poured over the scope and details of our state's ghastly budget mess, and was now prepared to be the guy in charge of leading us to solutions, harsh though they might be.
In short, what we got with this State of the State speech was a leader.
As he had already done in more detail over the last month, Jerry told us that the cuts made necessary by the state's $25.4 billion cash-flow shortfall will be deep and difficult. He also made clear that he intended to let the voters of California decide whether or not to continue $12 billion in tax extensions, and woe betide those who, for political reasons, would stand between him and the electorate.
"At this moment of extreme difficulty, it behooves us to turn to the people and get a clear mandate on how we should proceed — either to extend the taxes, as I fervently believe, or to cut deeply into the programs from which, under federal law, we can still extract the sums required."
Then, in case anyone missed the point, Brown even invoked the historic struggle for democratic rule going on in Egypt.
"When democratic ideals and calls for the right to vote are stirring the imagination of young people in Egypt and Tunisia and other parts of the world, we in California can't say now is the time to block a vote of the people."
Not exactly what you'd call a straight-line connection, but its old fashioned Power to the People message was both canny and sincere and thus managed to resonate.
He was also humorous—Jerry style, wryly taking to task those legislators who only applauded along party lines.
"In all honesty, we need the best thinking," he said, then paused for a beat and fixed his California condor's stare at the chamber. "Republicans….? You can applaud on that. Come on!"
Judging by the after SOTS interviews, Republicans seem determined to block Brown's Let My People Vote strategy. However, the smart money says Brown will get the tax question to the voters, who will likely give him the tax extension he says we need.
California has been longing for a grown-up to lead them— us—out of this mess. In Jerry Brown on Monday night, they got one.
The LA Times has more as does the San Francisco Chronicle and KPCC.
---
PS: Somewhere in passing, EGB said, "We have to restructure our criminal justice system." This was an intriguing statement. Looking forward to hearing more an that.