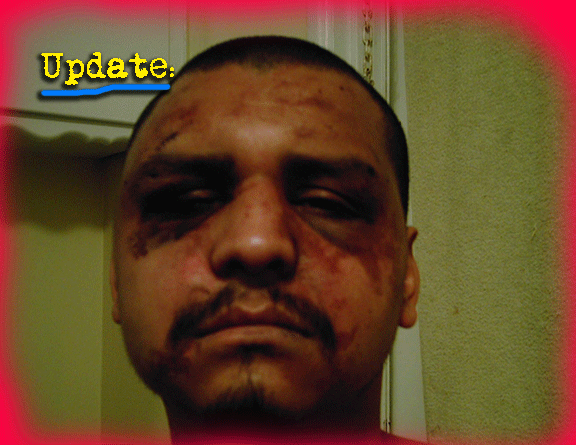 JAIL VISITOR BEATEN BY LA COUNTY DEPUTIES WINS SEVEN-FIGURE SETTLEMENT
In February 2011, a man visiting his brother at Men's Central Jail was reportedly violently beaten by deputies, who then covered their tracks by falsely charging the man, Gabriel Carrillo, with assault. Carrillo would have faced 14 years in prison had the District Attorney's Office not dismissed all charges a week before his trial. The FBI and US Attorney's Office filed charges against the deputies involved (which are currently pending).
And today, at 9:30a.m., Gabriel Carrillo, his family, and attorneys will announce a seven-figure settlement reached in Carrillo's lawsuit against LA County.
(For the backstory on the Carrillo beating, go here.) Interestingly, the Carrillo incident occurred seven months before the Anthony Brown incident that has triggered the current trial. The FBI, at that time, was investigating brutality of inmates by Los Angeles County Sheriff's Deputies.
---
SCOTUS EASES FLORIDA'S RIGID IQ REQUIREMENT FOR DEATH ROW INMATES SEEKING EXEMPTION DUE TO INTELLECTUAL DISABILITY
The US Supreme Court struck down Florida's rule that a person on death row must have an IQ below 70 to be considered intellectually disabled enough to be spared from execution. The 5-4 ruling means that states cannot determine death row inmates' intellectual capacity using only a fixed number on an imperfect test—that the inmates' IQ number should instead represent a range with room for error.
The Washington Post's Robert Barnes and Matt Zapotosky have the story. Here's a clip:
The court ruled 5 to 4 that state laws that draw a bright line on IQ-test results are unconstitutional. Under those laws, an inmate who scores above 70 on the test does not meet the first step of proving that he or she is intellectually disabled and thus ineligible for the death penalty.

Florida, Virginia and Kentucky have such laws, and a handful of others have similar rules.

It was the court's first consideration of state laws defining mental retardation in capital cases since its 2002 decision in Atkins v. Virginia that executing the mentally retarded violated the Constitution's prohibition against cruel and unusual punishment.

In that decision, the court left it up to states to define intellectual disability. But those state determinations must meet constitutional requirements respecting "the gravest sentence our society may impose," wrote Justice Anthony M. Kennedy in the majority opinion released Tuesday. He was joined in the decision by the court's four liberals.

"Florida seeks to execute a man because he scored a 71 instead of a 70 on an IQ test," Kennedy wrote, adding that experts agree that any number on an IQ test is an imprecise measurement. "Persons facing that most severe sanction must have a fair opportunity to show that the Constitution prohibits their execution. Florida's law contravenes our nation's commitment to dignity and its duty to teach human decency as the mark of a civilized world."

It is relatively rare for a death row inmate to raise intellectual disability as a bar to execution. Defense lawyers in Virginia, for instance, estimate that the ruling might aid only a couple of the eight death row inmates there.

But the decision again showed the continuing tension among the justices about how to apply the "evolving standards of decency that mark the progress of a maturing society," as the court put it more than 50 years ago, to the Constitution's prohibition on cruel and unusual punishment.
---
PROPOSED ADELANTO PRIVATE JAIL FACILITY MEANS TO LEASE BEDS TO LA COUNTY
Amid LA County's costly plans to rebuild the crumbling Men's Central Jail and renovate another jail to make room for female inmates, the relatively small city of Adelanto (in San Bernardino County) has proposed building another detention facility. The city aims to capitalize on LA County's overcrowding crisis by constructing a 3,280-bed jail to lease to LA for $104 million a year.
If the facility is built, LA County plans to be locked into the lease for a whopping 20 years. In addition to the double-decade, multi-million dollar commitment (on top of our $2 billion Men's Central Jail project). Inmates moved to the Adelanto facility would also be far from their families.
And if the county enters into a new private prison contract, would the $104 million lease create yet another unholy conflict of interest that could put pressure on the county and the entrepreneurs to keep the facility filled so that everyone gets their monies worth? as we have seen in contracts across the nation with CCA and GEO Group? (Backstory here, and here.)
The LA Times' Abby Sewell has more on the issue. Here's a clip:
County supervisors recently voted to embark on a $2-billion plan to tear down and rebuild the Men's Central Jail in downtown Los Angeles. The new facility is intended to improve conditions for inmates with physical and mental health needs, but would not add beds to the county system or address the overcrowding that has led to thousands of inmates being released early each year.

Adelanto, a city of 31,000 in San Bernardino County's high desert region, is proposing to build a 3,280-bed jail on vacant industrial land next to a federal corrections complex. Then it would lease the beds to Los Angeles County. City Manager Jim Hart said Adelanto — via its public financing authority or another agency to be created for the project — would issue bonds to buy the property and build the jail, at an estimated cost of $332 million.

Under a proposal presented earlier this month by a pair of businessmen who are marketing the deal, Los Angeles County would not pay the upfront costs to build the jail but would agree to lease beds there for 20 years once it's completed, at a rate of $88 per bed per day, or about $104 million a year.

Proponents say the facility could be completed in about two years and would allow the county to avoid shortening the time served by serious offenders, comply with federal requirements to reduce crowding, and save money they might otherwise spend constructing new jails.

County supervisors have not formally discussed the proposal, but three of the five — Don Knabe, Gloria Molina and Michael D. Antonovich — have said they're willing to consider it.

Knabe said Friday that he sees the Adelanto facility as "a possible enhancement in the future" to expand the county's jail capacity — not as an alternative to the Men's Central Jail project.

"It would not be something I would want to pursue instead of the option we picked," he said.

Two politically connected businessmen are making the Adelanto pitch: Doctor R. Crants, a Nashville-based businessman who cofounded Corrections Corp. of America, the largest private prison company in the United States, and William Buck Johns, a Newport Beach-based developer and prominent Republican fundraiser who has been involved in other ventures in the Inland Empire. Johns and his company, Inland Group, have contributed to Knabe's and Antonovich's campaigns in the past.
---
REMEMBERING MAYA ANGELOU
On Wednesday, Maya Angelou, author of "I Know Why the Caged Bird Sings," was found dead at her home in North Carolina.
NPR's Morning Edition does an excellent job of remembering Angelou and her legacy as a poet, author, activist, and so much more. Here are some clips from the transcript, but do go listen to the episode:
"She really believed that life was a banquet," says Patrik Henry Bass, an editor at Essence Magazine. When he read Angelou's memoir I Know Why the Caged Bird Sings, he saw parallels in his own life in a small town in North Carolina. He says everyone in the African-American community looked up to her; she was a celebrity but she was one of them. He remembers seeing her on television and hearing her speak.

"When we think of her, we often think about her books, of course, and her poems," he says. "But in the African-American community, certainly, we heard so much of her work recited, so I think about her voice. You would hear that voice, and that voice would capture a humanity, and that voice would calm you in so many ways through some of the most significant challenges."

[SNIP]

Joanne Braxton, a professor at the College of William and Mary, says Angelou's willingness to reveal the sexual abuse she suffered as a child in I Know Why the Caged Bird Sings was unprecedented at the time. The critical acclaim and popularity of the book opened doors for both African-American and female writers.

"Maya Angelou brought about a paradigm shift in American literature and culture," Braxton says, "so that the works, the gifts, the talents of women writers, including women writers of color, could be brought to the foreground and appreciated. She created an audience by her stunning example."
California Attorney General Kamala Harris issued this statement regarding Angelou's passing:
"Maya Angelou was one of history's great lyricists whose words and deeds opened windows that allowed the world to see and appreciate the enduring principles of freedom, equality and justice. She had an immeasurable impact on the way I view the world and my place in it. Maya Angelou's legacy will live on not only through her extraordinary body of work, but in the efforts of all those who fight for freedom, dignity and humanity."
Take a listen to this very empowering recording of Maya Angelou reading one of her well-known poems, "Still I Rise."
We also recommend taking a look at Angelou's Twitter account (trust us, it's worth it).
---
ELIMINATING THE POWDER VS. CRACK COCAINE SENTENCING DISCREPANCY IN CALIFORNIA
The California Senate has passed a bill to equalize the punishment for possession (for sale) of powder and crack cocaine. Crack previously held a higher penalty of three to five years, while powder was punishable by two to four years. Both forms of cocaine will now carry a two to four year sentence.
(The cocaine sentencing discrepancy is also an issue dealt with at the federal level.)
The Associated Press has the story.
---
BY THE WAY…
I am very happy to report that WitnessLA's editor, Celeste Fremon, is an LA Press Club Award finalist for the "Online Journalist of the Year" category.
The winners will be announced on Sunday, June 29, at the Biltmore Hotel, in downtown LA.
You can find the rest of the categories and finalists here.