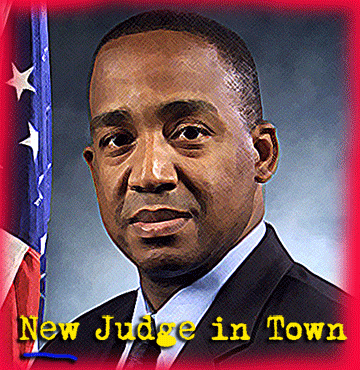 On Tuesday, in a unanimous vote of the U.S. Senate, André Birotte Jr. was confirmed to become the newest judge of the federal District Court in Los Angeles.
The cloture vote to end debate that came earlier in the day may have been a party-line-driven 56-43. But when it came to the actual vote to confirm Birotte, partisan quarrels were put aside and the final tally was an easy 100-0.
Since 2010, André Birotte, 47, has served as the U.S. Attorney of California's Central District, the nation's most populous, which has the responsibility for all federal litigation in Los Angeles, Orange, Riverside, San Luis Obispo, Santa Barbara and Ventura counties.
Under Birotte's tenure, his office oversaw a complex variety of cases that spanned issues ranging from gang violence and narcotics sales, to terrorism, public corruption, white collar crime, cyber crime, and the nether world of financial predators–and more. The cases themselves included such high profile indictments as the bribery and money laundering charges brought against California state senator Ron Calderon and his brother, former state assembly member, Thomas Calderon—and, of course, the indictments of 21 members of the Los Angeles Sheriff's Department, who were charged as part of a still ongoing federal investigation into brutality and corruption inside the nation's fourth largest law enforcement agency.
Among his other accomplishments as the U.S. Attorney, Birotte reinstated the district's public corruption and civil rights sections, which had been disbanded. He also instituted an unusual amount of outreach into the various communities his office served.
"We have to be willing to listen to the community," he said a few months into his first year as U.S.A.. "So we're going to do outreach like never before."
Birotte also repeated often that his office must be justice driven. "Firm but fair," he said. "But more than anything, justice-driven. It's not just about winning."
The son of Haitian immigrants, after graduating from Tufts University in 1987 with a degree in psychology, followed by Pepperdine University School of Law four years later, Birotte began his legal career in Los Angeles as a deputy public defender. In 1995, he moved to the prosecutorial side of things as an assistant U.S. Attorney in the same Central District office he now heads.
In May 2003, the Los Angeles Police Commission unanimously selected Birotte to serve as the LAPD's Inspector General after a nationwide search. His selection came at a time when the department was reeling disastrously from the aftermath of the Rampart scandal and struggling to figure out how to redefine and reform itself within the confines of a federal consent decree. Birotte is generally acknowledged as an important part of that reform.
While he was still serving as LAPD IG, Birotte was nominated for the job of U.S. Attorney by President Barack Obama, in December 2009, after being recommended for the four-year term by Senator Dianne Feinstein following a selection process by a bipartisan advisory committee created by Feinstein..
"As Inspector General of the Los Angeles Police Commission, André has managed to earn the enthusiastic support of both the police officers he is charged with investigating, and the community organizations that often raise concerns regarding police behavior," Feinstein wrote regarding Birotte's nomination. "This ability to command respect from all sides bodes well for his nomination to lead federal law enforcement efforts in the communities of the Central District."
Indeed, and those same qualities bode well for André Birotte's soon-to-begin tenure as LA's newest federal judge.
Birotte will replace Judge Gary Feess who is taking senior status.
---
POSTSCRIPT: By summer's end, Senator Dianne Feinstein is is likely to send a recommendation to President Obama for a nominee to replace Birotte as U.S. Attorney.
There is much speculation what effect the appointment of a new U.S. Attorney will have on such high profile cases as the continuing investigation of the Los Angeles Sheriff's Department.
So stay tuned.