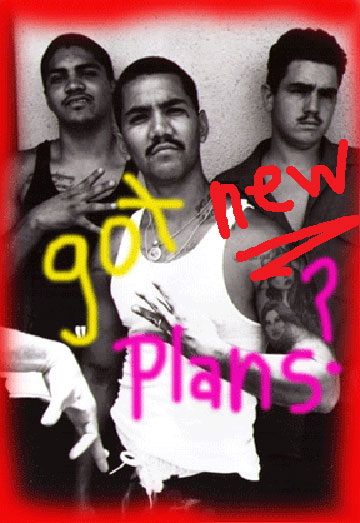 Last Tuesday, the LA County Board of Supervisors approved the county's long-awaited gang violence reduction plan: The Regional Gang Violence Reduction Initiative. (The LA Times reported on the plan Monday. And here's a link to the Which Way LA? podcast where Connie Rice and I discussed the matter.
It is, in a word, pathetic.
The so-called initiative is pathetic as a strategy, pathetic in its allocation of a mere $1.1 million dollars to address gang intervention and prevention in all of LA County, pathetic in the number of kids it intends to serve (a nice round 100 out of a county population of 10 million).
It is also pathetic in that, instead of maximizing its mini-reach by cooperating with existing programs and community based groups, or even with LA City, for no appreciably functional reason the county has elected to reinvent its own sad little wobbly wheel.
It is even more discouraging when one realizes it has taken three full years to get us to this woeful pass. Back in March of 2008, when I wrote these two posts, we'd already waited a year for the damn plan, and even that seemed like slow-dragging.
---
NO TRAIN AND NO TRACKS
It was understood back in 2008—and more so now, what with the state's budget meltdown—that the kind of multifaceted approach needed to begin to address the many elements in a community that allow gangs to flourish, was simply not in the cards. There is neither the money nor the political will launch such an initiative.
But the idea was that while we couldn't afford the fully-functional locomotive to take us where we needed to go in terms of gang prevention and intervention, we could at least start to lay some tracks.
With that in mind, the committee (headed by the County's Chief Executive Office, Bill Fujioka) tasked with coming up with said "tracks" has over the past three years presented the County Sups with a bunch of different iterations of the plan okayed on Tuesday. Discouragingly, each one of those pre-plan-plans have been deemed not ready for prime time.
Finally, however—whether because the plan was thought to be slightly better, or more likely because everyone was worn down—yet one more plan was presented, a vote was taken, and a strategy was approved—albeit with two crucial changes, (but I'll get to that last in a minute).
So what is this much labored over plan? You can read the a version of the last iteration here. But let me summarize it for you.
First a few metaphors:
After the plan was approved, Connie Rice snapped unhappily —and correctly— that the county had labored to produce an elephant and had instead managed only to push out a mouse.
Or to use the locomotive versus tracks image, under this plan we have no train, no tracks, but four bus benches.
Put yet another way, after three years of dithering, we've got a strategy that could have been drawn up in 15 minutes on a cocktail napkin.
Here's the heart of LA County's one and only Regional Gang Violence Reduction Initiative:
In four "demonstration sites" the county will will find and focus on 25 kids per site.
Yep, you added right. The new initiative will serve a grand total of 100 kids out of an LA County population of 10 million— 850,000 of whom are kids living in high violence zones. All of the 100 kids chose for the program will be adolescents who are being released from one of the county's juvenile probation camps. The idea is to help them transition back into community life and not to land back in the juvenile justice system.
As I mentioned up top, the budget for this massive 100 kid battle plan is $1.1 million—meaning we will spending about $11,000 per kid.
---
FEW BUCKS, LESS BANG
And what will each probationer kid get for our money to help him or her turn a life around? For those bucks the county will:
1. Make sure that every kid has a probation officer.
2. Refer them to the County Department of Mental Health, if they need mental health care.
3. Refer their parents to parenting classes, if that is needed.
4. Work with school officials to make sure kids get back in school and/or get tutors or whatever.
5. Make sure that all the County's "appropriate services have been made available to probationer and family members."
Call me crazy, but I thought that LA County was already supposed to be providing most of those five services for its kids coming out of camp, even without the new "initiative."

Oh, yeah, I think there are some committees and "workgroups" planned too. (I love committees and workgroups, don't you?)
Like I said. Something far better could have been mapped out on a cocktail napkin.
To make matters worse, the 18-month plan was originally budgeted at nearly $2 million until Supervisors Mike Antonovitch and Don Knabe proposed at the last minute that the whole kit and caboodle could be run by LA County probation, which would allow the Sups to subtract another $891,000 from the budget bringing it down to its present $1.1 mil.
And so it was that the county's one and only gang plan was handed over with minimal discussion to the same scandal-ridden LA County probation that was recently slapped with one big bad civil rights lawsuits for its failure to educate kids its probation camps, and that last month admitted to the LA Times that it had not managed to discipline scores of employees whom it was determined had abused juvenile probationers, and had allowed hundreds more complaints to go uninvestigated altogether.
And probation is just about to get a new chief, Donald Blevins, who has not been consulted on the gang initiative his agency is about to run—namely because he hasn't taken his position yet.
---
NOW ABOUT THAT OTHER $142 MILLION
Oh and it gets even better: What few people know, and what the county fails to mention in its press advisories, is that there is already $142 million being spent on miscellaneous programs scattered across LA county that have one thing or another to do with gangs or gang violence reduction, (most of them subject to no public evaluation to see if they, you know, work).
Yet do these programs coordinate with each other? Or will this new 100-kid program coordinate with the existing programs in order to maximize resources? Or will the new gang initiative pair up with LA City's gang program for the same economies of scale purpose, or with successful community based programs like Homeboy Industries or Toberman House (among others) that are already helping kids transition of out the probation camps?
The answers to those questions would be no, no, no and no.
PS: The county did make a frail attempt to get UCLA to agree to evaluate the outcomes of its soon-to-be-launched 100 kid, four-site pilot program. Last I heard, UCLA had to regretfully decline—because for said evaluation the county had budgeted exactly: $00.00.
This is no way to run a railroad. (Or even bus benches.)
---
PS: The surly-looking fellow in the center of the above photo (taken in Boyle Heights in 1992) is now working as one of the head bakers at Homeboy Industries.
I don't remember the curly haired guy on the right, but the sneering guy on the left is doing a 14-year federal sentence for drug dealing. I hadn't seen him in years but just recently he has started writing me letters to tell me that he intends to use his time inside well, educating himself as much as he possibly can, so that when he gets out he can start over and make something of his life. I do what I can to encourage him to keep with his plan.