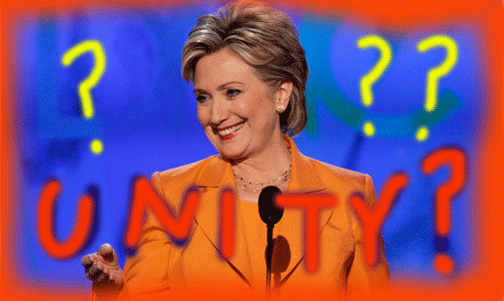 6:55 PM, Tuesday: I can't live blog because then I'd have to take Mark Warner and his keynote speech off mute, and that would be wrong. (Although he has very nice cheekbones and he got all of Virginia on broadband—at least I think that's what he said when I took him off mute for a moment.)
But my brilliant former student Zach Sire is live blogging….and he's much smarter and waa-a-ay more entertaining than those humorless Daily Kos people or this guy at the Guardian (or whomever).
You must go over and read his blog immediately! Immediately, I tell you!
OKAY, I'M LIVE BLOGGING A LITTLE…..
(Did Keith Olbermann just say something about going to the "post-rational-thinking" people before he cut to the pundit panel? He did. Very nice. It describes most of the chattering class.)
So, just out of curiosity, how in the world was Warner's speech a keynote? Mark Warner gave a Mark Warner speech. Damn! I took it off mute again just along enough to hear him waxing eloquent about…..him. ('But enough about me, let me tell you what I've done for my state…") WTF???
On MSNBC they're talking about how "wounded" Bill Clinton is and how Hillary has wanted to be president since she was in high school…. MSNBC has repeatedly cut back to a camera on Bill for a good five minutes now, I guess in order that we might examine his "wounded" self. I'm changing the channel.
7:26: CNN has Montana's Governor Brian Schweitzer on. (MSNBC doesn't care about Montana.) Schweitzer is doing a good Democratic growl with his delivery. He seems to have a much better grip on the fact that he is not the candidate….than, say, than Warner did.
7:28: I love Schweitzer….a good bolo tie and a good anti McCain speech using the oil and energy theme.
7:29: "We're drilling the Bakken formation…. But we can't drill our way to energy independence… Even if you drilled in all John McCain's back yards, even the ones he doesn't know he has….Wooohooo! "[yes, he said, wooo-hooo]"
7:31: I will bet you anything right here, right now, that McCain cannot tell you where the Bakken Formation is… Or what it is….
************************************************************************************************************
LATER INFORMATIONAL UPDATE: The Bakken formation is a massive shale rock formation (containing oil reserves) that stretches from northeast Montana well into North Dakota. The USGS's conservative estimate for how much oil is recoverable in the Bakken is 3.0 to 4.3 billion barrels—-larger than all other current USGS oil assessments of the lower 48 states and it is the largest "continuous" oil accumulation ever assessed by the USGS.
It is okay if you don't know this. It is NOT okay if John McCain doesn't know this. (I only know because of my Montana connections.)
***********************************************************************************************************
7:34….He's telling everyone to stand up. I'm SO glad they moved Schweitzer to prime time. Montana rocks!

7:35: Did he really say: "That's it, baby," ???? He did. "That's it, baby! Let's go win this election!"
Go Brian!
7:37: Okay, Hillary video… They're doing a whole thing on her laugh….
You know, this is a lovely video…..but how many times in a convention does the runner up get a video intro as if she's the candidate? Is it me, or is this a little….um….confusing?
7:42: Chelsea's lovely.
7:43: HILLARY FASHION ALERT. Orange pantsuit. But sort of a peachy-orange. Great color for Hillary. Very unusual. Great with her complexion. Smart choice.
(DAMN….my site went down temporarily and I lost some of my nattering. Probably just as well.)
7:49: Still giving her stump speech…. Not sure that's a bad idea. But it sends something of a double message.
7:51: "Sisterhood of the Travelling Pantsuits." Good line.
7:54: "I ran for president to…" yadda, yadda, yadda. Hil. Honey. We're veering into dangerous territory here.

7:55: For one second there she said "we." And now she's back to "I."
7:57: Wait a minute. Now she's going to Barack. All is forgiven, Hillary. (Or sort of forgiven.) Smart narrative train. "Are you in it for me, or are you in it for…" and she names the various righteous Dem causes. Very good. In other words, move out of narcissism, people.
8:00: Michelle has on a very pretty pale yellow dress. And she is not smiling ear to ear. At all.
8:03: The Harriett Tubman stuff is great.
8:05: Hmmm. If people watching this were playing a drinking game in which they took a drink every time Hillary used the word "Obama," they would not even be slightly buzzed.
8:08: Okay the most important thing she did was that part of the speech where she questioned the motives of her supporters—or more specifically, she asked them to question their own motives. And she said what was at stake.
8:27: So……what's Bill going to say tomorrow night?
McCain's quickly released statement notes that Hillary "never said Barack Obama is ready to lead."
Whatever.
NOTE: Here's how Zach Sire wrapped up the speech:
She did quite well. Nothing too shocking or surprising and everyone is still, um, alive, so all in all I'd say it was a success. What more can she do? What more could she have said to convince the PUMAs and the Hillaloonies? Not much.

If, at this point, her supporters are stupid enough to vote McCain or not vote at all, we should just vote them off the Earth, the end. There's no other way she could have possibly tried harder to convert them.

I'm still pretty sure that she's pissed beyond belief and planning on running in 2012…but hey, she's good at going through the motions without really showing her hand.

Well done, Hillz.
Oh, the humanity!
************************************************************************************
So, what did you think?