A BELOVED WHITTIER POLICE OFFICER IS MURDERED DURING A ROUTINE AUTO ACCIDENT INVESTIGATION
On Monday night, several hundred mourners gathered holding candles in front of the Whittier police station to express their grief about the death of 27-year veteran police officer Keith Boyer, who was shot and killed in the course of responding to what he and two other officers believed was a routine traffic collision. The officers were in the process of patting down the driver of one car involved in the crash, when the driver pulled a semiautomatic gun out of his waistband and began firing at close range toward the officers, wounding Boyer fatally, and also hitting a second officer.
Officer Patrick Hazell, who has been with the Whittier PD for three years, was the other officer shot. On Monday evening, Hazell was listed in stable condition at the UCI Medical Center.
One of the officers managed to return fire and injure the suspect, a 26-year-old named Michael C. Mejia, who is also in stable condition.
Both officers were wearing protective vests.
What Boyer and his two colleagues reportedly did not know when they rolled up on the collision near the corner of Colima Road and Mar Vista Street in the Friendly Hills area of Whittier, at around 8:30 a.m., is that the suspect who had hit two other cars at the intersection, was driving a stolen car.
Worse, Michael Mejia was believed to have stolen the car he was driving after he shot and killed another man named Roy Torres at around 5:30 a.m., that same morning in the 1400 Block of Volney Drive in East Los Angeles. Torres was Mejia's cousin.
According to statements by the Los Angeles Sheriff's Department, which had officers at both scenes, the 26-year-old Mejia is a "known gang member" who was released from jail in the last two weeks, and was on probation.
"It seems like a simple traffic accident and next thing they know they're in a gunfight," LASD Lieutenant John Corina told reporters. "You never know when you respond to a call, what you are going to run into."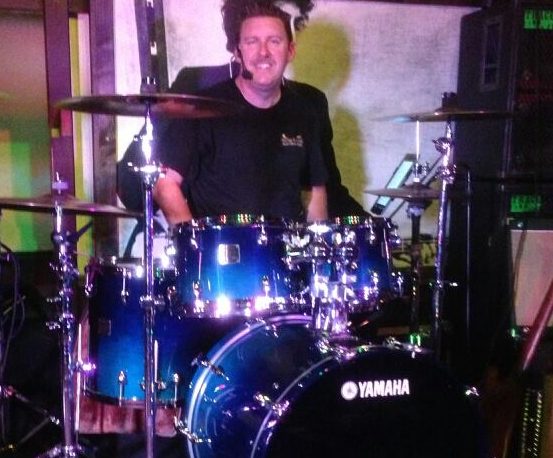 Officer Keith Boyer, from his Facebook page
---
GRIEF STRICKEN COLLEAGUES BLAME NEW LAWS FOR OFFICER'S DEATH
According to the LA Times, Whittier PD Chief Jeff Piper, who was close to Boyer, blames the killing on what he said was the early release of prisoners caused by a series of new laws designed to reduce incarceration in California, laws like AB 109, Prop. 47, and Prob 57. He did not specify how the laws would have affected the tragic killing of Officer Keith Boyer.
"We need to wake up. Enough is enough," Piper told reporters on Monday at a press conference held a few hours after Boyer was gunned down.
We don't as yet have many facts about the personal life of suspect Mejia. Records show that he had been cycling in and out of lock-ups for most of his adult life, beginning in 2010 when he was sentenced to four years in state prison for robbery. In 2014, he returned to prison with a two year sentence for grand theft auto. According to a statement Tuesday from the Los Angeles Sheriff's department, Mejia was released on April 20, 2016, from Pelican Bay State Prison, and the next day, April 21, he reported to his LA County probation officer.
Between late April 2016, and February 11, 2017, when he was last released from an LA County jail, Mejias did at least four short stints in county lock-up for violating the terms of his probation, according to the Richard Winton's report in the LA Times.
Contrary to what others have stated, Mejia's release from prison does not appear to have been early and would not have been affected at all by either Prop. 47 or Prop. 57.
The fact that he was supervised, post release, by LA County Probation, instead of state parole, is an artifact of AB109, otherwise known as realignment, which shifted post incarceration oversight away from the state and over to the county for certain felony offenders. But this did not result in a shortening of prison sentences, or "early release."
We don't yet know the exact nature of the Mejia's probation violations.
---
"THE BEST OF THE BEST"
Whittier PD Chief Piper broke down in tears as he told reporters on Monday that Keith Boyer was "the best of the best."
In addition to his 27 years on the force, we have learned that Boyer was a school resource officer at nearby La Serna High School, where he was very highly regarded by students. (Boyer himself graduated from the same high school.) Boyer, who is the father of grown children and also a grandfather, was praised as a mentor to other officers on the force, and was also an enthusiastic drummer for a cover band called Mrs. Jones' Revenge.
He had reportedly been talking about retiring.
Chief Piper, who also played in the same band, talked with warmth and grief about his murdered colleague, whom he said he'd counted as a personal friend "for over 25 years."
"He gave his heart and soul to these communities," Piper said.
Boyer was the first Whittier Police officer killed in the line of duty since 1979, and the third officer killed in the department's nearly 100-year history.
As to what turned suspect Mejia from someone who reportedly had committed property crimes to someone who allegedly committed two murders—one of them of a beloved police officer—in the course of a few hours….that is a question that very much needs answering.
But we would do well to seek those answers with a rigorous allegiance to facts.
---
EDITOR'S NOTE: Sections of this story were re-edited to make the language more accurate at 8:38 p.m. Tuesday.