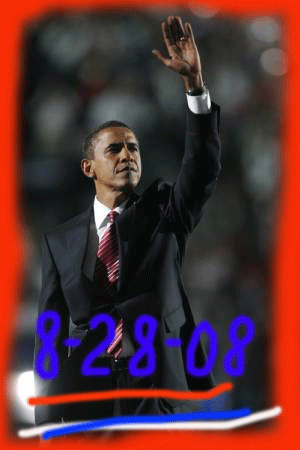 IT WAS BARACK'S NIGHT TO RIDE INTO HISTORY.

As you can see, I live blogged below. But, in the end, the speech was the message. It was historic, poetic, substantive, powerful, confrontational, ferocious, creative and inspiring. Remarkable.
"Tonight, I say to the American people, to Democrats and Republicans and Independents across this great land – enough!"
Yes. Enough.
The details are below plus commentary I caught while jumping around the various cable news networks.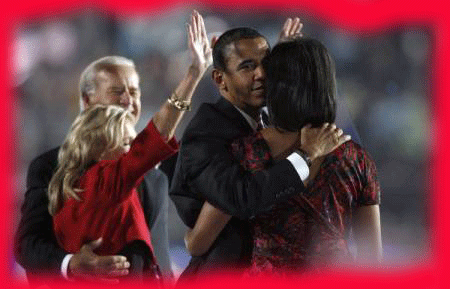 7:01: First THE VIDEO
7:02: "It was his search for self that defined him." (Is that too intellectual? It happens to be true and it makes sense to me. In fact it's one of the things that first made him interesting as a candidate.)
7:05: Hmmm….We went straight from Barack as a little kid with the mom….to Chicago….Michelle and DC. That was a big jump.
7:08: Alright, now we're going to family again. Michelle and the girls, and then to his mom's death. She was "the beating heart of that family," he says.
7:11: "That's the country I believe in." An okay video but not exactly life changing. Michelle's was better.
And now.. Barack…
7:13: FASHION NOTE: I do believe Barack's ruby tie matches Michelle's ruby red dress.
7:15: After accepting the nomination he gives a big, big shout out to Hil…..and to Bill. "How made the ae for change last night as only he can make it…" To Ted Kennedy….and to Joe Biden.
7:16: A shout out to Michelle "the love of my life." Sasha and Malia jump up and applaud for their mom. (Definite cute kid alert.)
7:18: So far this typical Barack. GOOD Barack. But typical.
7:19: Laundry list of general problems: "These problems are not all of governments making, but the failure to respond is a product of the failed policies of George W. Bush."
7:20: Great heartbreaking line, when talking about America being better than the last eight years: ….better than…"a country that sits on its hands while a major American city drowns before our eyes.
7:21: "Eight is enough." The crowd loves this and starts chanting it mindlessly. (Which is a little scary. It would be nice if they liked the complex points. But okay. IQ testing for voting would be facist.)

7:23: "A nation of whiners." Oooooooh. Good one. And then all the examples of courage.
7:25: "I think think John McCain doesn't care about people's problems. I think he just doesn't know…."….."It's because John McCain doesn't get it." Even better one.
A lot of laundry lists, but they're strong and creative laundry lists.
About his mother: "Who once turned to food stamps but still was able to send us to the best schools in the country with the aid of student loans and scholarships…"
"I don't know what kind of lives John McCain thinks celebrities lead, but this has been mine. And these have been my heroes. (meaning his grandmother and mom.)
Ba-da-bom.
"….We also rise or fall as one nation, that I am my brother or my sister's keeper, that's the promise we need to keep."
7:32: OKAY, PLATFORM.
I will cut taxes….Listen now….I will cut taxes for 95 percent of working families.
Makes the commitment to end dependence on foreign oil in ten years.

7:34: I will invest 150 billion in renewable resources….. (This sounds very State of the Union-ish, which is a good thing.)
7:36: Education….invest in early childhood education (more on this from me later)…..pay teachers more……a service for tuition thing for students. (All good, but we have no idea how this would happen, but okay, this is a convention speech.)
7:38: Hmmmm….About that bankruptcy law thingy…… (Oh, Joe-o-o-ooooo….)
7:40: If this is the only criminal justice moment where he's talking only about the responsibility of family….. Not good. But I'll quibble with that later.
7:42: Good Iraq stuff. Makes the (very true) point that his timetable is the one everyone seems to be adopting.
There was a total of 29 different platform points. Good. (You want specifics? Dude gave us specifics.)
"7:45: "America is again that last best hope…" (By my conservative count that was the 479th shout out to Abe Lincoln in the last four days.
7:47: The audience is shouting "U-S-A! U-S-A!" Hmmmmm. Does this audience have a warm-up crew telling these people what to chant? I don't get it.
7:51: "In defining moments, the change we need doesn't come from Washington. The change comes to Washington." I believe this is one of those moments.
7:55: Here's the wind-up for the pitch that makes Barack Obama different: "It is that American spirit, that American promise….." (and then he unfurls the Obama trademark rhetoric that either brings you to tears….or if you do not believe, and no one can make you.
I'll get the text in a moment. Okay here:
This country of ours has more wealth than any nation, but that's not what makes us rich. We have the most powerful military on Earth, but that's not what makes us strong. Our universities and our culture are the envy of the world, but that's not what keeps the world coming to our shores.

Instead, it is that American spirit – that American promise – that pushes us forward even when the path is uncertain; that binds us together in spite of our differences; that makes us fix our eye not on what is seen, but what is unseen, that better place around the bend.

That promise is our greatest inheritance. It's a promise I make to my daughters when I tuck them in at night, and a promise that you make to yours – a promise that has led immigrants to cross oceans and pioneers to travel west; a promise that led workers to picket lines, and women to reach for the ballot.

And it is that promise that forty five years ago today, brought Americans from every corner of this land to stand together on a Mall in Washington, before Lincoln's Memorial, and hear a young preacher from Georgia speak of his dream.

The men and women who gathered there could've heard many things. They could've heard words of anger and discord. They could've been told to succumb to the fear and frustration of so many dreams deferred.

But what the people heard instead – people of every creed and color, from every walk of life – is that in America, our destiny is inextricably linked. That together, our dreams can be one.

"We cannot walk alone," the preacher cried. "And as we walk, we must make the pledge that we shall always march ahead. We cannot turn back."

America, we cannot turn back. Not with so much work to be done. Not with so many children to educate, and so many veterans to care for. Not with an economy to fix and cities to rebuild and farms to save. Not with so many families to protect and so many lives to mend. America, we cannot turn back. We cannot walk alone. At this moment, in this election, we must pledge once more to march into the future. Let us keep that promise – that American promise…
"And in the words of Scripture hold firmly, without wavering, to the hope that we confess."
Brilliant. Just brilliant.

"I've got news for you, John McCain. We all put our country first."
Bring it on!
*********************************************************************************************************
Look: Despite the compromises Obama has already made, despite the fact that, as far as we know, he doesn't part the seas or make the lame walk, I still believe he is the once in a generation candidate. A man fused with an opportunity.
And the opportunity belongs to us.
*******************************************************************************************************
8:00: The MSNBC pundits are in some kind of state of poetic shock.
Olbermann: This cut the crap moment, is not the thing of fiction. It's the real thing.
Chris Matthews: It's an open challenge to the hearts and minds of the country.
One of the interesting things about Obama is that he's not just a great orator, but he's an excellent writer, and he thinks like a writer. He thinks like a poet. (Yes, yes, we know that he's got good speech writers. But so have others. And they don't give speeches like this one.)
8:13: David Gergen on CNN: As a political speech this was a masterpiece. He seems bigger somehow tonight. He's growing in the job.
8:29: Howard Wolfson on Fox—-"Somebody may have slipped some Barack Obama Kool-Aide in my water because I thought it was great." Thank you, Howard. Big of you.
8:31: Karl Rove on Fox, just basically gives Republicans their talking points by showing them how they can spin Obama's words until they mean something entirely different than, well, anything that was said. Oh, turd blossom, you never disappoint.
***************************************************************************************************************
READ THIS: WHAT IS UP WITH THE AP???
8:45: Olbermann points out that AP is again sandbagging Obama. Here's the column in question.

That's two in a row. This is not, I repeat, not responsible journalism. This is editorial writing and has no place in the nation's largest wire service.
Interestingly, this fool says that the speech was 35 minutes long—when it was more like 48 or 50 minutes. WHICH MEANS THIS WAS WRITTEN BEFORE THE SPEECH.
*************************************************************************************************************
8:57: Olbermann: "So there you have it. We had to stop Pat Buchanan from gushing over Obama's speech in the interest of time."
So what do you think?
**********************************************************************************************
(Photos: Francisco Kjolseth/The Salt Lake Tribune )