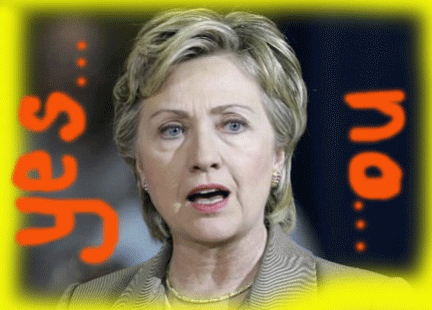 A couple of days ago, Vibe Magazine released an interview with Hillary Clinton in which she talks about—among other topics— sentencing policy, prison, and rehabilitation.

She says some decent stuff—all of which makes interesting reading, particularly in the light of what she said in January when she talked about the changes in those pesky federal sentencing rules that would bring a crack cocaine conviction more in line with the penalties for powder coke.

Clinton made a point of saying that the change in sentencing should not be not be retroactive.
(I blogged about it here.)

Now, either she feels differently, or she tailors her message for her audience. I'm betting the latter.

Here are the relevant clips:
VIBE: In your speech, you talked about having first, second, and third chances for children. In the last ten years the rate of incarceration of women has increased exponentially. I don't think the average person realizes that it's not 50% or 100%, it's like 750% in the last thirty years. There are a disproportionate number of African-American men and women who are going to be released from prison with felony convictions. What do we do about that group of people who are effectively disenfranchised when they come out?

CLINTON: Number one, we need to divert more people from the prison system. We have too many people in prison for non-violent drug offenses, which disproportionately impacts on the African-American community. That's why I've been a strong advocate of eliminating the disparity between crack cocaine and powder cocaine [sentencing].

There may have been a reason for it 25 years ago but there isn't any justification for it now. But it also means that in the prisons themselves, we've got to get back to the services that used to be there. They have mostly been eliminated — GED programs, college credit programs, drug and alcohol abuse programs — I mean, it is like a wasteland. We put too many people in there and then we basically forget about them. And then when people come out we need a system of second-chance programs. And we need to move to restore people's rights. They need to feel like they've done whatever time they're supposed to do and now they are back as a full participant. So we need a network of job-training programs, of housing programs, of civic engagement and education programs.

And there are some good examples around. The Fortune Society in New York does a really good job. Other places like Greyston Bakery in Yonkers, NY that hires ex-offenders and trains them. We can do this on a larger scale than what we're doing now. And a lot of the job training programs we used to have in this country, which has been decimated, need to be brought back so we can, as I have argued, put people to work in green collar jobs. We should be training people; we should be doing that in the prisons. We should be giving people skills that are going to be part of the economy of the future…
Chapeau tip to Howard Berman at Sentencing, Law and Policy