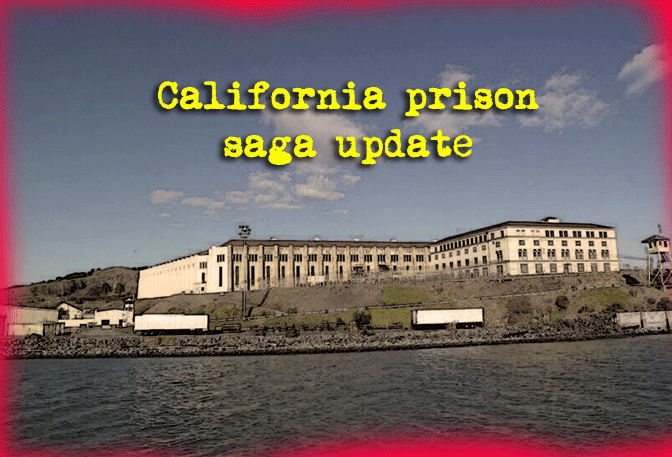 GOV. BROWN'S NEW BUDGET PROPOSAL AIMS TO REDUCE PRISON OVERCROWDING
Counting on a two-year reprieve on a looming deadline from federal judges to reduce the prison population by about 9,000 inmates, Gov. Jerry Brown's new budget proposal designates more than $23M for substance abuse treatment and mentally ill parolees, $40M for re-entry programs, $62M for prison guard training, and another $500M for new prison facilities. Brown also calls for, among other reforms, split sentencing and expanded parole eligibility for the elderly, mentally ill, and those with serious medical issues. (Go here and here for previous WLA posts on this issue.)
The Sacramento Bee has the story on their Capitol Alert blog. Here are some clips:
The imperative to depopulate prisons led Brown to ask the Legislature last year for $315 million to spend on housing inmates.

But California will spend only $228 million of that in the current fiscal year, the new budget blueprint predicts. The reason for not needing to spend it all?

"The Administration has assumed the court will grant a two-year extension to meet the cap," the budget document states.

If true, that would buy Brown a substantial amount of breathing room as he seeks to mollify federal judges. If not, the budget proposal states, California will need to spend the full $315 million.

[SNIP]

Brown's proposal would spend $11.8 million on substance abuse treatment and $11.3 million on mentally ill parolees while directing $40 million from the state's Recidivism Reduction Fund to re-entry programs.

That's not to say Brown is done pouring money into incarceration capacity. Despite spending $1.7 billion in jail construction, the administration argues there remains a significant need to house offenders. To that end, Brown proposes another $500 million for more facilities with a 10 percent county match requirement.
The LA Times' Paige St. John, who has been following the Gov. Brown prison-overcrowding saga from the start, also reported on the new proposal. Here's a clip:
Under the new program, prisoners over 60 years old who have served at least 25 years would be eligible to be considered for parole. So, too, would inmates who suffer severe medical conditions or who are mentally impaired.

Brown's budget says inmates serving doubled sentences under the state's Three Strikes law, but whose second offense was not violent, will now be able to shave off a third of their time. Previously, they were limited by law to a 20% reduction.

Brown uses his spending plan to also announce support for split sentences, requiring judges to reduce local jail terms for felons but adding time for community probation. Judges would be able to sentence a felon to jail alone only if they identified a reason. Brown's budget document says the change will help offenders get access to community services while helping jails reduce crowding.
---
NATIONAL STANDARDS ISSUED ON SCHOOL DISCIPLINE POLICIES
On Wednesday, the U.S. Department of Education released meaningful new federal guidelines addressing zero-tolerance school discipline. The guideline package includes resources for training school police and staff on constructive alternatives to kicking kids out of school.
The Center for Public Integrity's Susan Ferriss (who has done some excellent reporting on harsh school discipline, here and here) has more on the new guidelines. Here are some clips:
The ideas are a response to mounting concerns that overly punitive discipline is pushing too many low-income and minority students out of schools and toward failure rather than helping them engage academically. The Department of Education and the Department of Justice teamed up in a two-year effort to develop lists of resources and principles that educators have found effective at keeping campuses orderly without resorting to kicking out kids.

The package is intended to help schools chart new practices. Federal officials also emphasize that educators are obliged not to violate students' civil rights when punishing them. The package also provides resources for school police training and employee training in discipline techniques considered more productive than ejecting kids.

[SNIP]

The U.S. departments of Education and Justice both have civil rights offices that have stepped up investigations into complaints of disparate and harsh disciplinary practices affecting special-education students and ethnic-minority children. Complaints have included excessive suspensions of black children compared to white children accused of the same cell phone use violations.

"Everyone understands that school leaders need to have effective policies in place to make their campuses safe havens where learning can actually flourish," said Secretary of Education Arne Duncan in an announcement Wednesday. "Yet most exclusionary and disciplinary actions are for non-violent student behaviors, many of which once meant a phone call home."

In his own statement, U.S Attorney General Eric Holder said: "A routine school disciplinary infraction should land a student in the principal's office, not in a police precinct."
---
THE SCHOOL-TO-PRISON PIPELINE AND THE ABSENCE OF REHABILITATION AND EDUCATION FOR LOCKED-UP KIDS
Al Jazeera America has a worthwhile piece by Molly Knefel about the damage done by still-prevalent policies of dumping kids into the juvenile or criminal justice system for minor offenses and what activists are trying to do to change these counter-productive systems. Here are some clips:
When Marvin Bing Jr. was 12 years old, he was living in a foster home in central Pennsylvania.

One day he decided to take a kitchen knife to school in his book bag. He didn't have any intention to use it, but he thought it would seem cool to classmates. When the teacher noticed kids gathered around Bing's desk, oohing and ahhing, he was sent to the principal's office.

But that was just the beginning. Bing was arrested, taken away in a police car and sent to a juvenile holding facility to await a court date. "It was lockup," he said. "I had a cell. It was all blue. I had a little bed and a steel locked door. The whole thing, at 12 years old."

In a single moment, something that happened in school changed Bing's life, yanking him into the justice system — all before even becoming a teenager. But he is far from alone.

On any given day in the United States, about 70,000 children are held in residential juvenile centers like the one Bing was sent to, and at least two thirds of them are charged with nonviolent offenses. Another 10,000 are detained in adult prisons and jails. Each year, as many as 250,000 youths under 18 are tried, sentenced or incarcerated as adults.

In both the juvenile and adult systems, some critics say, young people are at a high risk of physical and sexual abuse, educational disruption and psychological trauma as they deal with institutions that might be unsuited to dealing with their problems and are focused more on punishment than on rehabilitation. "The more you treat people as criminals at younger and younger ages, the more damage you're likely to do to their psyche," said Niaz Kasravi, director of the criminal-justice program at the NAACP.

[SNIP]

Once a child is arrested, access to education may be limited or nonexistent, depending on the detention center. Wendy Greene, director of North Carolina Prison and Legal Services' incarcerated-youth advocacy project, represents young people and is familiar with confinement conditions in the state. One of her clients — whom she declined to name — is a special-education student awaiting a court date in a North Carolina county jail. Though he has not been convicted of a crime, he has been there for months.

According to Greene, law-enforcement officials have refused to allow the local public school to send in a teacher to work one on one with the child, claiming there's no space for such an arrangement. As a result, he has been receiving assignment packets from school but no instruction. She says his work comes back with scores of zero. Regardless of whether he is found guilty, she pointed out, his experience with detention has significantly set back his education.
---
EDITORIAL ROUND-UP: SHERIFF BACA'S RESIGNATION AND THE DEPARTMENT'S FUTURE
The LA Times and the LA Daily News each had two particularly good editorials regarding the unexpected resignation of current LA County Sheriff Lee Baca. (The backstory can be found here and here, if you missed it.)
In the first LAT editorial, Robert Greene says that the current sheriff election process and methods of oversight are "untenable" and need to be revamped. Here's a clip:
…In this county, sheriffs simply don't get bounced from office by voters. We have 10 million people, more than any other county in the nation, more than 42 states. Of those, close to half live in cities with their own police departments, so those voters don't really have much reason to care who gets elected sheriff or whether the incumbent is doing a good job. Getting the attention of those voters is nearly impossible. Actual political and democratic oversight of the Los Angeles County sheriff has crumbled while the form — the veneer — of democracy persists.

Baca is the only Los Angeles County sheriff in modern times to get the job by defeating the incumbent, and he managed that in large part because the incumbent was dead (Sherman Block died in the final days of his 1998 campaign for reelection). Other than that instance, voters in this county haven't removed a sheriff in living memory. The last time an L.A. County sheriff was ousted was in 1921 — and that wasn't by the voters but by the spork, the Board of Supervisors. History records that the sheriff resigned.

Baca's resignation follows at least the first part of the more common practice for sheriffs. For the pattern to be complete, he would have to name his own successor and the Board of Supervisors would have to rubber-stamp it, leaving voters with an incumbent to return to office.

Perhaps the sheriff should be elected but subject to removal by the board; or appointed by the board but subject to periodic approval by the voters, as with Superior Court judges; or appointed by the board but with carefully designed oversight. Like an inspector general. And a commission. Any of those moves would require a statewide vote.
And here's a clip from what the Times' editorial board had to say about Baca's exit (also well worth a full read-through):
Even the most honorable deputies in a department struggling with a corrupted culture need to know that the old ways will not be tolerated. They must see persistent attention to the department's problems, not the intermittent public focus that comes with elections or verdicts, or the occasional critique or initiative offered by the Board of Supervisors. Deputies must know they are working under a sheriff with the highest integrity, subject to a workable system of oversight.

Baca's departure will allow for a more sweeping revamp of the department. But county leaders and the public should not view a change at the top, by itself, as sufficient. Baca was a problem, but he was not the only problem. He may not have been up to the task of balancing politics and law enforcement, and he may have been too flawed or tired or incompetent to imbue his entire force of deputies with his stated vision, but for any Los Angeles County sheriff to do better in a strange job that combines elected politics with jail management, mental health care, inmate rehabilitation and law enforcement, there must be a system of oversight that doesn't rely merely on federal probes and periodic elections.

Exactly who the new sheriff will be and just how an effective oversight system will be structured should become the central debate of the sheriff's race over the coming year. Candidates should make clear not merely how they would eliminate inmate abuse and misconduct by deputies but how and where they would draw the line between their own independence as sheriff and their accountability for reform.
The LA Daily News' editorial board calls for a strong candidate for sheriff and permanent civilian oversight of the department. Here's a small clip from the opening:
Lee Baca's sudden resignation comes as a pleasant surprise. Now, with the old sheriff out of the way, Los Angeles County can get on with choosing new leadership for the nation's largest sheriff's department and cleaning up the scandals in its law-enforcement force and jail staff.

But let's be clear: This cleanup is a huge task. As Baca departs, the culture of violence and corruption that developed in his 15 years in charge remains. It will take both a strong successor and forceful oversight to repair the damage…
And, in an op-ed for the Daily News, Long Beach city prosecutor Doug Haubert throws his weight behind Long Beach Police Chief Jim McDonnell, who is expected to announce soon whether he will join the race. Here's a clip:
Sometimes, police get blamed for everything, and rarely do they get the credit they deserve. I watched as Chief McDonnell slowly built up a confidence level within the department and the community. That's the kind of thing the county could use right now.

Also, the chief came in at the worst budget time imaginable. His first days on the job, he saw his department's budget cut from under him, like a carpet ripped out from under his feet. I know because I came into my office under the same circumstances, one-third of my prosecutors have been cut from my department.

The chief showed grace under pressure, and that's the kind of mettle needed in the next sheriff. I don't envy the current sheriff, nor the next one. However, we will need someone with the courage to make tough decisions and take responsibility for those decisions. I can't think of a better person to do this than Chief McDonnell.