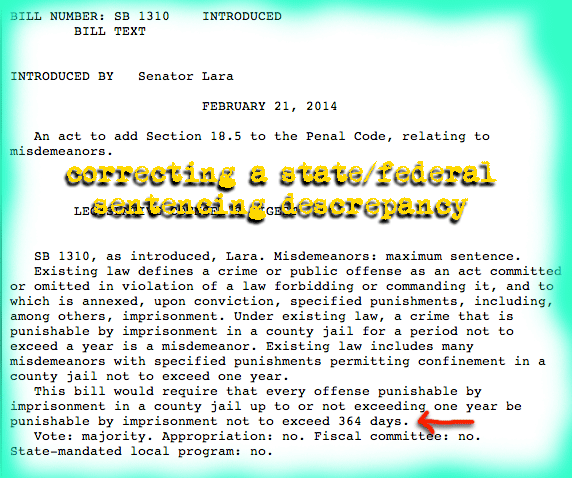 GOV. BROWN SIGNS BILL TO KEEP LEGAL IMMIGRANTS CONVICTED OF LOW-LEVEL CRIMES FROM BEING DEPORTED
On Monday, Governor Jerry Brown signed a piece of legislation that aims to reduce the number of deportations of legal immigrants for non-felony crimes.
Federal law allows for deportation of permanent legal residents who commit crimes carrying a one year sentence (or more). The measure, authored by Sen. Ricardo Lara (D-Bell Gardens) lowers the maximum sentence for a misdemeanor from one year to 364 days. The bill garnered bipartisan support in both the Senate and Assembly.
The Associated Press' Don Thompson has the story. Here's a clip:
As of Jan. 1, SB1310 will reduce the maximum penalty for misdemeanors to 364 days to conform to the federal law.

"Amazingly, the fact that it's 364 means it's not an aggravated felony under federal law," said Steven Rease, a criminal defense attorney in Monterey County. "It's a very small change in terms of 365, 364, but it's going to make all the difference in the world to a legal immigrant…whose chances of deportation are greatly reduced."

Rease is co-chairman of the legislative committee of California Attorneys for Criminal Justice, which represents defense attorneys and sought the change in state law.

He estimated the change could affect thousands of people in California, based on the scores of cases he has seen mainly among farm workers in his county who have been convicted of misdemeanors for things like writing bad checks.

The Coalition for Humane Immigrant Rights of Los Angeles also projected the change could affect thousands of immigrants in California. It estimated that more than 100,000 children legally residing in the United States had a parent deported for a misdemeanor crime between 1997 and 2007. It said similar legal changes have been adopted by Nevada and Washington state.

"While the federal government continues to turn a blind eye to our broken immigration system, California continues to advance state legislation to ensure aspiring citizens are integrated into our fabric instead of being in the shadows," the group's policy and advocacy director, Joseph Villela, said in a statement.
---
9TH CIRCUIT CHIEF JUDGE KOZINSKI TELLS STATES TO BRING BACK FIRING SQUADS
In a dissent criticizing execution by lethal injection, 9th Circuit Court of Appeals Chief Judge, Alex Kozinski, called for states to go back to using firing squads.
The judge's dissent came in the case of an Arizona man seeking a stay of execution after the state refused to release information on the drugs to be used in his lethal injection. (The death row inmate, Joseph Rudolph Wood, won the stay, but the Supreme Court promptly reversed the lower court's ruling and lifted the stay.) The ruling followed five days after U.S. District Judge Cormac J. Carney declared California's death penalty unconstitutional.
Kozinski, a supporter of the death penalty, called lethal injections a "misguided effort to mask the brutality of executions."
KPCC's Rina Palta has more on the issue. Here's a clip:
Legal scholars say the judge's splashy approach is aimed less at shocking the public than asking it to confront its own relationship with the death penalty.

The dissenting opinion came in the case of an Arizona inmate scheduled to be executed by lethal injection on Thursday. Joseph Rudolph Wood, convicted of killing his ex-girlfriend and her father, sought a delay on the grounds that Arizona has refused to disclose details of their execution protocol. Wood won the stay, and the 9th Circuit decided not to review his case–a decision Judge Kozinski disagreed with on the cases' legal merits.

Kozinski used his dissenting opinion, however, to launch into a bit of a tangent on lethal injection—the preferred execution method of all state's that have the death penalty. Firing squads may be disturbing, he said, but unlike lethal injection, they're relatively fool-proof.

The judge wrote:

"Whatever the hopes and reasons for the switch to drugs, they proved to be misguided. Subverting medicines meant to heal the human body to the opposite purpose was an enterprise doomed to failure. Using drugs meant for individuals with medical needs to carry out executions is a misguided effort to mask the brutality of executions by making them look serene and peaceful—like something any one of us might experience in our final moments.

But executions are, in fact, nothing like that…They are brutal, savage events, and nothing the state tries to do can mask that reality. Nor should it. If we as a society want to carry out executions, we should be willing to face the fact that the state is committing a horrendous brutality on our behalf…

Sure, firing squads can be messy, but if we are willing to carry out executions, we should not shield ourselves from the reality that we are shedding human blood. If we, as a society, cannot stomach the splatter from an execution carried out by firing squad, then we shouldn't be carrying out executions at all."

Kozinski, it should be noted, is not a death penalty opponent.
---
NO RIGHT TO LEGAL AID FOR 46,000 FEDERAL DRUG OFFENDERS ELIGIBLE FOR SENTENCE REDUCTIONS
On Friday, the US Sentencing Commission voted to make retroactive drug sentencing guidelines that reduced sentences for most drug trafficking offenses by an average of two years.
The decision is expected to affect more than 46,000 federal prisoners who will be able to seek sentence reductions.
Law professor and sentencing expert, Doug Berman, in his blog Sentencing Law and Policy points out that federal prisoners do not have a right to legal counsel in sentence modification court proceedings. Berman explains that normally, public defender offices try to provide legal help to those seeking sentence reductions, but will not be able to handle the influx of nearly 50,000 inmates seeking aid.
Experts like Berman point out the necessity to find some solution to the problem because, as Berman says, " …the proper application of new reduced drug offense guidelines can involve various legal issues that may really need to be addressed by sophisticated legal professionals."
Here's a clip:
As hard-core federal sentencing fans likely already know, most lower federal courts have ruled that federal prisoners do not have a Sixth Amendment right to counsel applicable at the sentence modification proceedings judges must conduct to implement reduced retroactive sentencing guidelines. Consequently, none of the nearly 50,000 federal drug offense prisoners who may soon become eligible for a reduced sentence have any right to legal assistance in seeking this reduced sentence.

Fortunately for many federal prisoners seeking to benefit from previous guideline reductions, many federal public defender offices have traditionally made considerable efforts to provide representation to those seeking reduced sentences. But even the broadest guideline reductions applied retroactively in the past (which were crack guideline reductions) applied only to less than 1/3 of the number of federal prisoners now potentially eligible for reductions under the new reduced drug guidelines. I suspect that pubic defenders are unlikely to be able to provide significant legal help to a significant number of drug offenders who will be seeking modified sentences under the new reduced drug guidelines.
---
AND WHILE WE'RE ON THE TOPIC…
An NY Times editorial praises the US Sentencing Commission's vote in favor of retroactivity, and calls on Congress to let the decision stand. Here's a clip:
The commission's bold step, which will ease overcrowding in federal prisons, stands in stark relief to the mind-numbing failure of Congress to make meaningful progress on criminal justice reform. At the same time, it is consistent with a healthy trend among state governments that are finding innovative ways of shrinking prison populations while also reducing crime.
---