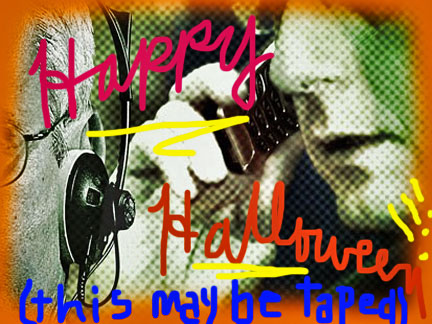 Okay, Gavin Newsom has dropped out of the race for California Governor, for "family" reasons (AKA bad polling numbers).
Meg Whitman is a rich witch [It's Halloween and that's a technical term.] who believes she can buy an election, can't" frameborder="0" allowfullscreen> remember when she last voted and won't show up for debates. (In terms of her chances to win the 2010 race: Ebay, shmEbay. Snowball meet hell.)
Thus far, the rest of the Republican field—Tom Campbell and Steve Poizner—ain't strong enough to stand up to the once-and-would-be-future Gov: Jerry Brown who, even though he's an old guy, he still has enough energy to lite several medium-sized cities and is running an excellent pre-campaign campaign, what with all his high profile nabbings of mortgage fraudsters and other nasty types.
But, then also yesterday there was the kerfuffle bannered on the front page of the SF Chronicle, about how Jerry's press guy illegally taped a conversation with a reporter and now, as it turns out, a lot of conversations with reporters.
Quite a scoop—except that painting the taping as illegal is quite a stretch.
Federal law says that if one side knows about the taping, the other side doesn't have to know. However, yes, California law requires that both sides must know, but only if the conversation is a "confidential communication."
California penal code defines "confidential communication" as:

….any communication carried on in circumstances as may reasonably indicate that any party to the communication desires it to be confined to the parties thereto, but excludes a communication made in a public gathering or in any legislative, judicial, executive or administrative proceeding open to the public, or in any other circumstance in which the parties to the communication may reasonably expect that the communication may be overheard or recorded.
An on-the-record interview for the purposes of later publication does not snugly fit within the covers of confidential.
On the other hand, if you are working for the state's top cop and you do this stuff without mentioning it to those whom you are recording, and then defend yourself by saying, "you guys do it so we get to," you look like an idiot.
A little while ago, Jerry wisely suspended the staffer, Scott Gerber.
Which brings us to…….Antonio.
I heard late on Friday afternoon that after the twinned news announcements of Gavin's bow out, and Jerry's guy's Nixonian moment, there was chatter among high level staff in the Villaraigosa's office about what a "great governor" the mayor would make.
One assumes that this is merely wishful thinking, and that Antonio and his people are not (gulp) actually contemplating such a move.
It is just wishful thinking, right Mr. Mayor?