On Friday, July 28, LA County Probation officials put out a call for "all sworn staff" who were not on "work restrictions" to report to Los Padrinos Juvenile Hall in Downey where there was a "large disturbance" in the facility, with young people also attempting to escape the youth hall.
According to some of our sources, one youth succeeded in escaping and made it as far as a golf course that borders the facility, before staff got him back.
Yet, there were multiple injuries, prominently including at least two staff members, who reportedly were harmed.
The Downey Police Department and others, including an LA Sheriff's Department helicopter, were called in last night, along with the request for both line staff and supervisors to report to the youth facility, while squad cars surrounded the building,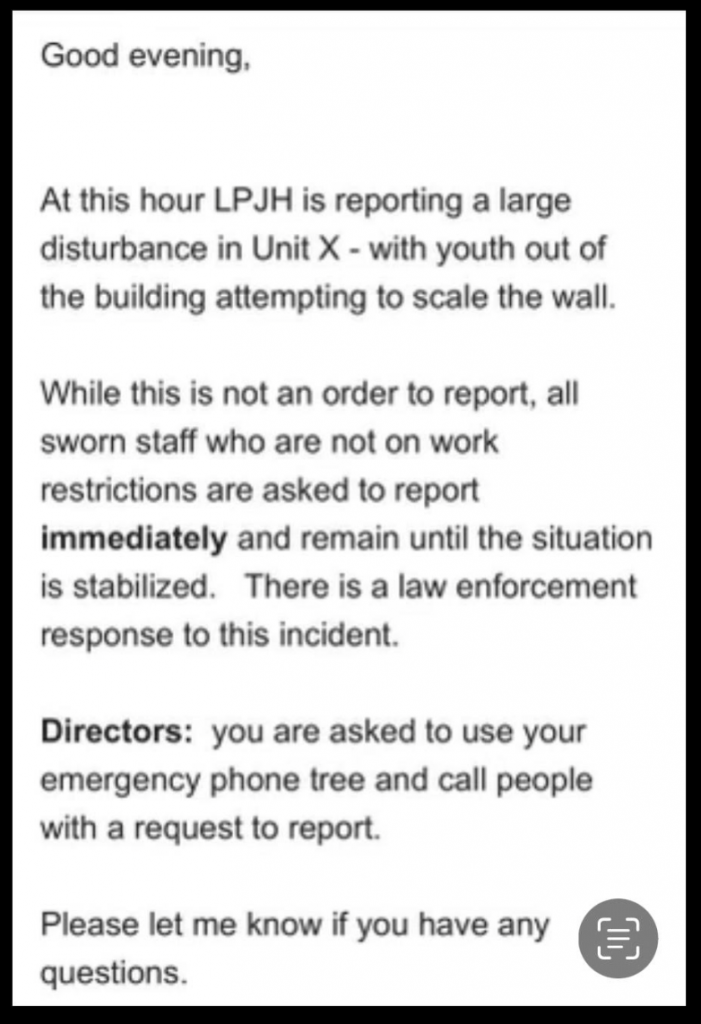 Gun and ammo
Last Friday, July 21, there was a different worry at Los Padrinos (LP) causing an armed unit and other LA County Probation officials to spend much of that Friday searching the facility after a gun belonging to a staff member was found in an unsecured office, with two extra ammo clips stored with the weapon.
Homemade weapons were reportedly found among the youth last night, some of them simply broken pieces of furniture.
A few days before the gun and extra clips were discovered in Los Padrinos, at Barry J. Nidorf Juvenile Hall, located in Sylmar, a female staff member (whose name we are withholding) was reportedly escorted from the building after allegedly being found to be providing narcotics for some of the facility's youth.

Given that there are supposed to be rigorous checks of staff and visitors to make sure that contraband of any kind stays out of the halls, no one was cheered to find that the checks appear to be as reliable for controlling prohibited and dangerous items as a broken sieve.
Last Friday's problems occurred a few days after the county had finished moving nearly 300 kids out of Barry J and Central Juvenile Halls to Los Padrinos. This move was necessitated to meet the deadline set more than
two months ago,
when the members of  the state's oversight board—The California Board of State and Community Corrections, or BSCC— voted unanimously to legally declare the county's two main youth lock-ups to be "unsuitable" for habitation by kids or young adults.
As WitnessLA has reported previously in detail, Los Angeles County had been dodging the specter of this vote for at least two years.
The SYTF factor
Even with the overdue vote on the part of the BSCC, in a maddening case of legal illogic, so far the "unsuitable," designation does not apply to approximately 60 of young people in Barry J Juvenile Hall.

These are the youth and young adults who are housed in the units designated as the Secure Youth Track Facility or SYTF.
In past years, these youth would have been sent to the Department of Juvenile Justice (DJJ), which operated the state's violence-plagued youth facilities which have been permanently shuttered as of June 30, of this year.
Prior to this month's move of all the non SYTF youth to Los Padrinos Juvenile Hall, Barry J and Central Juvenile Halls have been particularly unsafe places for youth and staff members, a fact that was demonstrated earlier this year at Barry J, when two staff members, and a kid, were stabbed in three separate incidents, each of which easily could have been fatal.
During that same period early this year, there were at least five drug overdoses among the youth at Barry J, each causing NARCAN to be administered. In some of the cases, hospitalization was also required. As with the stabbings, fortunately no one died.
That good fortune ran out on May 9 of this year when a well-liked 18-year-old young adult named Bryan Diaz died of a fentanyl overdose at Barry J.
The teenager's death came at a time when the two facilities had been found repeatedly to be out of compliance with the many of the most basic standards of care.
As WitnessLA has reported, many of the areas of non-compliance had been, in great part, caused by the fact that, when the above assessment was made, only 21 percent of the needed staff was showing up at the two halls, in particular at Barry J.
Although those numbers have improved, we still hear reports that overworked staff members are often asked to do 24 hour shifts.
When the unsuitability vote took place at the BSCC, the county had a 60-day deadline to relocate most of the kids in residence at the two halls. For its relocation site, the county chose its previously shuttered third youth lock-up, Los Padrinos Juvenile Hall located in Downey.

While the county worked to clean up LP, and then to transfer the youth within the BSCC's time parameters, while preparations were being made for the move, the unsafe nature of the existing youth halls continued to demonstrate itself.
(Exactly why the BSCC and LA County officials believe that this game of musical facilities will solve any of the long list of problems that led to the unsuitability designation in the first place, is not at all clear.)
As WitnessLA reported last month, in a five day period in late June, once again there was a string of overdoses at Barry J. Nidorf Juvenile Hall. This time the OD total was eleven, all of which required intervention, and in some cases, emergency trips to the hospital.

Brian Diaz, the kid who died of an overdose was residing in one of the SYTF units that are still up and running in "unsuitable" Barry J with approximately 60 kids in residence.
A somewhat unsettling report from the Office of the Inspector General
Early this week, LA County's Inspector General Max Huntsman sent a report to the members of the Board of Supervisors, and Interim Probation Chief Guillermo Viera Rosa, in which Huntsman described some troubling issues that members of his office had noted during probation's recent multi-day transfer of the youth to Los Padrinos Juvenile Hall.

Huntsman told members of the board that, given the Office of the Inspector General has the critical function of oversight of the probation department, he was dismayed to find that his team was not notified of the first phase of the transfer of the kids from Barry J Nidorf and Central to LP, so did not observe that part of the process.
During the transfers that the IG and company were able to observe, Huntsman noticed that, while the young people were searched for contraband before entering LP, the staff were not.
(After the gun and ammo was found, a facility-wide search did belatedly take place, with no further contraband found among staff members.)
Otherwise, Huntsman reported, the transfer seemed to go well and smoothly, with experienced staff members facilitating.
Yet, now we have the "massive disturbance."
On Saturday night probation officials lifted the lockdown at Los Padrinos Juvenile Hall, with some restrictions.
All 273 youths who are in residence at LP are safe and accounted for.
More as we know it.