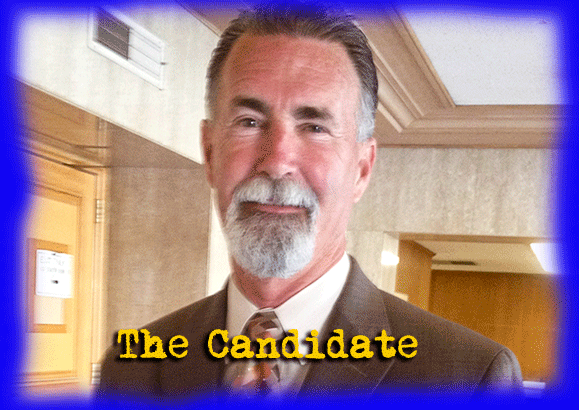 CHALLENGING BACA
On Wednesday morning, retired commander Robert Olmsted, 62, formally announced that he is running for LA County Sheriff against incumbent Lee Baca.
His candidacy was preceded by an LA Times editorial published two weeks ago, asking Baca not to run again, and calling for "a competent, experienced challenger" to "step forward to run a serious campaign against [Baca].
Then this past Saturday, LA County Supervisor Gloria Molina wrote a harshly worded LA Times Op Ed urging voters to "fire" the sheriff.
"Now is the time for the right challenger to step up and run against Baca in 2014," Molina wrote. "What's required is integrity and courage."
Olmsted hopes to be that challenger.
Also running thus far are retired LASD lieutenant Patrick Gomez, who has unsuccessfully challenged Baca before, in 1998 and in 2002, and LAPD Detective Lou Vince.
(It is strongly rumored that former undersheriff Paul Tanaka too is planning to run, but he has yet to declare.)
---
THE WHISTLEBLOWER
Olmsted's name first came to be known to those outside the LASD in the fall of 2011 when the scandals alleging excessive force and corruption inside the LA County jail system were just beginning to heat up, and word of an expanding FBI investigation into department wrongdoing had become public.
Prior to retiring from the LASD in fall 2010 following his wife's death from cancer, Olmsted—-a highly-regarded law enforcement veteran of 32 years—had served as commander over a cluster of the department's largest and most troubled jail facilities, including Men's Central Jail, where he had attempted to institute reforms. Along with another jails commander, he had even triggered three reports that documented alarming patterns of improperly investigated excessive force inside the jails, all of which the higher-ups allegedly either dismissed or ignored.
After his retirement, Olmsted continued to be distressed by what he saw as Baca's repeated unwillingness to deal with the causes of the growing problems plaguing the department, and then-assistant sheriff Paul Tanaka's seeming aversion to any needed reform in the jails.
Finally, after reportedly trying once more to get the the sheriff to take meaningful action, the commander went to the press.
The department brass were predictably un-pleased with Olmsted's whistleblowing, and launched a bizarre investigation that purported to look into the former commander's claims, but seemed mostly aimed at discrediting him.
It did not succeed. In fact, when Olmsted appeared before the Citizens' Commission for Jail Violence in May of last year, even after months of hearings, it was his lengthy and detailed testimony that seemed to most disturb and anger the seven commission members (two of whom actually began to applaud when he finished, then quickly caught themselves).
For nearly a year following the commission's report, people from both inside and outside the sheriff's department reportedly tried to talk Olmsted into considering a run against Baca, but he had demurred assuming that another candidate would emerge who was willing to face the big bucks fundraising and strategic campaigning that a serious challenge would require.
When no one surfaced, Olmsted did several weeks of soul searching, then decided to run.
"I've always felt that when you name a problem, you own it until it's fixed," he said.
Friends say Olmsted is now fully committed. "He knows what it's going to take, and he's all in," said one. He even has his first ad up on YouTube.
The former commander's campaign motto is Olmsted Instead.
---
THE INTERVIEW
WitnessLA spoke with Olmsted on Tuesday about why he decided to enter the race, and why he believes he's the right guy for the job.
WLA: Okay, first things first: Why are you running?
Robert Olmsted: If there's ever a time to run for sheriff, it's now. For the last five years the current administration has been in turmoil. You read about it constantly in the paper. There is gross mismanagement, a lack of accountability. The problems spill into patrol and into custody.
Someone has to stand up and have the courage to do the right thing and bring to the department a new sense of leadership. I've got the passion to do it.
WLA: Why do you feel you're the right person for the job?
RO: Well, when all the problems in the jails began popping up, I went all the way up the command staff to the sheriff several times to make some changes, and I found that no one would address anything.
So, I took it outside the organization [to the press.]. I'd like to think that I did it for the right reasons, which was to make the department better and to serve the community.
WLA: For a long time you said you wouldn't run for sheriff when people asked. What caused you to change your mind?

RO: I was really ready and willing to support [Long Beach Chief of Police Jim] McDonnell when he was planning to run for sheriff, because I knew we needed a change. But then McDonnell didn't run. We still have all these problems and no one was stepping forward to do anything about them. So I feel compelled to say I'll give it a try. I'll go ahead and make the changes that are necessary to get us where we need to be.
I'm second-generation deputy sheriff and my son wants to join the department. I want to leave a good legacy.
WLA: You're up against an incumbent sheriff who tells us that he's fixing everything. So why shouldn't we vote for Lee Baca again?
RO: He can say he's fixing it, but the fact that he's spent the last few years travelling the world with all these problems going on at home, that's a failure of leadership. And now we're having to bring in new people from outside the department for oversight, such as the new Inspector General [that the Board of Supervisors plans to appoint, as recommended by the Citizens Commission on Jail Violence].
Plus we've got federal indictments coming down in the next five months, according to the U.S. Attorney. And we don't know how high those indictments will go up the chain of command.
So the sheriff says he's got everything handled, but we know these investigations are still getting bigger. Now we've got sex scandals. Cheating scandals. Use of force problems. I could go on and on. And it's all about mismanagement and corruption at the upper levels of our department, because they've allowed the deputies below them to see corrupt behavior as the standard mode of operation.
WLA: A lot of press attention has been paid to the problems in the jails, but many LA County voters don't see the jail scandals as affecting them personally. What would you say to them?
RO: Well, we have to change the culture in the jails, because the young men and women coming out of the academy get inculcated with this negative jail culture, and then they bring that point of view with them when they're transferred out to patrol.
A graphic example is what's going on out in Palmdale and the Antelope Valley. If you read the 50-page DOJ [Department of Justice] report, it talks about abuse, the beating of handcuffed suspects, the lack of accountability and lack of supervisory oversight. Those are he exact same things that occurred in the jail setting. And this is exactly what we need to correct—in the jails and in patrol. It's the same issue.
What we need to do is to get back to the nobility of policing. To do that, we have to make sure that we hire the right people, and give them the right supervision. This also means we have to promote the right people, people who have integrity and ethics.
And, let me make it clear, I don't blame the men and women on the department for our problems. What I blame is the lack of sound leadership.
WLA: Can you be more specific about what you believe needs to change in the style of leadership?
RO: If you read the reports [of the Jails Commission and the DOJ report], you see supervisors who failed to do their jobs, and to hold people accountable. You need the right supervision to make sure that if there is some misconduct that it's immediately addressed, that it's shifted in a positive direction.
When I was at Men's Central Jail, I demanded that my leaders walk around constantly. I did the same thing. You have to expect good behavior, but you also need to inspect what you expect. If you don't, you're not doing your job as a leader.
WLA: What will be your biggest challenges, if you're elected.
RO: Well, these are positive challenges, not negative challenges. But it'll be a challenge to reach out to all the constituents and talk with them about how they see what needs to get done. We need a stakeholders' meeting.
We also need to create transparency. So, I'd plan an open media day once a month, like Sheriff Block used to have. Every last Wednesday of the month at 10 am, he'd invite the media in. What a great way to open up a sense of transparency and to address any particular problems!
And that's just with the media, but you can use the exact same concept with the rest of the community.
WLA: Do you have other plans for the future of the department?
RO: Most of all, we need to get back to what we're supposed to be doing: custody, patrol, the courts and transportation—those are the operations that we're mandated to do by law. Before we can think about the future, we have to get back to the basics and do those well.
Instead, the jails have been in turmoil. Patrol is in turmoil, as we've seen with the current lawsuits. There is mismanagement and corruption and a bunch of other things that are bringing these federal investigations.
Our house is out of control. Somebody needs to put their foot on the brake, and re-instill integrity, pride and nobility in what we're mandated to do.
I really believe if anybody can do it, it's gonna be me.