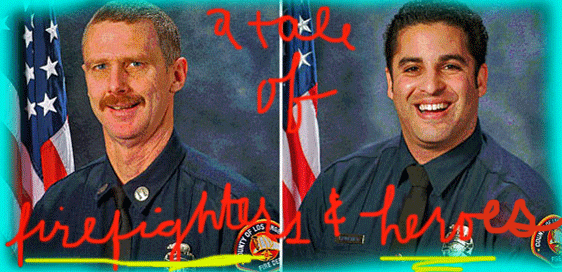 Firefighters are, by definition, heroic. But in some cases, the heroism is more direct.
We know that Sunday night Los Angeles County Firefighters Arnie Quinones and Ted Hall, both experienced firefighters—Ted a 26-year veteran of LACFD, Arnie a specialist—were killed in the course of working on the Station fire. We think it happened when a ferocious and fast-moving tongue of the blaze overtook their vehicle causing them to go off the road. Or maybe it was the smoke that blinded them for a fatal moment. Investigators are not yet sure. What is completely clear is that they plunged down an 800 foot embankment, and the engine truck flipped, landing upside down.
"Look," LA County Fire Inspector Frederic Stowers told me. " One thing I can tell you is that it's a dangerous road even when it's daylight and there's no fire."

What we also do know is that just before Hall and Quinones got on that fire-haunted road, they helped to save the lives of 58 other men, and that they were on that difficult road trying to find a route to safety for those same 58 men when the fire in some way caught up with them.
In short: this is a hero story.
---
NOTE: BEFORE READING ON...please know that this post about of the events on Mt. Gleason was an early account that reflects as much as CDCR officials knew at the time. Since this account was written new facts have emerged, which I posted about here. But the investigation is ongoing and a truly accurate account may not emerge for some time. However one thing that those of us covering this incident have heard repeatedly: and that is the message that many of those trapped on Mt. Gleason might not be alive had it not been for Ted Hall and Arnie Quinones.
---
Both Ted Hall and Arnie Quinones were known to be ardent family guys. Quinones's wife was pregnant and due to give birth to the couple's first child within a few weeks. The soon-to-be-father was thrilled. Hall was married with two sons—ages 20 and 21—whom he doted on and adored.
But in addition to their families, the men also loved the work. At the time of their deaths, both Hall and Quinones were engaged in an interesting and unusual job for LACFD: They were assigned to Mt. Gleason Fire Camp, a wildland fire training and deployment facility that is located deep in the Angeles National Forest at an abandoned missile base that, during the cold war, was considered one of the Los Angeles basin's bulwarks against any nuclear threat.
Mt Gleason Fire Camp is run by the California Department of Corrections and by the LA County Fire Department. It is one of five CDCR wildland fire camps in which adult prison inmates are trained and work as firefighters. The camp guys function in crews skilled in such tasks as aiding in the setting of backfires and clearing fire breaks in the path of advancing flames.
Hall and Quinones were one of a handful of LA County firefighters stationed at Gleason to provide supervision and training for the 105 inmates who were assigned to the camp.
On Sunday, August 30, about half of the Mt. Gleason inmates were already deployed out in the field fighting the various Southern California fires. (According to the CDCR, there are 2,245 firefighting inmates working on fires up and down the state.)
But 55 of the inmates plus three CDCR staff were still back at the camp.They became trapped when suddenly the Station fire came straight at the Mt. Gleason facility itself.
If a fire has the right combination of fuel and wind, it can move faster than a man can run. On Sunday the winds were not the problem. But the fuel was. So as the Station fire barreled toward Mt. Gleason, there was no way to escape it. Hall and Quinones, and other LA County firefighters stationed with them, calmly directed the 55 inmate firefighters and the three CDCR staffers into the cinder-block dining hall, which they deemed to be the only building likely to survive the coming conflagration.
It was a good choice. The fire passed over the cinder block structure, but only barely. As soon as they could, Hall and Quinones moved the group out of the dining hall into a large parking area, which was about the only part of the camp that was now not actively burning.
Yet, fires are volatile and so it was agreed it was necessary to get everyone out of Mt. Gleason camp altogether as soon as was humanly possible. With this goal in mind, Hall and Quinones took off in one of the engine trucks, intending to check out the narrow, winding Three Mile Road to see if it was a viable route to safety.
We know now, of course, that they did not find a safe road out.
Instead the fire found them.
Eventually, the rest of the 57 men were able to somehow make their way down the mountain and out of harm's way. In the meantime, Camp Gleason burned completely to the ground, with it, the inmates' very few possessions—pictures, letters and the like. But at least they were still alive.
Once safe themselves, the inmate firefighters learned to their horror that Hall and Quinones —their respected coaches, teachers and the men who had kept them from harm—did not survive.
"These guys were devastated, just devastated," said CDCR spokesperson, Terry Thornton. "When the firefighters and the inmates work together up in those camps, they all really get to know each other—you know, just as people. These are really cooperative relationships. So they were devastated. A lot of them were out fighting fires, and they didn't hear until later…"
All at once, Thornton's voice became thick.
"I don't want to start crying here," she said.
LA County Fire Inspector Frederic Stowers echoed her grief and added his own.

"I'd worked with both those guys," he said. "They were very well known here. Very well known, very well liked, and well respected." He too found the need to gather himself.
"They were friends," he said finally. Then after another pause. "I think the hardest thing is wondering what they went through. ……This is very difficult for us."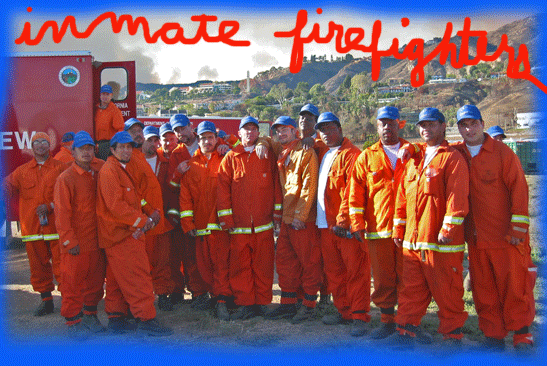 ---
The photo above was taken in 2007 of another CDCR crew, when I was snapping pictures at the fire base in Malibu.

---

POST SCRIPT: An hour after I posted this account, I got one of my regular calls from an inmate doing time at one of the California state prisons. It was a man named Danny Cabral, whom I've known for many years.
When guys call, sometimes they have an agenda: they want me to give some message or other to their girlfriend, or their kid or their mother. Most often they simply want to talk, so I make a point of telling them chatty stories about something in my day, just to provide whatever moment of normalcy I can offer.

Danny nearly always fell into the latter category, so I related the story about Mt. Gleason, the inmates and the tragedy of the heroic fighter fighters.
"I'm glad you told me that," he said, "even though it's sad. And I'm glad you're writing about that stuff. See, a lot of guys I know have been to those fire camps, and risked their own lives to fight fires. And they were glad to do it. Really glad. It makes them feel like they're doing something that….matters."
Just then, the recorded 60-second warning message interrupted his words. When it stopped, Danny hastened to finish the point, his voice now soft.

"People need to know that, just because we're locked up, it doesn't mean we aren't people," Danny said. "And a lot of us here want to do something good.
He hesitated. "Do you know what I'm saying?" he asked.
I did, I said.
And then the allotted time was up. . The line went blank. We were disconnected.