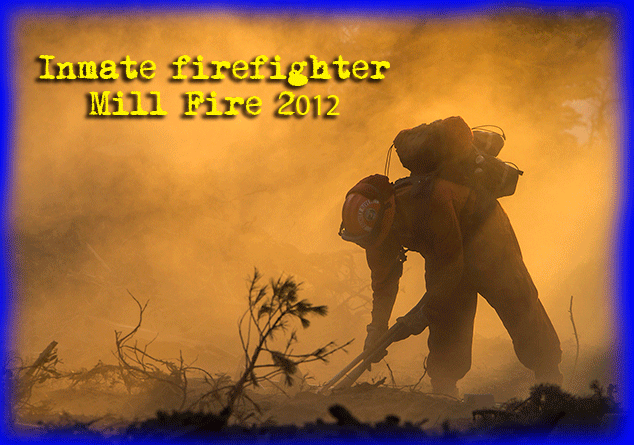 COULD PROP 47 KILL CALIFORNIA'S INMATE FIRE CAMPS?
As it was when California's Realignment strategy ushered in sweeping changes to the state's criminal justice system in 2011, there is now is much speculation about what collateral effects will result from Proposition 47.
There are worries about spiking crime, of course. (More about that at a later date.) And some officials have expressed serious concern that the state's well-regarded inmate fire program will be deeply wounded by the newly passed ballot measure.
Earlier this month, the LA Times went so far as to write a story claiming that the future of California's inmate fire crews was "now in doubt" after the passage of Proposition 47.
It is good news, therefore, to learn that, according to sources inside both the California Department of Corrections and the LA County Sheriff's Department, the fears for the inmate fire camps, at least, are reportedly groundless.
"We're not worried about Prop. 47 harming the program," said CDCR spokesman Bill Sessa, although he admitted that the initiative targeted the same general inmate group that the camps drew from, so there might be some changes. "We have approximately 4300 inmates in the program right now. And, the bottom line is, post Prop. 47, we'll still be able to find 4300 inmates to fight fires."
At present, those 4300 are deployed from 42 adult fire camps, and one juvenile fire camp. In case of a wildland fire, the inmate firefighters work side by side with crews from the U.S. Forest Service and CALFIRE crews, saving state and county taxpayers an estimated $80-100 million a year.
Sessa said that while most of the inmate fire crews come from state facilities, 200-250 come out of various counties. LA County provides the most, with San Bernardino a close second.
As for the qualifications inmate firefighters need, Sessa explained that, in general, candidates must be physically fit, and their most recent offense must be non-serious and non violent. "We take no sex offenders," he said, "and obviously no arsonists."
Lifers are also excluded because the temptation to try to escape is deemed too great. And anyone with chronic behavior issues is quickly axed from the list.
"The fire teams can't have people who question authority or are still involved in gang rivalries," said Sessa, "because everybody's life depends on the others on the crew—literally. They have to be able to work as a team."
Despite the stringent qualifications, Sessa said, there are still plenty of candidates.
A Los Angeles County Sheriff's Department official who works with LA County's fire camp program agreed. "From what we gather," he said, "we're not going to take as big a hit as we originally thought because a lot of the Prop. 47 people are first time offenders, and our people usually have multiple offenses. They're drawn from the group we call the non-non-nons." (Non violent, non serious, non sexual offenders.) "But those are all the people we got sent by realignment, and there are a lot of them."
At present, LA County has 122 inmates in their program, which has been operational for three years. "I've seen it change plenty of lives," said the official (who asked not to be quoted by name). "I even know of one guy who was part of the CDCR's program who is now a Battalion Chief for the Forest Service. We always tell his story during our training program because it inspires everybody."
While there are other instances of former inmates going on to careers in firefighting, according to Sessa, most of the men and women in the program do not plan to become wildland firefighters. "It's more that they learn discipline, about working with others, and they learn to see something through to the end." Plus the inmate crew members gain a sense of self worth by providing tangible help to people and communities, he said. "And all that helps them when they get out."
(Indeed, the fire camps have a recidivism rate that is 18 percent lower than the system as a whole.)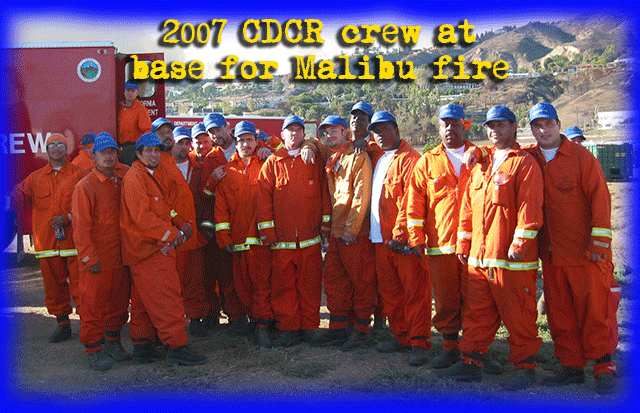 As the fire camp program is prized by inmates, the inmate crews provide help to California counties that can be crucial.
"Most of us are flatlanders," LA Fire Inspector Steve Zermeno told WitnessLA in 2009 after the huge and deadly Station fire, the largest in recorded LA County history. "We're the ones who are going to be used for structure protection. These guys, the inmates, are the people who are trained in wildland firefighting, which is a whole different thing. So when we get a big fire like the Station fire, we really count on them."
As it is with all those who battle wildland fires, the CDCR's inmate firefighters do a truly dangerous job. This fact became tragically clear during the worst of the Station Fire when two veteran firefighters who had, for years, trained inmate crews, were killed trying to save 55 of their CDCR crew members plus three CDCR staffers, who nearly didn't survive the inferno that descended on Camp 16, which was then located on Mt. Gleason. (WLA reported on the heartbreaking deaths of Captain Ted Hall and Specialist Arnie Quinones here and here.)
Despite such dangers, the number of inmates who want to enter the fire camp program still greatly exceeds the number that can be accepted, said Sessa.
A California prison inmate named Danny Cabral, who is a lifer thus ineligible for fire camp, told me why. "A lot of guys I know have been to those fire camps, and risked their own lives to fight fires," he said. "And they were glad to do it. Really glad. It makes them feel like they're doing something that matters."
For this and other reasons it is heartening to hear that the state's inmate firefighter program itself—for the moment at least—appears to be in no real danger.
---
---
AND IN OTHER NEWS…..
….OBAMA GOES BIG ON IMMIGRATION
Obviously the biggest news of the last 24 hours—criminal justice-related or otherwise—is Obama's plan to offer deportation relief for as many as 5 million immigrants—the majority of them parents. Yet, since nearly every other news outlet is covering the matter rather extensively, we'll confine ourselves to pointing out a few commentaries that you might otherwise miss.
---
THE NEW YORKER TALKS STYLE AND SUBSTANCE
New Yorker columnist Jon Cassidy reviews the style of the president's speech as well as the content.
Here's a clip:
For a two-term President whom his critics used to call "the speechifier," Barack Obama has given surprisingly few memorable speeches, and none for quite a while. Sometimes his speechwriters over-egg it, and his language seems a bit stilted. On other occasions, he goes on for too long and his delivery is flat. Thursday night's much-anticipated address on immigration, which he delivered from the East Room of the White House, was an extended statement rather than a full-blown speech, and it was much better for it. It was direct and to the point; it had some uplifting moments, particularly at the end; and it was relatively short—about fifteen minutes.

With a crowd of immigration-reform supporters gathered across the street, in Washington's Lafayette Square, and with Univision interrupting its coverage of the Latin Grammys to show the speech live, there had been suggestions on conservative Web sites that Obama would be preaching to the converted rather than to the country at large. As soon as he started talking, though, it was clear that he was making his pitch to the mass of voters who, opinion polls suggest, are in favor of some sort of path to citizenship for the undocumented but also have concerns about the President going it alone.

After a hat tip to immigration's historical role in keeping America "youthful, dynamic, and entrepreneurial," and a quick reminder that he has beefed up border security, deported a lot of uninvited foreigners, and overseen a decline in illegal border crossings of more than fifty per cent, Obama put the blame for what he was about to do squarely on his adversaries: the Republican leaders in the House of Representatives who had refused to allow a vote on a bipartisan immigration-reform bill. "I continue to believe that the best way to solve this problem is by working together to pass that kind of common-sense law," Obama said. "But, until that happens, there are actions I have the legal authority to take as President—the same kinds of actions taken by Democratic and Republican Presidents before me—that will help make our immigration system more fair and more just."

If there had been any hecklers, or Fox News reporters, on hand, one of them might well have shouted that no previous President has taken executive action on the scale that Obama is proposing, which will remove the threat of deportation for perhaps as many as five million illegal immigrants. But the President had the stage to himself, and he used it to appeal to the better nature of his countrymen and countrywomen. "Most of these immigrants have been here a long time," he said. "They work hard, often in tough, low-paying jobs. They support their families. They worship at our churches. Many of their kids are American-born or spent most of their lives here, and their hopes, dreams, and patriotism are just like ours. As my predecessor, President Bush, once put it: 'They are a part of American life.' "

Mentioning George W. was another not so subtle reminder of how the G.O.P. has drifted to the dark side on this issue….
---
THE WSJ HAS 5 TAKEAWAYS FROM OBAMA'S SPEECH
The Wall Street Journal lists "5 Things to Note on Obama's Immigration Overhaul." (So far this is not hidden behind the paywall. Let's hope it stays that way.)
They are:
1. Broadcast blackout.
2. Protecting Parents
3. More Dreamers
4. Obama's Backtrack
5. Timing.
Now that we've given you the teaser, for details go to the WSJ and read the rest.
---
LA TIMES SAYS PROBLEM MUST ULTIMATELY BE SOLVED LEGISLATIVELY
The LA Times Editorial Board liked most of what Obama had to say, but felt the problem of immigration reform must ultimately be solved by Congress. Here's how their editorial opens:
After years of debate and division, President Obama announced Thursday that he would use his executive powers to revamp the nation's immigration system. But wait, you say, isn't that Congress' responsibility? Well, yes, it is, and if Congress had done its job, the nation wouldn't be at this juncture. But here we are.

On the substance, the president is absolutely right. The immigration system is broken and unfair; it has resulted in a permanent class of illegal workers, it separates families and it denies a place in society to immigrants who work hard, pay taxes and have deep ties to the country. There are 11 million immigrants living in the United States without authorization — more than 3 million in California alone — and it makes practical and moral sense to legalize their status and offer them a path to citizenship.

But even though Congress has been discussing these issues for more than a decade, it has repeatedly failed, for reasons both political and substantive, to move a bill through both houses. A frustrated Obama finally announced — after initially saying he lacked the legal authority — that he would act on his own. His decision will, we hope, offer some breathing room to millions of immigrant families who have been living under the threat of deportation. But it also raises serious questions about the limits of executive authority.
---
WHO ARE THE WINNERS & LOSERS OF OBAMA'S EXECUTIVE ACTION?
Mother Jones's Erika Eichelberger lists those who benefit from the president's executive action and those who lose out. Below you'll find the two bare bones lists, but—as with the WSJ takeaways—you'll have to go to Mother Jones to read the details and the analysis.
Winners

Undocumented parents of children who are US citizens or permanent residents

DREAMers

Families

Noncriminal undocumented immigrants

Highly skilled workers

Immigrants with pending cases

Immigrant victims of crime

The Border Patrol

Entrepreneurs
Losers
Undocumented immigrants who have been here since 2011

Undocumented agricultural workers

Ag workers with papers

Other types of legal immigrants

Foreigners attending American universities

Immigrant detainees
Read the meat of the story here.
---
---
NOTE: The inmate firefight photo at the top of the page is courtesy of the CDCR. The second photo taken in Malibu is by WitnessLA.